Cold Calling Leads A Practicing Lawyer To A Major Film Role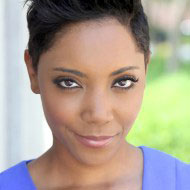 Written by India Autry
My latest film, romcom "Falling: A Story of Love," is set to release on Netflix next month as well as Amazon, iTunes, & DVD and will screen on college campuses across the Tri-State Area. I booked a supporting role in the film just about a year after I started pursuing acting on top of my legal career.
How? Cold calling. One call in particular led to the experience and tools that resulted in this major film release.
After a couple years of practicing law, I started yearning for a creative outlet. I had no acting experience, training or connections, so I started cold calling talent agencies in NYC. In the midst of the rude, indifferent and quizzical responses I received, there was one guy who actually offered me some help. He gave me several referrals, and one of those referrals brought me into his office.
This casting person first discouraged me from leaving the law for the impossibly competitive field of acting. He then noted that he typically worked with tall Russian models and passed me along to his colleague next door who added me to a database of several thousand actors.
A month and a half later, my database casting guy called me to set up a meeting with the writer and director of an indie horror flick looking to replace an actress who had dropped out. It was a lead role in a feature film, and I was on set about a week later. That film, "The Lake of Clinton Road" is completed and the trailer is available online, but it is still in the distribution negotiation stage.
Still, a few months into my acting career, armed with looks, natural talent and chutzpah, I had earned a major credit. Still, I languished for a few months – unable to find the right headshot or the right teacher. But then my cold call connect came through for me again.
At one of his networking events, I met someone who referred me to the person who finally gave me an industry standard headshot that I loved at a great value. Yes, it's totally cool that it turned out to be actor John Bianco, Gerry Torciano from "The Sopranos."
John invited me to a screening of his film "Long Shot Louie," where I met the film's supporting actor Mike Christoforo, who referred me to the acting teacher of my dreams. Mike raved about Anthony Abeson, who taught Jennifer Aniston and teaches how to "do work that books work." I auditioned for the class, made it in and have been studying happily ever after.
With my major acting career problems solved, and I started auditioning and booking more, building a resume and a reel.
But wait, there's more. Actor Brian S. Carpenter, who I also met through the cold call casting person, went on to complete a feature film script. He called me late last year to offer me the role of the titular character, "Jasmine (working title)." The trailer was shot last month and is coming online soon. The film is a unique indie drama, set to start production this year and target the largest film festivals.
What's the moral of the story? Should every actor pick up the phone and start dialing? Not necessarily. I did it before I knew better, and it turned out to be the start of a magical thread throughout my career.
Where's your magical thread? Is there someone who stands out as having led to more helpful connections for you than others? Someone you can say – if I never met that person, X, Y,  and Z wouldn't have happened and I never would have met A, B, or C? Is there a common denominator to your success? If so, consider it a sign from the universe that you should nurture your relationship with that person or – if you've jumped a tier – someone at the other end of the thread. I know I'm sticking like glue to Anthony Abeson!
India Autry
www.indiaautry.com
www.imdb.me/indiaautry
Twitter: @BeautyEsquisite
http://www.dailyactor.com/wp-content/uploads/2016/08/John-Cho-Star-Trek-Beyond.jpg
How John Cho Took A Stand for Diversity Early in His Career
"When one does speak one's mind, one might be surprised at how receptive people are." - Actor John Cho
http://www.dailyactor.com/actors-on-acting/john-cho-took-a-stand-for-diversity/
http://www.dailyactor.com/wp-content/uploads/2016/08/simon-helberg-florence-foster-jenkins.jpg
Simon Helberg on His 'Florence Foster Jenkins' Role: "I'm an actor and I want to stretch different muscles"
Helberg spoke about portraying his character in the film and whether or not he feels typecast by his Big Bang Theory role.
http://www.dailyactor.com/actors-on-acting/simon-helberg-florence-foster-jenkins-role/
http://www.dailyactor.com/wp-content/uploads/2016/08/Will-Chase-Something-Rotten.jpg
The Role That Got Away: Will Chase on Returning to 'Something Rotten!'
"I know that I am a poor man's fill-in-the-blank. And I know that there are poor man's Will Chases out there. That's just the nature of the business" - Will Chase
http://www.dailyactor.com/actors-on-acting/will-chase-something-rotten-role-that-got-away/
http://www.dailyactor.com/wp-content/uploads/2016/08/Julia-Stiles-Jason-Bourne.jpg
Julia Stiles on the Jason Bourne Series and Growing as an Actress: "There's always room for improvement"
"I like a director that encourages me to be playful. I don't really like being restricted or controlled by a director." - Julia Stiles
http://www.dailyactor.com/actors-on-acting/julia-stiles-growing-as-an-actress/
http://www.dailyactor.com/wp-content/uploads/2016/08/Michael-Kenneth-Williams-The-Night-Of.jpg
Michael Kenneth Williams on How His Roles Impact Him: "That energy's gotta go somewhere"
Since his days of playing Omar on 'The Wire', Williams has learned how to separate himself from his characters.
http://www.dailyactor.com/actors-on-acting/michael-kenneth-williams-the-night-of/