'What If' star Zoe Kazan Talks about the "strange excitement" with Kissing Daniel Radcliffe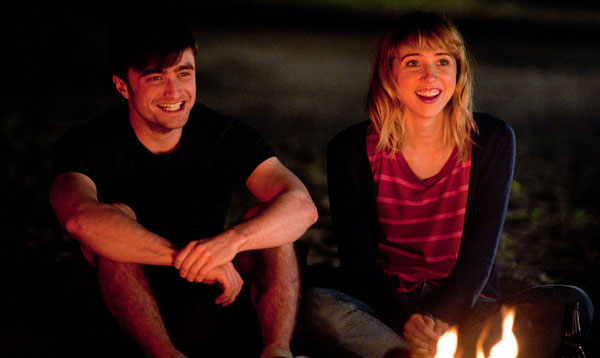 If you don't know the name Zoe Kazan, then you probably aren't a fan of romantic-comedies. The 30-year-old actress has taken over where Meg Ryan left off back in the day. Her latest movie, What If with Daniel Radcliffe, focuses in on an animator who is in a relationship. She befriends Radcliffe's character and that's when things get a bit complicated.
She explained to Vulture why she took on another romantic-comedy role.
Kazan said, "Well, they asked me to do it, and that's a nice thing. [Laughs.] I liked [What If director Michael Dowse's last movie] Goon a lot, and I had met Daniel Radcliffe, and thought it would be fun to go make a movie with him. Also, I was kind of burned out [from her role on the upcoming HBO miniseries Olive Kitteridge]. I was like, Oh, it would be really fun to go to Toronto where they're filming it and not have to break down and cry at rape and stuff. I had a surprisingly good time making it. I think artists have an idealistic way of looking at things: We hope for a job to be fun, to pay you, to do well at the box office, and like, do good things for your life, you know what I mean?"
The Ruby Sparks star also talked about working with Radcliffe and how their kissing scene actually had some real electricity.
"I've been in my relationship for so fucking long. I've been in my relationship for a million years, so there's something a little strange and wonderful about the fact that I get to make out with other people and it's totally fine. It's also really weird. Sometimes when I go to do a movie kiss, I'm like Do I even remember how to kiss someone who isn't my boyfriend? Where do you put your hands? What is it like? Someone else's mouth, when it's new, is so strange. I do think Dan's right," she said.
Kazan appreciated how the director scheduled the romantic scene because she had developed a strong working relationship with the Harry Potter actor by the end of filming.
She continued, "Mike Dowse, our director, made a really smart decision putting that at the end of the shoot, because you spend a lot of time with a person and you know that this moment is coming and it means so much to the movie. It does feel like you've got to get it right. There's some strange excitement. It's a very weird job that I have. You just go in and you pretend to love someone else and sort of do love them because you are playing tricks on your brain all the time. It's weird."
What If opens nationwide on Aug. 8.
http://www.dailyactor.com/wp-content/uploads/2015/01/watch-al-pacino-talks-the-humbli.jpg
Watch: Al Pacino Talks 'The Humbling' and His Extraordinary Career
In this conversation with Al Pacino talks about his role in The Humbling -- including working with Greta Gerwig -- and his historic acting career
http://www.dailyactor.com/2015/01/watch-al-pacino-extraordinary-career/
http://www.dailyactor.com/wp-content/uploads/2015/01/watch-oscar-nominee-steve-carell.jpg
Watch: Oscar Nominee Steve Carell Talks Improv, Auditioning for 'The Office' and 'Foxcatcher'
Carell talks about his entire career as an actor, including his background in improv, how he landed the Michael Scott role on The Office, and Foxcatcher
http://www.dailyactor.com/2015/01/oscar-nominee-steve-carell-improv-auditioning-for-the-office-foxcatcher/
http://www.dailyactor.com/wp-content/uploads/2015/01/ethan-hawke-ellar-coltrane-boyhood.jpg
Ethan Hawke Calls 'Boyhood' the "most special endeavor of my life"
Ethan Hawke is riding high with his fourth Oscar nomination for the Richard Linklater-directed Boyhood. In a recent "Ask Me Anything" on Reddit, the 44-year-old actor gave some thoughtful insight into his career and the 12-year creative endeavor that became the biggest film of the Oscar season. When asked what was the most difficult thing about […]
http://www.dailyactor.com/2015/01/ethan-hawke-boyhood-reddit-amaife/
http://www.dailyactor.com/wp-content/uploads/2015/01/martha-plimpton-a-delicate-balance.jpg
Martha Plimpton Takes a Refreshing Approach to a Long-Lasting Career
Martha Plimpton is an actress who enjoys the work, she's not in it for the fame. The proof is in her continually excellent work that she is doing on-screen and on the stage. She's currently starring in A Delicate Balance on Broadway. It's the audience who gives her the ultimate thrill. "I try to get […]
http://www.dailyactor.com/2015/01/martha-plimpton-long-lasting-career/
http://www.dailyactor.com/wp-content/uploads/2015/01/watch-michael-keaton-talks-candi.jpg
Watch: Michael Keaton Talks Candidly About His Career and His Approach to Acting in 'Birdman'
In this nearly 90 minute conversation, Michael Keaton is his usual affable self but is also remarkably candid about his career and his approach to acting.
http://www.dailyactor.com/2015/01/michael-keaton-career-approach-to-acting-birdman/