Richard Jenkins on '4 Minute Mile', the Speed of Indie Filmshoots, and Choosing His Roles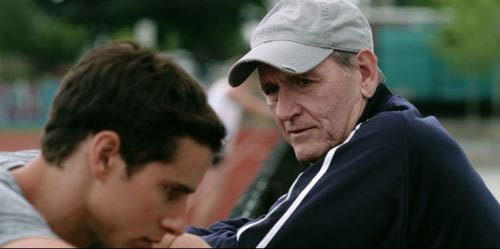 Because he is mainly cast in supporting roles, Oscar-nominated actor Richard Jenkins tends to appear in at least three movies every year. However, he is cast in lead roles every once in a while, including in the indie drama 4 Minute Mile, which is now available on VOD and is playing in limited release in theaters. In an interview with Indiewire, Jenkins spoke about his role in the athletic drama, what he likes about shooting indie films, and whether he prefers comedy or drama.
Though the character he plays in 4 Minute Mile is an aging track coach in rough shape, Jenkins jokes that he is in a similar boat himself. He remarks, "I'm pretty broken down myself so that wasn't that hard to do. [Laughs] I'm 67 so that's how old he was, [and] some people are luckier then others."
Despite claiming to be "broken down," Jenkins must be spry because he points out that making an indie movie like 4 Minute Mile is a quick process because of budgetary concerns. He explains, "You've got to work fast. You know it's quick, but I don't mind that, and you're kind of flying by the seat of your pants. And if there's a scheduling problem you've got to kind of just pick the camera up and change immediately, and do something different. It's a little more guerrilla and I don't mind that at all really. Being on a film for fourteen or fifteen weeks can seem like, 'Gosh, couldn't we do this faster? There's got to be a way to do this quicker.'"
Though Jenkins has done dramas with budgets of all sizes, his best-known recent role for many people is playing John C. Reilly's father in Step Brothers. Jenkins says that he feels comfortable with both comedy and drama, saying, "I don't have one over the other, I kind of love doing both. I don't consider myself a comedian, but you work with some comedians, and sometimes these guys are incredible on their feet, it's just amazing, and that's not what I do. But it's always fun, and I don't really care as long as the character is interesting. The truth is I like to have it a little of both in everything I do. I think that's more like life. I don't think anything is one thing or the other, so we tried to bring humor to even a guy like this. He's a little sarcastic and a little snarky."
Nonetheless, though Jenkins likes doing both comedy and drama he admits that he knows he isn't right for everything he is offered. He points out, "Well, there are a number of things I've turned down. Sometimes you see problems in a movie and you see issues, but the part is like, 'When am I going to get to play a part like this again?' Could I bring something to it? Could I find something in it that is really interesting for me and for an audience to watch? That's how I choose things. Or if a director is somebody I've always wanted to work with then I'll jump on it sometimes, but if I read a part and think, 'God there's a lot of people that can do this better than me,' I'll pass. Or If I don't know what I would bring to it. Sometimes you get offered things that you think, 'Really? They want me to play this?'"
Latest Videos
http://www.dailyactor.com/wp-content/uploads/2014/09/audtion-tapes-robin-wright-and-h.jpg
Audition Tapes: Robin Wright and Haley Joel Osment Audition with Tom Hanks for 'Forrest Gump'
Check out Robin Wright auditioning for the role of Jenny from Forest Gump opposite Tom Hanks. Interestingly enough, Hanks doesn't quite have Gump's southern drawl down just yet while the other actors audition with him. In fact, Hanks would base Gump's voice on the voice of Michael Conner Humphreys, who played the young Forrest and […]
http://www.dailyactor.com/2014/09/audtion-tapes-robin-wright-haley-joel-osment-tom-hanks-forrest-gump/
http://www.dailyactor.com/wp-content/uploads/2014/08/bryan-cranston-emmy-award-speech.jpg
Watch: Bryan Cranston's Emmy Award Speech: "I love to act. It is a passion of mine and I will do it until my last breath."
The Emmy Awards weren't the most exciting awards show this year but with Bryan Cranston winning for Outstanding Actor in a Drama for Breaking Bad, we at least got to hear one heck of a fantastic acceptance speech. "I was a kid who always looked for the shortcut," he said. "I did happen to stumble […]
http://www.dailyactor.com/2014/08/watch-bryan-cranston-and-aaron-pauls-emmy-award-speeches/
http://www.dailyactor.com/wp-content/uploads/2014/08/audition-tapes-gerard-butler-aud.jpg
Audition Tapes: Gerard Butler Auditions for 'Dracula 2000′
Check out Gerard Butler auditioning for the role of Dracula in the movie, Dracula 2000. The film, about a group of thieves who break into a chamber expecting to find paintings, but instead find Dracula himself, also starred Christopher Plummer, Jonny Lee Miller and Nathan Fillion. Bulter has some sweet rock star hair, huh?
http://www.dailyactor.com/2014/08/audition-tapes-gerard-butler-dracula-2000/
http://www.dailyactor.com/wp-content/uploads/2014/08/interview-matt-dillon-and-carla.jpg
Interview: Matt Dillon and Carla Gugino Talk 'Wayward Pines'
FOX has a new limited-series that's got a terrific cast and interesting premise. It's called Wayward Pines and stars Matt Dillon, Carla Gugino, Melissa Leo, Toby Jones, Terrance Howard, Juliette Lewis, Tim Griffin and Shannyn Sossamon. The show, whose pilot was directed by M. Night Shyamalan, is about a Secret Service agent (Dillon) goes to […]
http://www.dailyactor.com/2014/08/interview-matt-dillon-carla-gugino-wayward-pines-comic-con/
http://www.dailyactor.com/wp-content/uploads/2014/08/interview-wayward-pines-stars-ti.jpg
Interview: 'Wayward Pines' Stars Tim Griffin and Shannyn Sossamon on the Show, Their Characters and More!
Griffin and Sossamonwere at Comic-Con where they sat in on some roundtable interviews to talk about the show.
http://www.dailyactor.com/2014/08/interview-wayward-pines-stars-tim-griffin-shannyn-sossamon-comic-con/