Richard Jenkins on '4 Minute Mile', the Speed of Indie Filmshoots, and Choosing His Roles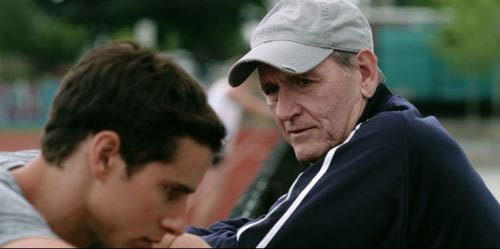 Because he is mainly cast in supporting roles, Oscar-nominated actor Richard Jenkins tends to appear in at least three movies every year. However, he is cast in lead roles every once in a while, including in the indie drama 4 Minute Mile, which is now available on VOD and is playing in limited release in theaters. In an interview with Indiewire, Jenkins spoke about his role in the athletic drama, what he likes about shooting indie films, and whether he prefers comedy or drama.
Though the character he plays in 4 Minute Mile is an aging track coach in rough shape, Jenkins jokes that he is in a similar boat himself. He remarks, "I'm pretty broken down myself so that wasn't that hard to do. [Laughs] I'm 67 so that's how old he was, [and] some people are luckier then others."
Despite claiming to be "broken down," Jenkins must be spry because he points out that making an indie movie like 4 Minute Mile is a quick process because of budgetary concerns. He explains, "You've got to work fast. You know it's quick, but I don't mind that, and you're kind of flying by the seat of your pants. And if there's a scheduling problem you've got to kind of just pick the camera up and change immediately, and do something different. It's a little more guerrilla and I don't mind that at all really. Being on a film for fourteen or fifteen weeks can seem like, 'Gosh, couldn't we do this faster? There's got to be a way to do this quicker.'"
Though Jenkins has done dramas with budgets of all sizes, his best-known recent role for many people is playing John C. Reilly's father in Step Brothers. Jenkins says that he feels comfortable with both comedy and drama, saying, "I don't have one over the other, I kind of love doing both. I don't consider myself a comedian, but you work with some comedians, and sometimes these guys are incredible on their feet, it's just amazing, and that's not what I do. But it's always fun, and I don't really care as long as the character is interesting. The truth is I like to have it a little of both in everything I do. I think that's more like life. I don't think anything is one thing or the other, so we tried to bring humor to even a guy like this. He's a little sarcastic and a little snarky."
Nonetheless, though Jenkins likes doing both comedy and drama he admits that he knows he isn't right for everything he is offered. He points out, "Well, there are a number of things I've turned down. Sometimes you see problems in a movie and you see issues, but the part is like, 'When am I going to get to play a part like this again?' Could I bring something to it? Could I find something in it that is really interesting for me and for an audience to watch? That's how I choose things. Or if a director is somebody I've always wanted to work with then I'll jump on it sometimes, but if I read a part and think, 'God there's a lot of people that can do this better than me,' I'll pass. Or If I don't know what I would bring to it. Sometimes you get offered things that you think, 'Really? They want me to play this?'"
Latest Videos
Watch: Benedict Cumberbatch Film the Smaug Motion Capture for 'The Hobbit: The Desolation of Smaug'
Though Peter Jackson's movie adaptations of The Hobbit haven't received the same critical acclaim as his films based on the book's sequel, The Lord of the Rings (turning a 300 page book into 9+ hours of film tends to do that), fans are still eagerly anticipating the release of the final part of The Hobbit […]
http://www.dailyactor.com/2014/11/watch-benedict-cumberbatch-film-smaug-motion-capture-the-hobbit/
Watch: Daniel Radcliffe on the Differences Between American and British Theater Audiences
Though moviegoers can see Daniel Radcliffe in the fantasy film Horns, which opens today, Broadway fans will have to wait a bit longer. Radcliffe is an unapologetic fan of Broadway — he has starred in Equus, How to Succeed in Business Without Really Trying, and The Cripple of Inishmaan — but he hasn't yet made […]
http://www.dailyactor.com/2014/10/daniel-radcliffe-differences-between-american-british-theater-audiences/
http://www.dailyactor.com/wp-content/uploads/2014/10/watch-anna-gunn-jacki-weaver-and.jpg
Watch: Anna Gunn, Jacki Weaver and Virginia Kull on 'Gracepoint' and Strong Female Roles on TV
The actresses also speak candidly about how they feel about their characters in the series and why its important for TV to feature series with strong female leads.Check out the conversation above!
http://www.dailyactor.com/2014/10/watch-anna-gunn-jacki-weaver-virginia-kull-gracepoint-strong-female-roles-on-tv/
http://www.dailyactor.com/wp-content/uploads/2014/10/watch-cristin-milioti-talks-a-to.jpg
Watch: Cristin Milioti Talks 'A to Z', 'Once' and 'How I Met Your Mother'
Few actresses have the kind of rise as Cristin Milioti has had in the last few years. A virtual unknown in 2011, she became a bona fide Broadway star in the 2012 hit Once, appeared in a supporting role in the 2013 film The Wolf of Wall Street, and was featured as the titular mother […]
http://www.dailyactor.com/2014/10/watch-cristin-milioti-a-to-z-once-how-i-met-your-mother/
http://www.dailyactor.com/wp-content/uploads/2014/10/watch-bryan-cranstons-acting-adv.jpg
Watch: Bryan Cranston's Acting Advice
With Breaking Bad: The Complete Series Barrel being released on Blu-ray with all kinds of goodies today, it gives us yet another opportunity to reflect on the series' star Bryan Cranston and all of the incredible advice he has offered actors in the wake of his success. In a video he filmed in 2013 for […]
http://www.dailyactor.com/2014/10/bryan-cranston-acting-advice-video/