Movie Review: 'Frank' Starring Michael Fassbender, Maggie Gyllenhaal and Domnhall Gleeson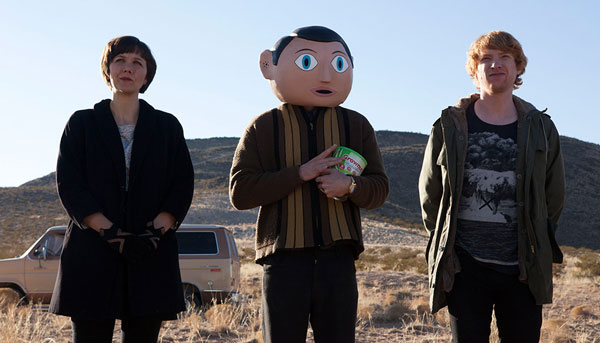 Frank, the new film starring Michael Fassbender, Maggie Gyllenhaal and Domnhall Gleeson, screened at this year's SXSW Film Festival. It was high on my list of films I wanted to see and I tried everything I could to squeeze it into my schedule. But, I just couldn't make it happen.
Now that I've finally seen it, I'm thankful to the movie Gods that it didn't work out because Frank stank.
Directed by Lenny Abrahamson, Frank is about a wannabe musician named Jon (Gleeson) who, out of a twist of fate, joins a fringe pop band fronted by Frank (Fassbender). Frank is an apparent musical genius who hides his head inside a giant fake head. Yeah, he's got issues.
Also in the mix is bandmate, Clara (Gyllenhaal). She's cold, scary and getting on her bad side isn't the smartest thing to do. Guess what side Jon quickly ends up?
When Jon is invited to join the band in a remote house in Ireland to record their latest album, he can't resist the offer. But, as he tries to insert himself into the fabric of the band, he throws off the balance of the group, becoming even more of an outcast. Except to Frank.
Gleeson holds the film together. He's our window into this whole crazy world, even though he's a bit delusional himself at times. The more time Jon spend with Frank and company, it's apparent that he doesn't belong in this world. And the more time we, the audience, spend with them, we realize that as well.
The main gimmick that Frank hides behind this big, papier-mâché head starts to get tiresome. Fassbender does wonders with it, I'll admit. He keeps it interesting throughout but the story itself stalls while the band is recording the album. The album has, in the film, taken forever to record (thanks to Frank's obsessiveness and attention to detail) and it feels like that as you sit and watch it unfold. Slowly unfold.
With Gyllenhaal's Clara, basically you get what you see. Once you size her up, she is who she is so there is no arc she gets to play.
The film is about mental illness, not just Frank but in every character. Do we succumb to it or get help and carry on?
The ending is rather touching but by the time we get there, enough is enough.
Director: Lenny Abrahamson
Cast: Domhnall Gleeson, Maggie Gyllenhaal, Scoot McNairy, Michael Fassbender
Latest Videos
Watch: Benedict Cumberbatch Film the Smaug Motion Capture for 'The Hobbit: The Desolation of Smaug'
Though Peter Jackson's movie adaptations of The Hobbit haven't received the same critical acclaim as his films based on the book's sequel, The Lord of the Rings (turning a 300 page book into 9+ hours of film tends to do that), fans are still eagerly anticipating the release of the final part of The Hobbit […]
http://www.dailyactor.com/2014/11/watch-benedict-cumberbatch-film-smaug-motion-capture-the-hobbit/
http://www.dailyactor.com/wp-content/uploads/2014/10/watch-daniel-radcliffe-on-the-di.jpg
Watch: Daniel Radcliffe on the Differences Between American and British Theater Audiences
Though moviegoers can see Daniel Radcliffe in the fantasy film Horns, which opens today, Broadway fans will have to wait a bit longer. Radcliffe is an unapologetic fan of Broadway — he has starred in Equus, How to Succeed in Business Without Really Trying, and The Cripple of Inishmaan — but he hasn't yet made […]
http://www.dailyactor.com/2014/10/daniel-radcliffe-differences-between-american-british-theater-audiences/
http://www.dailyactor.com/wp-content/uploads/2014/10/watch-anna-gunn-jacki-weaver-and.jpg
Watch: Anna Gunn, Jacki Weaver and Virginia Kull on 'Gracepoint' and Strong Female Roles on TV
The actresses also speak candidly about how they feel about their characters in the series and why its important for TV to feature series with strong female leads.Check out the conversation above!
http://www.dailyactor.com/2014/10/watch-anna-gunn-jacki-weaver-virginia-kull-gracepoint-strong-female-roles-on-tv/
http://www.dailyactor.com/wp-content/uploads/2014/10/watch-cristin-milioti-talks-a-to.jpg
Watch: Cristin Milioti Talks 'A to Z', 'Once' and 'How I Met Your Mother'
Few actresses have the kind of rise as Cristin Milioti has had in the last few years. A virtual unknown in 2011, she became a bona fide Broadway star in the 2012 hit Once, appeared in a supporting role in the 2013 film The Wolf of Wall Street, and was featured as the titular mother […]
http://www.dailyactor.com/2014/10/watch-cristin-milioti-a-to-z-once-how-i-met-your-mother/
http://www.dailyactor.com/wp-content/uploads/2014/10/watch-bryan-cranstons-acting-adv.jpg
Watch: Bryan Cranston's Acting Advice
With Breaking Bad: The Complete Series Barrel being released on Blu-ray with all kinds of goodies today, it gives us yet another opportunity to reflect on the series' star Bryan Cranston and all of the incredible advice he has offered actors in the wake of his success. In a video he filmed in 2013 for […]
http://www.dailyactor.com/2014/10/bryan-cranston-acting-advice-video/