Let it Go and Miraculous Things Will Happen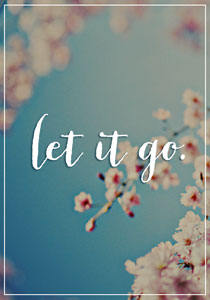 Written by Courtney Rioux
One of the hardest things about being a goal setter is the ability to let it go. By letting go of your attachment to the goal, it can actually become easier to achieve.
Do you remember liking someone so much that you were a bumbling fool around them? Or maybe worse, you were on the receiving end of that affection, but you didn't feel the same way?
My friend recently told me the story of her audition for a reputable theatre company. It has been her dream for years to work for this company. She's a fiercely talented actor, and I know this is possible for her. However, her attachment to this goal is actually hurting her.
She can walk into any other theatre company and nail her auditions. She knows what she's doing, she 's prepared, she does it well, and she lets go after.
She walks into this theatre company's auditions, and she's a mess. She's sweating, and stumbling her lines. She's awkward. The casting director knows her, and likes her. This casting director is most likely rooting for her, but she is self-sabotaging her audition, and she knows it.
When this happens, your ego is telling you that without this job, you are worthless.
To want something is to be lacking. This is why I teach writing goals in the present tense. If you write, "I want to get cast at Big Stage Theatre," that means you are lacking that. If you write, "I am working at Big Stage Theatre," you can focus on having it, rather than lacking it.
Sometimes, when our ego tries to take over and lead with FEAR we have to sit down and have a little chat with her. It helps to name that part of you. Let's call her Betty. (You can name your ego whatever you'd like.)
When Betty starts to take over, sit down with her and say, "Betty, I totally get it. You're trying to help. You're trying to protect me here. You really want me to get this job, because you think without it, I'll be nothing. But, I gotta tell ya…I'm good. I don't need this to be worth something. If I do get it, I'll have fun. If I don't, I'll be fine. I'll still be an amazing human being and talented actor regardless. So, feel free to step down, cause I got this."
Let it go, and miraculous things will happen.
Courtney Rioux is a SAG-AFTRA actor and a certified life coach. She started Courtney Rioux Coaching to help actors overcome their limiting beliefs in pursuit of greater happiness and fulfillment.
http://www.dailyactor.com/wp-content/uploads/2015/02/Larry-David.jpg
Larry David on Who he Wanted to Star in his Broadway Play 'Fish in the Dark': "Anybody but me"
"It's one of the reasons I didn't like acting. I don't like not being able to interject" – Larry David on acting with a script Who doesn't like Larry David? Well, to be honest, Larry David probably doesn't like Larry David. In fact, David didn't even want to cast himself in the lead of […]
http://www.dailyactor.com/2015/02/larry-david-on-who-he-wanted-to-star-broadway-play-fish-in-the-dark/
http://www.dailyactor.com/wp-content/uploads/2015/02/Helen-Mirren-The-Queen.jpg
Helen Mirren on Winning an Oscar: "It's an indescribable moment"
"It's hard to say, because you don't know what would have happened if you hadn't won" - Helen Mirren When Asked If Winning an Oscar Changed Her Career
http://www.dailyactor.com/2015/02/helen-mirren-on-winning-an-oscar/
http://www.dailyactor.com/wp-content/uploads/2015/02/anna-chlumsky-james-earl-jones.jpg
Anna Chlumsky on Her Broadway Debut: "For me, it was an opportunity to go in the direction that I hadn't played in a while"
"I think my personality lends itself to ensembles" - Anna Chlumsky
http://www.dailyactor.com/2015/02/anna-chlumsky-broadway-debut-ensemble/
http://www.dailyactor.com/wp-content/uploads/2015/02/joanne-froggatt-downton-abbey.jpg
'Downton Abbey' Star Joanne Froggatt on Creating Her Own Backstory and How She's "Not a Big-Budget Hollywood Type"
"They want the model type, classically beautiful, and I'm not" - Joanne Froggatt on Working in Hollywood
http://www.dailyactor.com/2015/02/downton-abbey-star-joanne-froggatt-character-backstory-hollywood/
http://www.dailyactor.com/wp-content/uploads/2015/01/al-pacino-the-humbling.jpg
Al Pacino on Acting: "It becomes such a part of your nature you rarely ever think about quitting"
After working infrequently in film over the last decade, Al Pacino appears in several films released in 2015, including The Humbling, an indie drama directed by Barry Levinson.
http://www.dailyactor.com/2015/02/al-pacino-on-acting-it-becomes-such-a-part-of-your-nature/