Interview: Acting Coach Paul Kampf on Knowing Yourself, Audition Preparation and Finding the Right Teacher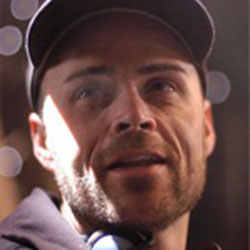 Paul Kampf is a Los Angeles based acting coach and the founder of Paul Kampf Studios. The studio, located on Melrose Avenue, has a really cool setup: not only is it a traditional acting school but it also has a full-on film productions, which the students get to act in.
I was curious how this worked so I recently talked to Paul about that pairing, his acting advice and the value of finding the right acting coach.
What is it about coaching actors that you like?
Paul Kampf: Coaching actors is a very rewarding experience because we're not just exploring the potential of the scene, but the unique possibilities in the hands of that specific actor. If that actor has a one-octave range of emotion and expression, I've got to make sure all the appropriate notes can be played. If another actor has five octaves, it's essential to ensure that the actor isn't overwhelming the material. It's a wonderful, creative process of exploring the potential of the material in the hands of that actor.
Your studio is unique in that you combine actor training with film production. How did that combination come about?
Paul Kampf: As a filmmaker who came from a long background of acting/teaching acting, I was asked to come into a number of established programs to give intensives or master classes when I first moved to LA. It was during that time that I noticed two common themes:
First, actors with clear talent were often taught techniques that seemed to ensure one 'wouldn't fail' as opposed to techniques that empowered the actor to grow through risk and self-awareness. Secondly, I saw teachers profess the value of their technique, but would draw a distinct line between teaching their technique and helping introduce actors to professional opportunities.
It felt incongruous to me that teachers weren't comfortable promoting students to agents, managers, casting directors, or directors. Although the classrooms were in the heart of Hollywood, they seemed disconnected from the industry. When I started teaching, I felt it was essential that I avoid the hypocrisy I witnessed.
A handful of months into my first class, we made a featurette with eight actors. I've had the fortune of making two full features and four short films highlighting over 100 actors in my program.      
How does that combo help actors as opposed to just going to a regular school or class?
Paul Kampf: It helps in three very important ways:
First, when an actor is working on something in class that will be shot for a project, they must go past theory and prepare for on-set application.
Secondly, classes focus on a very large diversity of material so actors learn to prepare quickly, truthfully and efficiently. They don't get complacent working on one scene for a long period of time. The instrument needs to be sharp and alive, and having film prep as a portion of class ensures the actor is in shape.
Thirdly, the films produced in house are high-quality, micro-budget projects. That means actors are doing more than showing up on set and hitting their marks. The multiple hats required prepare the actor for the reality of the industry. Most actors need to be able to understand and handle different facets of production. They are prepared for the reality of this evolving industry.      
What do you see time and time again that actors do to shoot themselves in the foot either during class?
Paul Kampf: The biggest thing I see that undercuts the actor is lack of understanding of their instrument. So many actors have become more of a dramaturge than an actor.  They've learned so many debilitating habits centered on an intellectual understanding of a scene.
The overwhelming number of action verbs, back-story notes, and personal substitutions written in color-coded highlighter allows no room for a real, human experience. The actor is paralyzed by choices they've made on the outside of the scene, and have done so little work within the life of the circumstance. Too often the actor has analyzed the painting before putting any paint on the canvas.
I teach techniques that help the actor find what a role could be in their hands, not what they think it is on the page.     
What do you think of actors who feel like going to class or getting coaching isn't necessary?
Paul Kampf: I don't know a single successful athlete that shows up for the game, but hasn't put in the time on the practice field.  That's what a lot of actors do for years of their career.  If they are constantly working, then, in many ways, they're keeping their instrument alive on set.
However, many actors don't work with a coach or work in a class because past experiences were so dreadful. Finding the right teacher/coach is not an easy task. Add to it that acting is a deeply personal process. Trust is too often given and too often abused.       
You're also a director. When you've held auditions for your projects, can you tell when an actor is unprepared?
Paul Kampf: Audition preparation is very subjective to every director. To me preparation is really seeing that the actor has closed the distance between herself and the character. There is human risk taking place in front of me, whether it is comedy or drama. I don't look for actors to show me what they think I'm looking for, I'm seeking people to teach me what I didn't know about that scene or character through the actor's talent.
What's the one bit of advice you'd like to give to actors?
Paul Kampf: Know yourself. Know when you're alive and available and know when you're not.  Learn the difference between interpreting text and experiencing a life. There are twenty factors in casting a role, and 19 of them have little to do with your performance. You're only responsible for the one within your control: Truth. When you know that what you've done was alive and full, then let it go. Your reputation for truth builds your career, even if it didn't get you the role that day.
Paul Kampf is the founder and creative director at Paul Kampf Studios/PAI Training. His unique actor training program and film production company provides opportunities for actors to improve their craft while applying it in filmmaking. The latest production, Amnesia (Who Are You?), won two awards at this year's IFS (Independent Filmmakers Showcase): Best Drama, and Best Actress.
Latest Videos
http://www.dailyactor.com/wp-content/uploads/2014/10/watch-anna-gunn-jacki-weaver-and.jpg
Watch: Anna Gunn, Jacki Weaver and Virginia Kull on 'Gracepoint' and Strong Female Roles on TV
The actresses also speak candidly about how they feel about their characters in the series and why its important for TV to feature series with strong female leads.Check out the conversation above!
http://www.dailyactor.com/2014/10/watch-anna-gunn-jacki-weaver-virginia-kull-gracepoint-strong-female-roles-on-tv/
http://www.dailyactor.com/wp-content/uploads/2014/10/watch-cristin-milioti-talks-a-to.jpg
Watch: Cristin Milioti Talks 'A to Z', 'Once' and 'How I Met Your Mother'
Few actresses have the kind of rise as Cristin Milioti has had in the last few years. A virtual unknown in 2011, she became a bona fide Broadway star in the 2012 hit Once, appeared in a supporting role in the 2013 film The Wolf of Wall Street, and was featured as the titular mother […]
http://www.dailyactor.com/2014/10/watch-cristin-milioti-a-to-z-once-how-i-met-your-mother/
http://www.dailyactor.com/wp-content/uploads/2014/10/watch-bryan-cranstons-acting-adv.jpg
Watch: Bryan Cranston's Acting Advice
With Breaking Bad: The Complete Series Barrel being released on Blu-ray with all kinds of goodies today, it gives us yet another opportunity to reflect on the series' star Bryan Cranston and all of the incredible advice he has offered actors in the wake of his success. In a video he filmed in 2013 for […]
http://www.dailyactor.com/2014/10/bryan-cranston-acting-advice-video/
http://www.dailyactor.com/wp-content/uploads/2014/10/alex-sharp-curious-incident-of-the-dog.jpg
Alex Sharp Talks About His Broadway Debut in 'The Curious Incident of the Dog in the Night-Time' (video)
Alex Sharp went from working in a call-center and renovating houses to going to Julliard. And now, he's starring in one of the most talked about shows of the season, The Curious Incident of the Dog in the Night-Time. Check out this great, inspiring video!
http://www.dailyactor.com/2014/10/alex-sharp-broadway-debut-the-curious-incident-of-the-dog-in-the-night-time-video/
http://www.dailyactor.com/wp-content/uploads/2014/10/Its-only-a-play.jpg
Watch a Scene From Terrance McNally's, 'It's Only a Play', Featuring Nathan Lane and Micah Stock
Here's a quick scene from Terrance McNally's It's Only a Play, currently on Broadway at the Schoenfeld Theater. In this scene, Nathan Lane and Micah Stock meet for the first time. The show, about the opening night of a new play, also stars Matthew Broderick, Stockard Channing, F. Murray Abraham, Rupert Grint and Megan Mullally.
http://www.dailyactor.com/2014/10/watch-a-scene-terrance-mcnally-its-only-a-play-nathan-lane-micah-stock/