Feeling Blue? You May Just Need A Little Dose Of Giving Back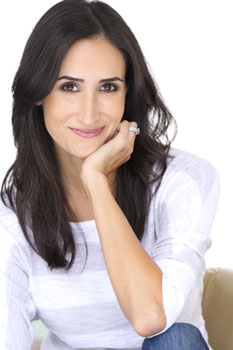 Written by Sarah Siadat
As actors, sometimes we tend to have tunnel vision with our careers and we need a little reminder to relax, have fun and give back to the community. Volunteering or working with a charity is a great way to fill your tank – doing charity always makes me feel good!
Actors are people who bring a lot of personality, energy and good humor to their activities. We're great candidates for volunteer organizations because of this. Many of my friends are very involved in local Los Angeles causes, and today I want to share two of my favorites with you.
Ronald McDonald House LA
My husband and I love this charity, which helps families who are dealing with children who have cancer. The organization gives them affordable or free housing while their child is in treatment, and no family is ever turned away. The housing is always near a hospital, and their volunteers often bring the families dinner called a meal of love so they don't have to worry about cooking.
The Ronald McDonald House also has an annual fund raising gala where you can donate money, an item or service to be auctioned off to support the local house in your city. My husband and I donated and attended the gala in 2013 and hosted a meal of love dinner for the LA house last year.
The Young Storytellers Foundation
Created by Brad Falchuk (producer/creator of Glee and American Horror Story), this foundation is involved with 35 schools around the Los Angeles area and will soon be expanding to New York.
We go into schools and help 5th graders write a script that is then performed by professional actors in front of their classmates, teachers and parents. We've even had celebrities come to the shows. It's really inspiring, and the creativity the spews out of the children is astonishing.
As a volunteer, I don't do any of the script writing. The students write every word, but myself and the other volunteers make sure it is in correct script format. I love it so much that I've gotten my friends involved as well, and I look forward to clearing my schedule for an hour every week to work with the kids.
Find Your Own Favorite Charity
There are many organizations, no matter what part of the country you're living in, that are looking for energetic volunteers. You will meet amazing people, feel better about yourself, and know you're a well-rounded human being who doesn't only care about their career and how to network. It just feels good, especially when you work in an industry that is so unpredictable.
This week, think about what causes are important to you. If the fight for Alzheimer's is something dear to your heart, join in. Choose something that matters to you. Search on Google for organizations that are in alignment with that cause. Ask friends.
Keep in mind that when it comes to giving your time or money, a little goes a long way. Leave a comment below about which charities you love, or the rewards you have reaped from giving back to the community.
Sarah is the founder of Mentoring For Actors one-on-one actor career business coaching. She is a Los Angeles based actor, animal lover, and social media connoisseur. Sarah's passion is to help actors bridge the gap between wanting to be an actor, and making that dream a reality. Connect with her @sarahsiadat, or email info@mentoringforactors.com to schedule a FREE intro call.
Latest Videos
http://www.dailyactor.com/wp-content/uploads/2014/09/audtion-tapes-robin-wright-and-h.jpg
Audition Tapes: Robin Wright and Haley Joel Osment Audition with Tom Hanks for 'Forrest Gump'
Check out Robin Wright auditioning for the role of Jenny from Forest Gump opposite Tom Hanks. Interestingly enough, Hanks doesn't quite have Gump's southern drawl down just yet while the other actors audition with him. In fact, Hanks would base Gump's voice on the voice of Michael Conner Humphreys, who played the young Forrest and […]
http://www.dailyactor.com/2014/09/audtion-tapes-robin-wright-haley-joel-osment-tom-hanks-forrest-gump/
http://www.dailyactor.com/wp-content/uploads/2014/08/bryan-cranston-emmy-award-speech.jpg
Watch: Bryan Cranston's Emmy Award Speech: "I love to act. It is a passion of mine and I will do it until my last breath."
The Emmy Awards weren't the most exciting awards show this year but with Bryan Cranston winning for Outstanding Actor in a Drama for Breaking Bad, we at least got to hear one heck of a fantastic acceptance speech. "I was a kid who always looked for the shortcut," he said. "I did happen to stumble […]
http://www.dailyactor.com/2014/08/watch-bryan-cranston-and-aaron-pauls-emmy-award-speeches/
http://www.dailyactor.com/wp-content/uploads/2014/08/audition-tapes-gerard-butler-aud.jpg
Audition Tapes: Gerard Butler Auditions for 'Dracula 2000′
Check out Gerard Butler auditioning for the role of Dracula in the movie, Dracula 2000. The film, about a group of thieves who break into a chamber expecting to find paintings, but instead find Dracula himself, also starred Christopher Plummer, Jonny Lee Miller and Nathan Fillion. Bulter has some sweet rock star hair, huh?
http://www.dailyactor.com/2014/08/audition-tapes-gerard-butler-dracula-2000/
http://www.dailyactor.com/wp-content/uploads/2014/08/interview-matt-dillon-and-carla.jpg
Interview: Matt Dillon and Carla Gugino Talk 'Wayward Pines'
FOX has a new limited-series that's got a terrific cast and interesting premise. It's called Wayward Pines and stars Matt Dillon, Carla Gugino, Melissa Leo, Toby Jones, Terrance Howard, Juliette Lewis, Tim Griffin and Shannyn Sossamon. The show, whose pilot was directed by M. Night Shyamalan, is about a Secret Service agent (Dillon) goes to […]
http://www.dailyactor.com/2014/08/interview-matt-dillon-carla-gugino-wayward-pines-comic-con/
http://www.dailyactor.com/wp-content/uploads/2014/08/interview-wayward-pines-stars-ti.jpg
Interview: 'Wayward Pines' Stars Tim Griffin and Shannyn Sossamon on the Show, Their Characters and More!
Griffin and Sossamonwere at Comic-Con where they sat in on some roundtable interviews to talk about the show.
http://www.dailyactor.com/2014/08/interview-wayward-pines-stars-tim-griffin-shannyn-sossamon-comic-con/