Feeling Blue? You May Just Need A Little Dose Of Giving Back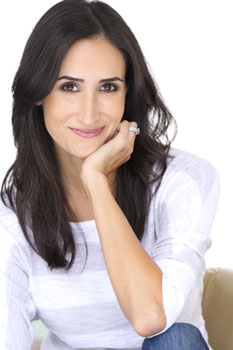 Written by Sarah Siadat
As actors, sometimes we tend to have tunnel vision with our careers and we need a little reminder to relax, have fun and give back to the community. Volunteering or working with a charity is a great way to fill your tank – doing charity always makes me feel good!
Actors are people who bring a lot of personality, energy and good humor to their activities. We're great candidates for volunteer organizations because of this. Many of my friends are very involved in local Los Angeles causes, and today I want to share two of my favorites with you.
Ronald McDonald House LA
My husband and I love this charity, which helps families who are dealing with children who have cancer. The organization gives them affordable or free housing while their child is in treatment, and no family is ever turned away. The housing is always near a hospital, and their volunteers often bring the families dinner called a meal of love so they don't have to worry about cooking.
The Ronald McDonald House also has an annual fund raising gala where you can donate money, an item or service to be auctioned off to support the local house in your city. My husband and I donated and attended the gala in 2013 and hosted a meal of love dinner for the LA house last year.
The Young Storytellers Foundation
Created by Brad Falchuk (producer/creator of Glee and American Horror Story), this foundation is involved with 35 schools around the Los Angeles area and will soon be expanding to New York.
We go into schools and help 5th graders write a script that is then performed by professional actors in front of their classmates, teachers and parents. We've even had celebrities come to the shows. It's really inspiring, and the creativity the spews out of the children is astonishing.
As a volunteer, I don't do any of the script writing. The students write every word, but myself and the other volunteers make sure it is in correct script format. I love it so much that I've gotten my friends involved as well, and I look forward to clearing my schedule for an hour every week to work with the kids.
Find Your Own Favorite Charity
There are many organizations, no matter what part of the country you're living in, that are looking for energetic volunteers. You will meet amazing people, feel better about yourself, and know you're a well-rounded human being who doesn't only care about their career and how to network. It just feels good, especially when you work in an industry that is so unpredictable.
This week, think about what causes are important to you. If the fight for Alzheimer's is something dear to your heart, join in. Choose something that matters to you. Search on Google for organizations that are in alignment with that cause. Ask friends.
Keep in mind that when it comes to giving your time or money, a little goes a long way. Leave a comment below about which charities you love, or the rewards you have reaped from giving back to the community.
Sarah is the founder of Mentoring For Actors one-on-one actor career business coaching. She is a Los Angeles based actor, animal lover, and social media connoisseur. Sarah's passion is to help actors bridge the gap between wanting to be an actor, and making that dream a reality. Connect with her @sarahsiadat, or email info@mentoringforactors.com to schedule a FREE intro call.
http://www.dailyactor.com/wp-content/uploads/2015/01/watch-al-pacino-talks-the-humbli.jpg
Watch: Al Pacino Talks 'The Humbling' and His Extraordinary Career
In this conversation with Al Pacino talks about his role in The Humbling -- including working with Greta Gerwig -- and his historic acting career
http://www.dailyactor.com/2015/01/watch-al-pacino-extraordinary-career/
http://www.dailyactor.com/wp-content/uploads/2015/01/watch-oscar-nominee-steve-carell.jpg
Watch: Oscar Nominee Steve Carell Talks Improv, Auditioning for 'The Office' and 'Foxcatcher'
Carell talks about his entire career as an actor, including his background in improv, how he landed the Michael Scott role on The Office, and Foxcatcher
http://www.dailyactor.com/2015/01/oscar-nominee-steve-carell-improv-auditioning-for-the-office-foxcatcher/
http://www.dailyactor.com/wp-content/uploads/2015/01/ethan-hawke-ellar-coltrane-boyhood.jpg
Ethan Hawke Calls 'Boyhood' the "most special endeavor of my life"
Ethan Hawke is riding high with his fourth Oscar nomination for the Richard Linklater-directed Boyhood. In a recent "Ask Me Anything" on Reddit, the 44-year-old actor gave some thoughtful insight into his career and the 12-year creative endeavor that became the biggest film of the Oscar season. When asked what was the most difficult thing about […]
http://www.dailyactor.com/2015/01/ethan-hawke-boyhood-reddit-amaife/
http://www.dailyactor.com/wp-content/uploads/2015/01/martha-plimpton-a-delicate-balance.jpg
Martha Plimpton Takes a Refreshing Approach to a Long-Lasting Career
Martha Plimpton is an actress who enjoys the work, she's not in it for the fame. The proof is in her continually excellent work that she is doing on-screen and on the stage. She's currently starring in A Delicate Balance on Broadway. It's the audience who gives her the ultimate thrill. "I try to get […]
http://www.dailyactor.com/2015/01/martha-plimpton-long-lasting-career/
http://www.dailyactor.com/wp-content/uploads/2015/01/watch-michael-keaton-talks-candi.jpg
Watch: Michael Keaton Talks Candidly About His Career and His Approach to Acting in 'Birdman'
In this nearly 90 minute conversation, Michael Keaton is his usual affable self but is also remarkably candid about his career and his approach to acting.
http://www.dailyactor.com/2015/01/michael-keaton-career-approach-to-acting-birdman/