Even After 'Iron Man 3′ and 'Memento', Guy Pearce Still Finds Himself Auditioning For Roles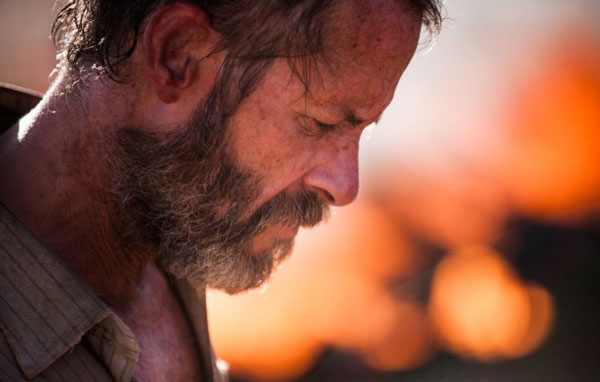 Guy Pearce has had an extraordinary career with movies like Priscilla, Queen of the Desert to his breakout role in LA Confidential. Even though he's a strong leading man on-screen, getting into acting was a way for him to survive.
The English-born Australian actor lost his dad at the age of eight and his mother turned most of her attention to his older sister who had Down's Syndrome.
Pearce described what acting did for his life, "On some level, acting was a survival thing, I suppose. I never made the connection at the time, certainly, but this ability to go on stage and take on some lines that are written for you and perform in this costume that's been given to you, and have an audience that's all ready for you: it just seems like a perfect way to live your life. But it was also a wonderful escape."
After starting out in the soap Neighbours, he went on to success on the big screen. It was LA Confidential that changed his life and the amount of scripts that were sent his way. However, he was cautious about the sudden changes in his career.
"Offers would come in sort of willy-nilly," he said. "I'd go, 'why am I being offered that?' Because I'd been doing so many auditions for things, and you feel like the process is a justified process; but when you suddenly get offered something for what seems like no reason, you go, hang on, I don't trust this."
Even after working with director Christopher Nolan in Memento and on blockbusters like Iron Man 3, Pearce still auditions for roles.
He explained, "Three times I've flown to London specifically for auditions over the years and I've never got any of the jobs."
One of those jobs was for Batman Begins with Nolan for the character Ra's al Ghul. The Emmy nominee for Mildred Pierce shared, "When I got here, literally when I got here, Chris went, 'yeah, I don't think it's going to work'. I was like, you could've told me 24 hours ago, before I got on the plane, man! He says, come and look at the Batmobile anyway, it's fun."
An acting career isn't easy, even for an established actor like Pearce.
Via The Telegraph
http://www.dailyactor.com/wp-content/uploads/2015/02/Larry-David.jpg
Larry David on Who he Wanted to Star in his Broadway Play 'Fish in the Dark': "Anybody but me"
"It's one of the reasons I didn't like acting. I don't like not being able to interject" – Larry David on acting with a script Who doesn't like Larry David? Well, to be honest, Larry David probably doesn't like Larry David. In fact, David didn't even want to cast himself in the lead of […]
http://www.dailyactor.com/2015/02/larry-david-on-who-he-wanted-to-star-broadway-play-fish-in-the-dark/
http://www.dailyactor.com/wp-content/uploads/2015/02/Helen-Mirren-The-Queen.jpg
Helen Mirren on Winning an Oscar: "It's an indescribable moment"
"It's hard to say, because you don't know what would have happened if you hadn't won" - Helen Mirren When Asked If Winning an Oscar Changed Her Career
http://www.dailyactor.com/2015/02/helen-mirren-on-winning-an-oscar/
http://www.dailyactor.com/wp-content/uploads/2015/02/anna-chlumsky-james-earl-jones.jpg
Anna Chlumsky on Her Broadway Debut: "For me, it was an opportunity to go in the direction that I hadn't played in a while"
"I think my personality lends itself to ensembles" - Anna Chlumsky
http://www.dailyactor.com/2015/02/anna-chlumsky-broadway-debut-ensemble/
http://www.dailyactor.com/wp-content/uploads/2015/02/joanne-froggatt-downton-abbey.jpg
'Downton Abbey' Star Joanne Froggatt on Creating Her Own Backstory and How She's "Not a Big-Budget Hollywood Type"
"They want the model type, classically beautiful, and I'm not" - Joanne Froggatt on Working in Hollywood
http://www.dailyactor.com/2015/02/downton-abbey-star-joanne-froggatt-character-backstory-hollywood/
http://www.dailyactor.com/wp-content/uploads/2015/01/al-pacino-the-humbling.jpg
Al Pacino on Acting: "It becomes such a part of your nature you rarely ever think about quitting"
After working infrequently in film over the last decade, Al Pacino appears in several films released in 2015, including The Humbling, an indie drama directed by Barry Levinson.
http://www.dailyactor.com/2015/02/al-pacino-on-acting-it-becomes-such-a-part-of-your-nature/