Andrew Rannells Follows in Neil Patrick Harris' Footsteps to Broadway in 'Hedwig and the Angry Inch'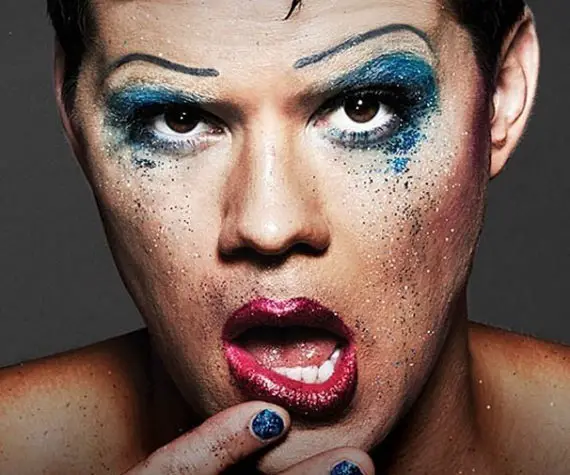 Neil Patrick Harris just finished his Tony Award-winning run in Hedwig and the Angry Inch on Broadway. Girls star Andrew Rannells stepped into the role on Aug. 20 after doing the show 12 years ago in Texas.
He talked about what it was like to return to a role he played when he was only 23. Rannells said, "Now I feel more connected to the Hedwig that has more life experience, that has more time under her belt. It's interesting to go back and look at it now. The things that really resonated with me 12 years ago still do but in a much different way now."
Surprisingly, The Book of Mormon veteran felt very little pressure in following in NPH's footsteps. He explained, "It's a very unique show. You see it and, I think, kind of lose the actor a little bit. You really do believe that there is this odd creature up there that you're watching and this is all happening in front of you in a crazy way. The show itself, and Hedwig, is the star. So even if you've seen it six times, if there's a new actor in it, it's going to be a completely different show to you."
However, he almost didn't take the role when he was approached to do it. He said, "My knee-jerk reaction was to say no. It seemed like a lot and I was like, 'I don't know if I have that in me.' And, then, as soon as I saw it, I was like, 'Of course.'"
Yet he changed his mind very early into watching NPH's performance. Rannells revealed, "During the first song, 'Tear Me Down.' I was like, 'I'm doing this.' I looked at my boyfriend and I sort of nodded and he was like, 'OK, I guess we're doing this.'"
There is one thing the well-mannered boy from Nebraska isn't comfortable with — spitting on the crowed. Yet he knows it's all part of the gig.
Rannells summed up, "The Nebraska part of me is not comfortable with that. It's really not. I remember doing it in Texas and being like, 'I'm sorry!' I sort of decided I'm just going to go for it this time. Once you get that wig on and all that makeup, all of a sudden your politeness flies out the window."
Rannells will be in the show for a limited eight-week engagement.
Via AP News
http://www.dailyactor.com/wp-content/uploads/2015/02/Larry-David.jpg
Larry David on Who he Wanted to Star in his Broadway Play 'Fish in the Dark': "Anybody but me"
"It's one of the reasons I didn't like acting. I don't like not being able to interject" – Larry David on acting with a script Who doesn't like Larry David? Well, to be honest, Larry David probably doesn't like Larry David. In fact, David didn't even want to cast himself in the lead of […]
http://www.dailyactor.com/2015/02/larry-david-on-who-he-wanted-to-star-broadway-play-fish-in-the-dark/
http://www.dailyactor.com/wp-content/uploads/2015/02/Helen-Mirren-The-Queen.jpg
Helen Mirren on Winning an Oscar: "It's an indescribable moment"
"It's hard to say, because you don't know what would have happened if you hadn't won" - Helen Mirren When Asked If Winning an Oscar Changed Her Career
http://www.dailyactor.com/2015/02/helen-mirren-on-winning-an-oscar/
http://www.dailyactor.com/wp-content/uploads/2015/02/anna-chlumsky-james-earl-jones.jpg
Anna Chlumsky on Her Broadway Debut: "For me, it was an opportunity to go in the direction that I hadn't played in a while"
"I think my personality lends itself to ensembles" - Anna Chlumsky
http://www.dailyactor.com/2015/02/anna-chlumsky-broadway-debut-ensemble/
http://www.dailyactor.com/wp-content/uploads/2015/02/joanne-froggatt-downton-abbey.jpg
'Downton Abbey' Star Joanne Froggatt on Creating Her Own Backstory and How She's "Not a Big-Budget Hollywood Type"
"They want the model type, classically beautiful, and I'm not" - Joanne Froggatt on Working in Hollywood
http://www.dailyactor.com/2015/02/downton-abbey-star-joanne-froggatt-character-backstory-hollywood/
http://www.dailyactor.com/wp-content/uploads/2015/01/al-pacino-the-humbling.jpg
Al Pacino on Acting: "It becomes such a part of your nature you rarely ever think about quitting"
After working infrequently in film over the last decade, Al Pacino appears in several films released in 2015, including The Humbling, an indie drama directed by Barry Levinson.
http://www.dailyactor.com/2015/02/al-pacino-on-acting-it-becomes-such-a-part-of-your-nature/