Actors: Turn On the TV and Do Your Homework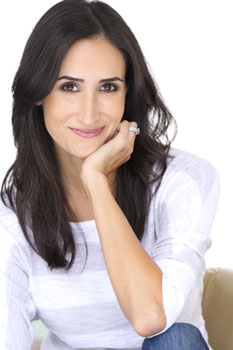 Written by Sarah Siadat
If you're an actor interested in working in television, you probably know how important it is to do your research and stay up to date with current TV shows. Know what's on, what shoots in your city, and have a general sense of the tone and content of each show.
Television is Changing Very Quickly
It used to be that TV actors worked on TV, theater actors worked on stage, and film actors worked in the movies.
Well, that's just not true anymore. There are many actors who cross over into all three mediums, and there are also many directors who work in multiple mediums as well (just look at Glee or Smash for lots of Broadway-television crossover).
It's amazing how many outlets there are for content right now. Suddenly Netflix, Hulu and Amazon have presented a new market for material and cable channels like A&E, AMC, TLC and the CW are filling their own niches. I think it's safe to say that we're in the middle of a free-for-all!
It's impossible to know where this is all leading, now that the Internet has so widely influenced the way people watch TV. We're not dealing with a traditional industry structure anymore, so more than ever we have to be prepared.
Stay Informed & Stay Focused
It's time to expand your thinking as far as what's going on in the business. I recommend watching as many TV shows (new and old) as you possibly can.
Now, that can be a challenge when there are five seasons of The Good Wife on Amazon and all you want to do is binge watch them!
But remember, the point is to have your finger on the pulse of the television world so you have a general sense of everything that's current. When you're sitting down to do TV research, stay focused and don't let yourself get sucked into the episode.
Here are some tips to keep you on point:
Watch at least 15-20 minutes of everything you possibly can.
Be mindful to include the shows you may not normally find interesting: if you're in your 30's, an episode of See Dad Run on Nick@Nite probably isn't at the top of your watch list. However, there are roles in that show for people of all ages. Get a sense of the tone, so that when your name gets called for an audition, you don't have to spend precious prep time learning the basics of the program.
It's an investment.
Between cable channels, Netflix, Amazon, and a host of other paid content providers, television research can get a little pricey. You have to think of this as an investment.If it means that you can't go to happy hour a couple times that month so you can pay for you research materials, I'm sorry to say that it's a must. Now, you don't need it all – be discerning. If you think you're more right for House of Cards than Game of Thrones, it would be smarter to pay for Netflix than HBO.
Make time for relaxation.
Yes, watching TV as an actor is research work, but after a long day, don't forget to let yourself sit back and watch an episode or two of something you enjoy. After all, your love for storytelling is what got you here in the first place, isn't it?
This week, your homework is to research 3 shows. How did it go for you? Report back in the comments below.
Sarah is the founder of Mentoring For Actors one-on-one actor career business coaching. She is a Los Angeles based actor, animal lover, and social media connoisseur. Sarah's passion is to help actors bridge the gap between wanting to be an actor, and making that dream a reality. Connect with her @sarahsiadat, or email info@mentoringforactors.com to schedule a FREE intro call.
Latest Videos
http://www.dailyactor.com/wp-content/uploads/2014/09/audtion-tapes-robin-wright-and-h.jpg
Audition Tapes: Robin Wright and Haley Joel Osment Audition with Tom Hanks for 'Forrest Gump'
Check out Robin Wright auditioning for the role of Jenny from Forest Gump opposite Tom Hanks. Interestingly enough, Hanks doesn't quite have Gump's southern drawl down just yet while the other actors audition with him. In fact, Hanks would base Gump's voice on the voice of Michael Conner Humphreys, who played the young Forrest and […]
http://www.dailyactor.com/2014/09/audtion-tapes-robin-wright-haley-joel-osment-tom-hanks-forrest-gump/
http://www.dailyactor.com/wp-content/uploads/2014/08/bryan-cranston-emmy-award-speech.jpg
Watch: Bryan Cranston's Emmy Award Speech: "I love to act. It is a passion of mine and I will do it until my last breath."
The Emmy Awards weren't the most exciting awards show this year but with Bryan Cranston winning for Outstanding Actor in a Drama for Breaking Bad, we at least got to hear one heck of a fantastic acceptance speech. "I was a kid who always looked for the shortcut," he said. "I did happen to stumble […]
http://www.dailyactor.com/2014/08/watch-bryan-cranston-and-aaron-pauls-emmy-award-speeches/
http://www.dailyactor.com/wp-content/uploads/2014/08/audition-tapes-gerard-butler-aud.jpg
Audition Tapes: Gerard Butler Auditions for 'Dracula 2000′
Check out Gerard Butler auditioning for the role of Dracula in the movie, Dracula 2000. The film, about a group of thieves who break into a chamber expecting to find paintings, but instead find Dracula himself, also starred Christopher Plummer, Jonny Lee Miller and Nathan Fillion. Bulter has some sweet rock star hair, huh?
http://www.dailyactor.com/2014/08/audition-tapes-gerard-butler-dracula-2000/
http://www.dailyactor.com/wp-content/uploads/2014/08/interview-matt-dillon-and-carla.jpg
Interview: Matt Dillon and Carla Gugino Talk 'Wayward Pines'
FOX has a new limited-series that's got a terrific cast and interesting premise. It's called Wayward Pines and stars Matt Dillon, Carla Gugino, Melissa Leo, Toby Jones, Terrance Howard, Juliette Lewis, Tim Griffin and Shannyn Sossamon. The show, whose pilot was directed by M. Night Shyamalan, is about a Secret Service agent (Dillon) goes to […]
http://www.dailyactor.com/2014/08/interview-matt-dillon-carla-gugino-wayward-pines-comic-con/
http://www.dailyactor.com/wp-content/uploads/2014/08/interview-wayward-pines-stars-ti.jpg
Interview: 'Wayward Pines' Stars Tim Griffin and Shannyn Sossamon on the Show, Their Characters and More!
Griffin and Sossamonwere at Comic-Con where they sat in on some roundtable interviews to talk about the show.
http://www.dailyactor.com/2014/08/interview-wayward-pines-stars-tim-griffin-shannyn-sossamon-comic-con/