Susan Sarandon Finds that "it's Certainly More Fun" to Portray "Weird People"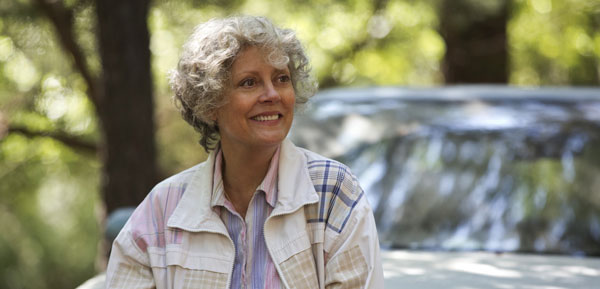 If you head to the theatre to see the Melissa McCarthy film, Tammy, this week, it might be hard to suspend disbelief that Susan Sarandon is her grandmother. At 67 years old, the Oscar winner isn't a grandmother in real life, even though her daughter Eva Amurri Martino is weeks away from giving birth to her first grandchild.
In the summer comedy, the Thelma and Louise star plays Pearl, a randy, lush grandmother to McCarthy's unruly Tammy. In an interview with The New York Times, Sarandon talked about how "very liberating" it was to step into a character of someone who is "dependent on highlighting every flaw and as much bad lighting as possible."
She continued, "For the longest time, I was in kind of a death mode, where everyone I was playing was either dying or helping someone die."
With Pearl, she finds that "it's certainly more fun" to portray "alcoholic, substance-abuse weird people."
Sarandon mentioned why she picks certain roles, including the part in Tammy. She shared, "I'm always looking for things that frighten me, which in private life isn't necessarily recommended, but in a career it's very good."
In fact, she's thinks it's all working out just fine for her in her personal and professional life.
"I think the universe is conspiring in my favor," she said, "that everything that would be perceived as bad eventually has turned into something positive and useful."
"One of my strongest talents," she added, "is being able to change directions when something crosses my path that I didn't plan on."
Tammy opened in theaters nationwide on Wednesday, July 2.
http://www.dailyactor.com/wp-content/uploads/2015/01/watch-al-pacino-talks-the-humbli.jpg
Watch: Al Pacino Talks 'The Humbling' and His Extraordinary Career
In this conversation with Al Pacino talks about his role in The Humbling -- including working with Greta Gerwig -- and his historic acting career
http://www.dailyactor.com/2015/01/watch-al-pacino-extraordinary-career/
http://www.dailyactor.com/wp-content/uploads/2015/01/watch-oscar-nominee-steve-carell.jpg
Watch: Oscar Nominee Steve Carell Talks Improv, Auditioning for 'The Office' and 'Foxcatcher'
Carell talks about his entire career as an actor, including his background in improv, how he landed the Michael Scott role on The Office, and Foxcatcher
http://www.dailyactor.com/2015/01/oscar-nominee-steve-carell-improv-auditioning-for-the-office-foxcatcher/
http://www.dailyactor.com/wp-content/uploads/2015/01/ethan-hawke-ellar-coltrane-boyhood.jpg
Ethan Hawke Calls 'Boyhood' the "most special endeavor of my life"
Ethan Hawke is riding high with his fourth Oscar nomination for the Richard Linklater-directed Boyhood. In a recent "Ask Me Anything" on Reddit, the 44-year-old actor gave some thoughtful insight into his career and the 12-year creative endeavor that became the biggest film of the Oscar season. When asked what was the most difficult thing about […]
http://www.dailyactor.com/2015/01/ethan-hawke-boyhood-reddit-amaife/
http://www.dailyactor.com/wp-content/uploads/2015/01/martha-plimpton-a-delicate-balance.jpg
Martha Plimpton Takes a Refreshing Approach to a Long-Lasting Career
Martha Plimpton is an actress who enjoys the work, she's not in it for the fame. The proof is in her continually excellent work that she is doing on-screen and on the stage. She's currently starring in A Delicate Balance on Broadway. It's the audience who gives her the ultimate thrill. "I try to get […]
http://www.dailyactor.com/2015/01/martha-plimpton-long-lasting-career/
http://www.dailyactor.com/wp-content/uploads/2015/01/watch-michael-keaton-talks-candi.jpg
Watch: Michael Keaton Talks Candidly About His Career and His Approach to Acting in 'Birdman'
In this nearly 90 minute conversation, Michael Keaton is his usual affable self but is also remarkably candid about his career and his approach to acting.
http://www.dailyactor.com/2015/01/michael-keaton-career-approach-to-acting-birdman/