A New York Actor Finds a New Way to Promote Himself — Fliers on Lampposts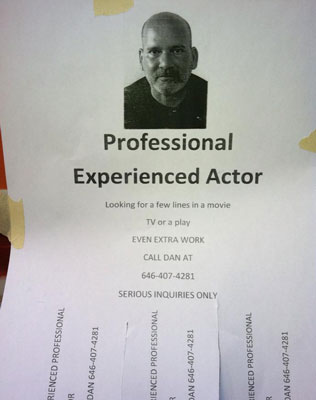 Actors are always trying to think outside the box to stand out and promote themselves in a crowded talent pool. One New York City-based actor has taken an approach that hasn't necessarily booked him a role, but it has gained him a bit of notoriety.
Dan Perino posted 2,000 fliers around the city on lampposts with his headshot and résumé in hopes of landing a gig. His goal is to spread 10,000 fliers around Manhattan.
The unorthodox ads promote him as a "professional, experienced actor" who is "looking for a few lines in a movie, TV, or play. Even extra work."
His dream role? He told the New York Post, "Maybe something like Criminal Minds — where I play a serial killer, that's kind of my dream."
The 50-year-old Perino is getting a few side benefits to his unique approach. He shared, "Women look up to me and they just can't place where they've seen me."
His 15-minutes of fame isn't what he is seeking though. He's looking to recharge an acting career that has stalled a bit in recent years.
Perino admitted that his last audition was several years ago for the Showtime series, Shameless.
"I should have a lot of opportunities now that I'm older," he said. "At auditions, 10 people in my age group show up, compared to 1,000 who show up in the 20-30 age range."
He has placed his phone number on the flyer, so he is naturally getting the expected crank calls from drunk or odd people. However, he has received legitimate calls from teachers and other actors. It's something he's not giving up on.
Perino explained, "I love acting because it brings you to another place."
Hopefully, the New York actor will get his big break soon.
Picture courtesy of Brandon Walker.  Check out his theatre company, The Seeing Place Theatre
http://www.dailyactor.com/wp-content/uploads/2015/01/watch-al-pacino-talks-the-humbli.jpg
Watch: Al Pacino Talks 'The Humbling' and His Extraordinary Career
In this conversation with Al Pacino talks about his role in The Humbling -- including working with Greta Gerwig -- and his historic acting career
http://www.dailyactor.com/2015/01/watch-al-pacino-extraordinary-career/
http://www.dailyactor.com/wp-content/uploads/2015/01/watch-oscar-nominee-steve-carell.jpg
Watch: Oscar Nominee Steve Carell Talks Improv, Auditioning for 'The Office' and 'Foxcatcher'
Carell talks about his entire career as an actor, including his background in improv, how he landed the Michael Scott role on The Office, and Foxcatcher
http://www.dailyactor.com/2015/01/oscar-nominee-steve-carell-improv-auditioning-for-the-office-foxcatcher/
http://www.dailyactor.com/wp-content/uploads/2015/01/ethan-hawke-ellar-coltrane-boyhood.jpg
Ethan Hawke Calls 'Boyhood' the "most special endeavor of my life"
Ethan Hawke is riding high with his fourth Oscar nomination for the Richard Linklater-directed Boyhood. In a recent "Ask Me Anything" on Reddit, the 44-year-old actor gave some thoughtful insight into his career and the 12-year creative endeavor that became the biggest film of the Oscar season. When asked what was the most difficult thing about […]
http://www.dailyactor.com/2015/01/ethan-hawke-boyhood-reddit-amaife/
http://www.dailyactor.com/wp-content/uploads/2015/01/martha-plimpton-a-delicate-balance.jpg
Martha Plimpton Takes a Refreshing Approach to a Long-Lasting Career
Martha Plimpton is an actress who enjoys the work, she's not in it for the fame. The proof is in her continually excellent work that she is doing on-screen and on the stage. She's currently starring in A Delicate Balance on Broadway. It's the audience who gives her the ultimate thrill. "I try to get […]
http://www.dailyactor.com/2015/01/martha-plimpton-long-lasting-career/
http://www.dailyactor.com/wp-content/uploads/2015/01/watch-michael-keaton-talks-candi.jpg
Watch: Michael Keaton Talks Candidly About His Career and His Approach to Acting in 'Birdman'
In this nearly 90 minute conversation, Michael Keaton is his usual affable self but is also remarkably candid about his career and his approach to acting.
http://www.dailyactor.com/2015/01/michael-keaton-career-approach-to-acting-birdman/