A New York Actor Finds a New Way to Promote Himself — Fliers on Lampposts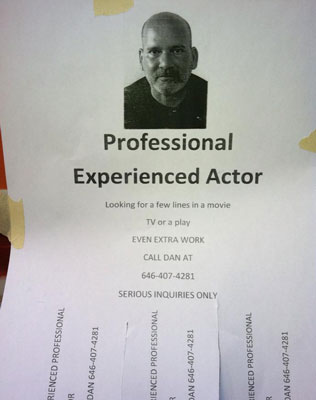 Actors are always trying to think outside the box to stand out and promote themselves in a crowded talent pool. One New York City-based actor has taken an approach that hasn't necessarily booked him a role, but it has gained him a bit of notoriety.
Dan Perino posted 2,000 fliers around the city on lampposts with his headshot and résumé in hopes of landing a gig. His goal is to spread 10,000 fliers around Manhattan.
The unorthodox ads promote him as a "professional, experienced actor" who is "looking for a few lines in a movie, TV, or play. Even extra work."
His dream role? He told the New York Post, "Maybe something like Criminal Minds — where I play a serial killer, that's kind of my dream."
The 50-year-old Perino is getting a few side benefits to his unique approach. He shared, "Women look up to me and they just can't place where they've seen me."
His 15-minutes of fame isn't what he is seeking though. He's looking to recharge an acting career that has stalled a bit in recent years.
Perino admitted that his last audition was several years ago for the Showtime series, Shameless.
"I should have a lot of opportunities now that I'm older," he said. "At auditions, 10 people in my age group show up, compared to 1,000 who show up in the 20-30 age range."
He has placed his phone number on the flyer, so he is naturally getting the expected crank calls from drunk or odd people. However, he has received legitimate calls from teachers and other actors. It's something he's not giving up on.
Perino explained, "I love acting because it brings you to another place."
Hopefully, the New York actor will get his big break soon.
Picture courtesy of Brandon Walker.  Check out his theatre company, The Seeing Place Theatre
Latest Videos
http://www.dailyactor.com/wp-content/uploads/2014/08/seth-rudetsky-reveals-the-5-wors.jpg
Seth Rudetsky Reveals the 5 Worst Musical Theater Audition Mistakes (video)
Seth Rudetsky, actor, musician and a host on SiriusXM's Broadway channel, has been teaching auditioning master classes this summer and he's seen his share of bad auditions lately. In this video, he reveals the 5 worst audition mistakes you can make in a musical theater audition and how to choose the perfect 16-bar audition song. [...]
http://www.dailyactor.com/2014/08/seth-rudetsky-5-worst-audition-mistakes/
http://www.dailyactor.com/wp-content/uploads/2014/07/sir-ben-kingsley-talks-about-the.jpg
Sir Ben Kingsley Talks about the Unique Way He Voiced His Character in the Animated Film, 'The Boxtrolls' (video)
I could listen to Sir Ben Kingsley talk about acting and.. well, I could listen to him talk about anything. He's starring in the new Laika stop-motion animated film, The Boxtrolls, and he and some of the cast (along with the director) joined in on a Comic-Con panel about the film. The Boxtrolls is about [...]
http://www.dailyactor.com/2014/07/sir-ben-kingsley-the-boxtrolls-comic-con/
http://www.dailyactor.com/wp-content/uploads/2014/07/bill-hader.jpg
Bill Hader: "I kind of fell into acting" (video)
Bill Hader, starring in the soon to be released The Skeleton Twins, talks about the film and how he fell into acting and then got "crazy lucky" in this quick video from USA Today.
http://www.dailyactor.com/2014/07/bill-hader-fell-into-acting-video/
http://www.dailyactor.com/wp-content/uploads/2014/07/director-john-carney-narrates-a.jpg
Director John Carney Narrates a Scene from 'Begin Again' Starring Kiera Knightley and Mark Ruffalo
Director John Carney (Once) narrates a scene from his new film, Begin Again. Starring Keira Knightley and Mark Ruffalo, the scene shows the first time the two characters meet. I haven't seen it yet but I've heard it's great.
http://www.dailyactor.com/2014/07/begin-again-scene-director-john-carney-keira-knightley-mark-ruffalo/
http://www.dailyactor.com/wp-content/uploads/2014/07/holler-if-you-hear-me-gma.jpg
Watch the Cast of Broadway's 'Holler If You Hear Me' Perform 'California Love' on GMA
The cast of Broadway's newest musical, Holler If You Hear Me with music from Tupac Shakur, performed on Good Morning America this morning. Singing 'California Love', the cast (including the teriffic Christopher Jackson – read our interview here), show why they're the most energetic and inspiring group of actors on Broadway. Holler If Ya Hear [...]
http://www.dailyactor.com/2014/07/watch-cast-broadways-holler-hear-perform-california-love-gma/