Liev Schrieber Takes On the Challenges of Directing in Season 2 of 'Ray Donovan'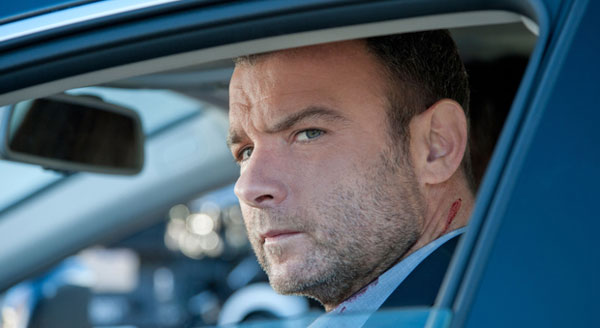 Liev Schrieber is enjoying life as an actor playing the lead on the Showtime series Ray Donovan. However, he's taking on more challenges in Season 2 — he's directing.
It's his first time directing, outside of commercials, in nine years. He shared with the Associated Press about the differences with acting versus life behind the camera.
The 46-year-old dad-of-two said, "That's part of the thing about acting. It's so easy to follow the career path that's defined by the options presented to you. Where with directing or producing or writing, there is a lot more self-motivation at play there."
He found it challenging to do double duty on a recent episode of the cable series. Jumping from the director's chair to hit his on-set mark wasn't easy.
"In order to do it correctly, you have to watch playback after every take. I just hated stopping … to see my own performance," he said. "The hard part is directing without vision, without being able to see."
Schreiber and his longtime partner Naomi Watts have led a bicoastal life in order for the actor to accommodate his Ray Donovan shooting schedule. In the end though, the Salt star is a New Yorker at heart.
"It's really demanding even when I'm not directing," he said. "I should be so lucky to have this opportunity, and to be leading a company like this is pretty special." However, he said, "to be honest, I would like to go home. I'm homesick. … If we don't get picked up next year, is it a huge tragedy for me and my family? Absolutely not."
Ray Donovan airs on Sundays at 9 p.m. on Showtime.
http://www.dailyactor.com/wp-content/uploads/2015/02/Larry-David.jpg
Larry David on Who he Wanted to Star in his Broadway Play 'Fish in the Dark': "Anybody but me"
"It's one of the reasons I didn't like acting. I don't like not being able to interject" – Larry David on acting with a script Who doesn't like Larry David? Well, to be honest, Larry David probably doesn't like Larry David. In fact, David didn't even want to cast himself in the lead of […]
http://www.dailyactor.com/2015/02/larry-david-on-who-he-wanted-to-star-broadway-play-fish-in-the-dark/
http://www.dailyactor.com/wp-content/uploads/2015/02/Helen-Mirren-The-Queen.jpg
Helen Mirren on Winning an Oscar: "It's an indescribable moment"
"It's hard to say, because you don't know what would have happened if you hadn't won" - Helen Mirren When Asked If Winning an Oscar Changed Her Career
http://www.dailyactor.com/2015/02/helen-mirren-on-winning-an-oscar/
http://www.dailyactor.com/wp-content/uploads/2015/02/anna-chlumsky-james-earl-jones.jpg
Anna Chlumsky on Her Broadway Debut: "For me, it was an opportunity to go in the direction that I hadn't played in a while"
"I think my personality lends itself to ensembles" - Anna Chlumsky
http://www.dailyactor.com/2015/02/anna-chlumsky-broadway-debut-ensemble/
http://www.dailyactor.com/wp-content/uploads/2015/02/joanne-froggatt-downton-abbey.jpg
'Downton Abbey' Star Joanne Froggatt on Creating Her Own Backstory and How She's "Not a Big-Budget Hollywood Type"
"They want the model type, classically beautiful, and I'm not" - Joanne Froggatt on Working in Hollywood
http://www.dailyactor.com/2015/02/downton-abbey-star-joanne-froggatt-character-backstory-hollywood/
http://www.dailyactor.com/wp-content/uploads/2015/01/al-pacino-the-humbling.jpg
Al Pacino on Acting: "It becomes such a part of your nature you rarely ever think about quitting"
After working infrequently in film over the last decade, Al Pacino appears in several films released in 2015, including The Humbling, an indie drama directed by Barry Levinson.
http://www.dailyactor.com/2015/02/al-pacino-on-acting-it-becomes-such-a-part-of-your-nature/