'Legends' Star Sean Bean on his New Show, Method Acting and Wearing Stilettos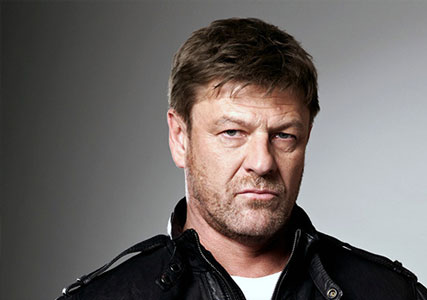 Sean Bean is back in the game with a new TNT show called Legends. The story focuses on a undercover operative who has multiple personalities. However, the lines begin to blur and his character has trouble distinguishing between his true self and his other identities.
The show is based off of Robert Littell's book, Legends: A Novel of Dissimulation. Bean talked to Vulture about his new venture as he's a fan of the genre.
He said, "It's that kind of deception, that kind of bluffing, that is particularly interesting. And I get a chance to play multiple personas, multiple characters, and that's a challenge. I always like to do something different, something unusual, stray off the path a bit. That's what I [find] kind of exciting."
Since the 55-year-old actor has to create so many characters for his new cable show, he explained his process for developing and leaving a role behind.
"I wouldn't say I'm a Method actor, but I do try to focus very deeply on what character I'm playing, and everything else goes out the window. I forget about everything. I try to get everything else out of my head. So I guess you could call that Method up to a point, but when I've finished a scene, I don't walk around and pretend that I'm still in character," he shared. "Everybody has their own methods, but I guess I'm kind of in between, because I do carry it around a little bit, when I finish work and come home at night, and your mind is racing a bit. And then when I get home from doing something like this, it takes a fair bit to readjust to normal life, to family life. [Laughs.] I'm not complaining! But it does have that kind of effect on you, to pretend for so long that you're someone else."
The Game of Thrones star does have one particular character that was tough to shake.
"I did a film for the BBC called Tracie's Story. It was part of a series called Accused, and I actually played a transvestite in that, and that was a big leap to get into. And it stayed with me for a long while, even until today, because it was an interesting character. It was a very endearing part to play. I played a schoolteacher in the daytime, teaching these kids at school, and by night, I was a woman — big blonde wig, stockings, stilettos, miniskirt — going out on the town. Very flamboyant, but a lovely character. She was called Tracie," Bean said. "And I suppose that was a big one to get into, to walk around before the first scene, to become a woman trying to chat my boyfriend up. That was a big leap for me [laughs]. But of all the characters I've played, that was probably one of the most rewarding jobs I've ever done. I remember that one really fondly. And it went down really well! It got a lot of critical acclaim, but it was one of the most unlikely things I could have done. It just popped up, and I said, 'Yeah, I'll do it,' and it's something that I'll remember forever."
Legends premieres on TNT on Aug. 13.
Latest Videos
Audtion Tapes: Robin Wright and Haley Joel Osment Audition with Tom Hanks for 'Forrest Gump'
Check out Robin Wright auditioning for the role of Jenny from Forest Gump opposite Tom Hanks. Interestingly enough, Hanks doesn't quite have Gump's southern drawl down just yet while the other actors audition with him. In fact, Hanks would base Gump's voice on the voice of Michael Conner Humphreys, who played the young Forrest and […]
http://www.dailyactor.com/2014/09/audtion-tapes-robin-wright-haley-joel-osment-tom-hanks-forrest-gump/
Watch Judi Dench Performing "Send In The Clowns" on The South Bank Show in 1995
Dame Judi Dench has such a commanding presence as a film actress that it's easy to forget that her big break came on stage in England with the Old Vic Company in 1957. In fact, she made her Broadway debut the very next year when the Old Vic Company performed Twelfth Night and Henry V […]
http://www.dailyactor.com/?p=63821
Bloopers: Marvel's Agents of S.H.I.E.L.D. – Season 1
Forgetting lines? Corpsing? Delivering lines in Spanish? Unruly props? All in a day's work on the set of Marvel's Agents of S.H.I.E.L.D, apparently. Clark Gregg, Ming-Na Wen, and the rest of the cast find plenty of humor while playing super-serious secret agents in the Marvel Universe. While you're waiting for season 2 of the series […]
http://www.dailyactor.com/?p=63834
http://www.dailyactor.com/wp-content/uploads/2014/08/bryan-cranston-emmy-award-speech.jpg
Watch: Bryan Cranston's Emmy Award Speech: "I love to act. It is a passion of mine and I will do it until my last breath."
The Emmy Awards weren't the most exciting awards show this year but with Bryan Cranston winning for Outstanding Actor in a Drama for Breaking Bad, we at least got to hear one heck of a fantastic acceptance speech. "I was a kid who always looked for the shortcut," he said. "I did happen to stumble […]
http://www.dailyactor.com/2014/08/watch-bryan-cranston-and-aaron-pauls-emmy-award-speeches/
http://www.dailyactor.com/wp-content/uploads/2014/08/audition-tapes-gerard-butler-aud.jpg
Audition Tapes: Gerard Butler Auditions for 'Dracula 2000′
Check out Gerard Butler auditioning for the role of Dracula in the movie, Dracula 2000. The film, about a group of thieves who break into a chamber expecting to find paintings, but instead find Dracula himself, also starred Christopher Plummer, Jonny Lee Miller and Nathan Fillion. Bulter has some sweet rock star hair, huh?
http://www.dailyactor.com/2014/08/audition-tapes-gerard-butler-dracula-2000/