Karen Olivo Explains Why She Left the Bright Lights of Broadway Behind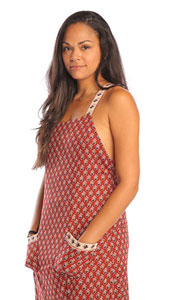 Karen Olivo had the career many aspiring New York actors dream of: Broadway shows listed on her résumé, a Tony Award and even a series regular job on the show Harry's Law. Yet she packed up and moved to Wisconsin in late 2012 after she decided she needed a change in her life.
She shared what her mindset was like at the time with The New York Times.
Olivo explained, "I was a full-time actor with very little personal life, and now it's a fraction of my life. I was also operating like an actor in life, which is scary — constantly wanting people to like me and thinking that I had to promote myself and the truth is, in life, you don't need to do that."
In fact, the 37-year-old star felt she needed to have "regular conversations with people about things that have nothing to do with pilot season or what is going to be nominated for a Tony."
The former West Side Story actress now spends her time teaching musical theatre performance at the University of Wisconsin, Madison while working on a CD and collaborating with the company Theater Lila. She made a recent return to the New York stage for a short run in Tick, Tick … Boom! for Encores! Off Center. It was actor Lin-Manuel Miranda who convinced her to do the production.
One key thing Olivo has learned during her time away is that performing is less of a chore to her now.
She summed up, "It was easy, and that is hard to say, and I think it had to do with the fact that I loved doing it. I wasn't trying to do it because I was thinking about reviews or expectations or anything like that. That wouldn't have been able to happen years ago."
Latest Videos
http://www.dailyactor.com/wp-content/uploads/2014/08/seth-rudetsky-reveals-the-5-wors.jpg
Seth Rudetsky Reveals the 5 Worst Musical Theater Audition Mistakes (video)
Seth Rudetsky, actor, musician and a host on SiriusXM's Broadway channel, has been teaching auditioning master classes this summer and he's seen his share of bad auditions lately. In this video, he reveals the 5 worst audition mistakes you can make in a musical theater audition and how to choose the perfect 16-bar audition song. [...]
http://www.dailyactor.com/2014/08/seth-rudetsky-5-worst-audition-mistakes/
http://www.dailyactor.com/wp-content/uploads/2014/07/sir-ben-kingsley-talks-about-the.jpg
Sir Ben Kingsley Talks about the Unique Way He Voiced His Character in the Animated Film, 'The Boxtrolls' (video)
I could listen to Sir Ben Kingsley talk about acting and.. well, I could listen to him talk about anything. He's starring in the new Laika stop-motion animated film, The Boxtrolls, and he and some of the cast (along with the director) joined in on a Comic-Con panel about the film. The Boxtrolls is about [...]
http://www.dailyactor.com/2014/07/sir-ben-kingsley-the-boxtrolls-comic-con/
http://www.dailyactor.com/wp-content/uploads/2014/07/bill-hader.jpg
Bill Hader: "I kind of fell into acting" (video)
Bill Hader, starring in the soon to be released The Skeleton Twins, talks about the film and how he fell into acting and then got "crazy lucky" in this quick video from USA Today.
http://www.dailyactor.com/2014/07/bill-hader-fell-into-acting-video/
http://www.dailyactor.com/wp-content/uploads/2014/07/director-john-carney-narrates-a.jpg
Director John Carney Narrates a Scene from 'Begin Again' Starring Kiera Knightley and Mark Ruffalo
Director John Carney (Once) narrates a scene from his new film, Begin Again. Starring Keira Knightley and Mark Ruffalo, the scene shows the first time the two characters meet. I haven't seen it yet but I've heard it's great.
http://www.dailyactor.com/2014/07/begin-again-scene-director-john-carney-keira-knightley-mark-ruffalo/
http://www.dailyactor.com/wp-content/uploads/2014/07/holler-if-you-hear-me-gma.jpg
Watch the Cast of Broadway's 'Holler If You Hear Me' Perform 'California Love' on GMA
The cast of Broadway's newest musical, Holler If You Hear Me with music from Tupac Shakur, performed on Good Morning America this morning. Singing 'California Love', the cast (including the teriffic Christopher Jackson – read our interview here), show why they're the most energetic and inspiring group of actors on Broadway. Holler If Ya Hear [...]
http://www.dailyactor.com/2014/07/watch-cast-broadways-holler-hear-perform-california-love-gma/