Karen Olivo Explains Why She Left the Bright Lights of Broadway Behind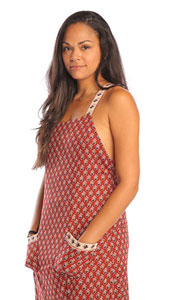 Karen Olivo had the career many aspiring New York actors dream of: Broadway shows listed on her résumé, a Tony Award and even a series regular job on the show Harry's Law. Yet she packed up and moved to Wisconsin in late 2012 after she decided she needed a change in her life.
She shared what her mindset was like at the time with The New York Times.
Olivo explained, "I was a full-time actor with very little personal life, and now it's a fraction of my life. I was also operating like an actor in life, which is scary — constantly wanting people to like me and thinking that I had to promote myself and the truth is, in life, you don't need to do that."
In fact, the 37-year-old star felt she needed to have "regular conversations with people about things that have nothing to do with pilot season or what is going to be nominated for a Tony."
The former West Side Story actress now spends her time teaching musical theatre performance at the University of Wisconsin, Madison while working on a CD and collaborating with the company Theater Lila. She made a recent return to the New York stage for a short run in Tick, Tick … Boom! for Encores! Off Center. It was actor Lin-Manuel Miranda who convinced her to do the production.
One key thing Olivo has learned during her time away is that performing is less of a chore to her now.
She summed up, "It was easy, and that is hard to say, and I think it had to do with the fact that I loved doing it. I wasn't trying to do it because I was thinking about reviews or expectations or anything like that. That wouldn't have been able to happen years ago."
http://www.dailyactor.com/wp-content/uploads/2015/01/watch-al-pacino-talks-the-humbli.jpg
Watch: Al Pacino Talks 'The Humbling' and His Extraordinary Career
In this conversation with Al Pacino talks about his role in The Humbling -- including working with Greta Gerwig -- and his historic acting career
http://www.dailyactor.com/2015/01/watch-al-pacino-extraordinary-career/
http://www.dailyactor.com/wp-content/uploads/2015/01/watch-oscar-nominee-steve-carell.jpg
Watch: Oscar Nominee Steve Carell Talks Improv, Auditioning for 'The Office' and 'Foxcatcher'
Carell talks about his entire career as an actor, including his background in improv, how he landed the Michael Scott role on The Office, and Foxcatcher
http://www.dailyactor.com/2015/01/oscar-nominee-steve-carell-improv-auditioning-for-the-office-foxcatcher/
http://www.dailyactor.com/wp-content/uploads/2015/01/ethan-hawke-ellar-coltrane-boyhood.jpg
Ethan Hawke Calls 'Boyhood' the "most special endeavor of my life"
Ethan Hawke is riding high with his fourth Oscar nomination for the Richard Linklater-directed Boyhood. In a recent "Ask Me Anything" on Reddit, the 44-year-old actor gave some thoughtful insight into his career and the 12-year creative endeavor that became the biggest film of the Oscar season. When asked what was the most difficult thing about […]
http://www.dailyactor.com/2015/01/ethan-hawke-boyhood-reddit-amaife/
http://www.dailyactor.com/wp-content/uploads/2015/01/martha-plimpton-a-delicate-balance.jpg
Martha Plimpton Takes a Refreshing Approach to a Long-Lasting Career
Martha Plimpton is an actress who enjoys the work, she's not in it for the fame. The proof is in her continually excellent work that she is doing on-screen and on the stage. She's currently starring in A Delicate Balance on Broadway. It's the audience who gives her the ultimate thrill. "I try to get […]
http://www.dailyactor.com/2015/01/martha-plimpton-long-lasting-career/
http://www.dailyactor.com/wp-content/uploads/2015/01/watch-michael-keaton-talks-candi.jpg
Watch: Michael Keaton Talks Candidly About His Career and His Approach to Acting in 'Birdman'
In this nearly 90 minute conversation, Michael Keaton is his usual affable self but is also remarkably candid about his career and his approach to acting.
http://www.dailyactor.com/2015/01/michael-keaton-career-approach-to-acting-birdman/