John Benjamin Hickey on 'Manhattan' and One of the "great things about being an actor"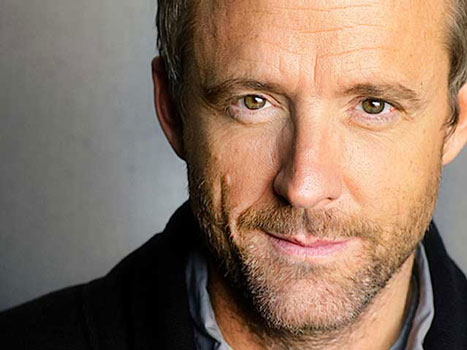 Actor John Benjamin Hickey may be a star of stage and screen as well as television, but he is probably best known in recent years for playing Sean Tolkey on Showtime's The Big C. Though the series ended in May 2013, Hickley hasn't been off television screens for very long. He's since appeared in episodes of Hannibal, Law & Order: Special Victims Unit, and Modern Family, and he's already landed a new lead role as Frank Winter in Manhattan, a series about the construction of the first atomic bombs. Hickey spoke to The Hollywood Reporter about why he decided to take the role so soon after his last TV series and what he enjoys about researching for a role.
Hickey says that he intended to go back to television, and Manhattan was the right project. He explains, "I was going to go back to television. I wanted to do something completely different. I'm attracted to characters who think and behave outside the box and who have a lot in common, but tonally they couldn't be more different in terms of these two shows. One was a comedy about the end of life and one is drama about ending life. In some senses that's it. But both Sean and Frank find themselves in great existential crisis in their life, and actors are so attracted to people in trouble. It gives them more to play."
He also points out that whenever he undertakes a new role it requires a lot of learning. He says, "One of the great things about being an actor and having a part like this is you get to go back to school. I found the history on the subject and the story itself so unbelievably fascinating." He continues, "I was voracious about learning about it, not just because I needed to look like I knew what the fuck I was doing. In order for us to create fictional characters and tell an emotionally true story that is not the historical true facts at that time and place, we needed to know exactly what the world was in order to take this leap of imaginative faith. So I did a lot of homework."
http://www.dailyactor.com/wp-content/uploads/2015/02/Larry-David.jpg
Larry David on Who he Wanted to Star in his Broadway Play 'Fish in the Dark': "Anybody but me"
"It's one of the reasons I didn't like acting. I don't like not being able to interject" – Larry David on acting with a script Who doesn't like Larry David? Well, to be honest, Larry David probably doesn't like Larry David. In fact, David didn't even want to cast himself in the lead of […]
http://www.dailyactor.com/2015/02/larry-david-on-who-he-wanted-to-star-broadway-play-fish-in-the-dark/
http://www.dailyactor.com/wp-content/uploads/2015/02/Helen-Mirren-The-Queen.jpg
Helen Mirren on Winning an Oscar: "It's an indescribable moment"
"It's hard to say, because you don't know what would have happened if you hadn't won" - Helen Mirren When Asked If Winning an Oscar Changed Her Career
http://www.dailyactor.com/2015/02/helen-mirren-on-winning-an-oscar/
http://www.dailyactor.com/wp-content/uploads/2015/02/anna-chlumsky-james-earl-jones.jpg
Anna Chlumsky on Her Broadway Debut: "For me, it was an opportunity to go in the direction that I hadn't played in a while"
"I think my personality lends itself to ensembles" - Anna Chlumsky
http://www.dailyactor.com/2015/02/anna-chlumsky-broadway-debut-ensemble/
http://www.dailyactor.com/wp-content/uploads/2015/02/joanne-froggatt-downton-abbey.jpg
'Downton Abbey' Star Joanne Froggatt on Creating Her Own Backstory and How She's "Not a Big-Budget Hollywood Type"
"They want the model type, classically beautiful, and I'm not" - Joanne Froggatt on Working in Hollywood
http://www.dailyactor.com/2015/02/downton-abbey-star-joanne-froggatt-character-backstory-hollywood/
http://www.dailyactor.com/wp-content/uploads/2015/01/al-pacino-the-humbling.jpg
Al Pacino on Acting: "It becomes such a part of your nature you rarely ever think about quitting"
After working infrequently in film over the last decade, Al Pacino appears in several films released in 2015, including The Humbling, an indie drama directed by Barry Levinson.
http://www.dailyactor.com/2015/02/al-pacino-on-acting-it-becomes-such-a-part-of-your-nature/