True Blood's Joe Manganiello: "If you do the math, in a final season, you want to kill as many people as possible"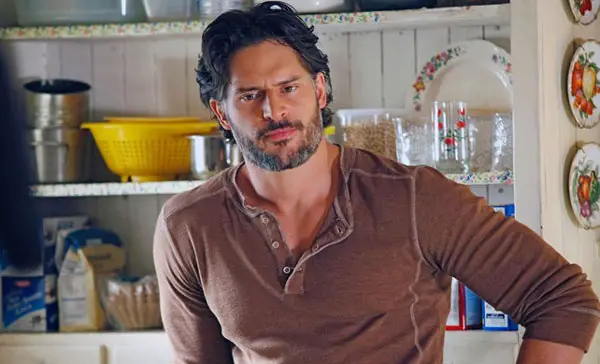 If you haven't seen the Season 7, Episode 3 of True Blood yet, this is your warning…spoilers ahead.
Joe Manganiello said goodbye to True Blood last Sunday as his character Alcide was killed by a lynch mob in Bon Temps. The death was foreshadowed in Episode 2, but viewers had to wait until Episode 3 to see if the werewolf's death would really come true.
The Magic Mike actor knew of his demise ahead of time and he suspected it was coming because Maganiello knew who Sookie belonged with at the end of the series — and it wasn't Alcide.
He told The Hollywood Reporter, "If you do the math, in a final season, you want to kill as many people as possible, which left me — and when you get rid of all the werewolves, I knew that's what was going to happen. When Alcide got together with Sookie at the end of the season, it was like, I'm in the A plot, but Sookie's not going to end up with him. You can't have her break up with him; then the audience wouldn't like her. You've got to kill him."
It wasn't all bad news though for the La Bare director, he had a tasty end to the conversation.
"So Bucky [showrunner Brian Buckner] called me and said, 'Hey, let's have dinner.' Bucky and I do this — we get a steak. He said, 'We're killing you.' I said, 'I know.' He said, 'You know?' I said, 'Of course, and I totally get it.' He handed me the first three scripts of the season, and then we ordered the hugest steaks on the menu."
Shooting the final scene wasn't so easy though. The 37-year-old actor was naked on a chilly night and he needed to play dead.
He shared with Vulture, "It was freezing. It was in the 30s, and I had to lie on the ground for long periods of time, and try not to shake or rattle, while I was freezing, because I'm supposed to be dead. The director was like, 'Please stop shaking!' And I was like, 'I'm trying my hardest right now!' So that was really, really tough to do. I've died on other projects before, so that wasn't a big deal. But I was like, This is the last time I'm going to have to lie down on the ground naked in Malibu in the woods. So that made me happy. I thought, If I get through this, I'll probably, hopefully, never have to do this again."
One thing he did do on the set in the last few seasons was start a dialogue with the writers to understand the character of Alcide better. It was a dramatic change this theatrical actor.
"I come from the theater world, and there really aren't any conversations that you can have like that in theater — you can't talk to Tennessee Williams about how you don't think that scene works! You know? You just do it," he explained. "So I think that as far as I went, for the first couple of years, no. But as I was on the show longer, it was more of a back-and-forth conversation, as I started to know the character better."
For fans who will miss Manganiello from the HBO series, the actor has a full slate of films coming over the next year including the Magic Mike sequel and Knight of Cups starring Christian Bale and Natalie Portman.
http://www.dailyactor.com/wp-content/uploads/2015/05/Caitriona-Balfe-Outlander.jpg
Outlander's Caitriona Balfe On The Emotional Toll of Filming Violent Scenes
"Having to put yourself in that place is tough. To sit in that emotional space, especially when you're doing it day after day." - Caitriona Balfe
http://www.dailyactor.com/2015/05/outlander-catriona-balfe-emotional-toll-of-filming-violent-scenes/
http://www.dailyactor.com/wp-content/uploads/2015/05/Chrissie-Fit.jpg
Chrissie Fit on How She Landed Her Role in 'Pitch Perfect 2′
"I remember getting the audition and being like, "This might not happen," just because it is such a massive movie." - Chrissie Fit
http://www.dailyactor.com/2015/05/chrissie-fit-on-how-she-landed-her-role-in-pitch-perfect-2/
http://www.dailyactor.com/wp-content/uploads/2015/05/Sam-Elliott.jpg
Sam Elliot on How he "F–ked" Himself Out of a Career as a Lead Actor
The rugged Sam Elliot has most often cast in character actor roles throughout his long career in film, though the 70 year-old Elliot thinks it wasn't always meant to be that way.
http://www.dailyactor.com/2015/05/sam-elliot-on-how-he-f-ked-himself-out-of-a-career-as-a-lead-actor/
http://www.dailyactor.com/wp-content/uploads/2015/05/Anna-Kendrick-Pitch-Perfect-2.jpg
Anna Kendrick Talks Hollywood and its Gender Bias
"As an actress you're perpetually about to be unemployed." - Anna Kendrick
http://www.dailyactor.com/2015/05/anna-kendrick-talks-hollywood-and-its-gender-bias/
http://www.dailyactor.com/wp-content/uploads/2015/05/tom-hardy-mad-max-fury-road.jpg
Tom Hardy on Fame, Acting School, and His 'Mad Respect' for Michael Fassbender
"Do what you love doing, do it well—everything should fit into place." - Tom Hardy
http://www.dailyactor.com/2015/05/tom-hardy-fame-acting-school-michael-fassbender/