What Made Freddie Prinze Jr. Almost Quit Acting? Working with 'Unprofessional Dude' Kiefer Sutherland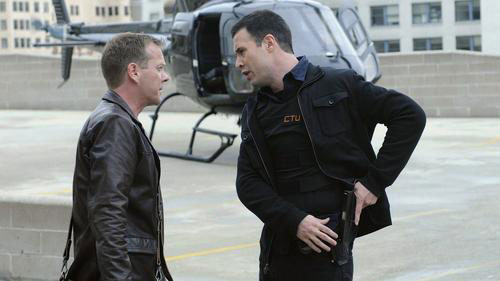 She's All That and Scooby-Doo star Freddie Prinze, Jr. does not appear on screen as much as he used to, and while he was at San Diego Comic-Con promoting Star Wars Rebels he has revealed why in a no-holds-barred way that reflects his current work experience with WWE.
Prinze didn't hold back when he reveals why he almost quit acting after filming 24: he had a horrible experience working with series star Kiefer Sutherland. He says, "I did 24, it was terrible. I hated every moment of it. Kiefer was the most unprofessional dude in the world. That's not me talking trash, I'd say it to his face, I think everyone that's worked with him has said that. I just wanted to quit the business after that. So, I just sort of stopped."
Where did Prinze end up? Actually, he ended up back as a producer and director for WWE pro wrestling (Prinze had previously worked as writer for WWE from 2008-2009). On that experience he says, "I went and worked for Vince McMahon at the WWE for Christ's sake and it was a crazier job than working with Kiefer. But, at least he was cool and tall. I didn't have to take my shoes off to do scenes with him, which they made me do. Just put the guy on an apple box or don't hire me next time. You know I'm 6 feet and he's 5'4″ (In Sutherland's defense, sources put his height at 5'9″).
Sutherland's response wasn't harsh in the least. In a statement to E!, a representative for Sutherland said, "Kiefer worked with Freddie Prinze, Jr. more than 5 years ago, and this is the first he has heard of Freddie's grievances. Kiefer enjoyed working with Freddie and wishes him the best."
via ABC News
http://www.dailyactor.com/wp-content/uploads/2015/05/Caitriona-Balfe-Outlander.jpg
Outlander's Caitriona Balfe On The Emotional Toll of Filming Violent Scenes
"Having to put yourself in that place is tough. To sit in that emotional space, especially when you're doing it day after day." - Caitriona Balfe
http://www.dailyactor.com/2015/05/outlander-catriona-balfe-emotional-toll-of-filming-violent-scenes/
http://www.dailyactor.com/wp-content/uploads/2015/05/Chrissie-Fit.jpg
Chrissie Fit on How She Landed Her Role in 'Pitch Perfect 2′
"I remember getting the audition and being like, "This might not happen," just because it is such a massive movie." - Chrissie Fit
http://www.dailyactor.com/2015/05/chrissie-fit-on-how-she-landed-her-role-in-pitch-perfect-2/
http://www.dailyactor.com/wp-content/uploads/2015/05/Sam-Elliott.jpg
Sam Elliot on How he "F–ked" Himself Out of a Career as a Lead Actor
The rugged Sam Elliot has most often cast in character actor roles throughout his long career in film, though the 70 year-old Elliot thinks it wasn't always meant to be that way.
http://www.dailyactor.com/2015/05/sam-elliot-on-how-he-f-ked-himself-out-of-a-career-as-a-lead-actor/
http://www.dailyactor.com/wp-content/uploads/2015/05/Anna-Kendrick-Pitch-Perfect-2.jpg
Anna Kendrick Talks Hollywood and its Gender Bias
"As an actress you're perpetually about to be unemployed." - Anna Kendrick
http://www.dailyactor.com/2015/05/anna-kendrick-talks-hollywood-and-its-gender-bias/
http://www.dailyactor.com/wp-content/uploads/2015/05/tom-hardy-mad-max-fury-road.jpg
Tom Hardy on Fame, Acting School, and His 'Mad Respect' for Michael Fassbender
"Do what you love doing, do it well—everything should fit into place." - Tom Hardy
http://www.dailyactor.com/2015/05/tom-hardy-fame-acting-school-michael-fassbender/