Broadway Casting Director Tara Rubin on Preparing for Auditions and Finding Replacement Actors for Long-Running Shows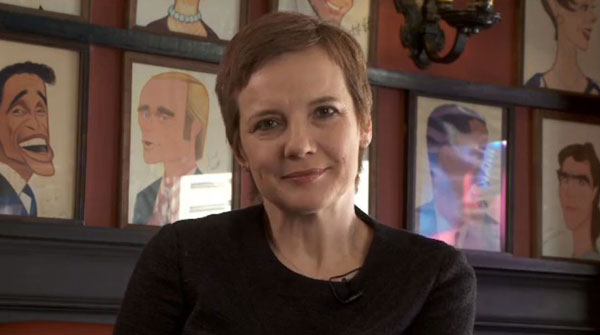 If you're an actor reading this (and considering this is Daily Actor, there's a very good chance that you are), you're likely always open for some good advice when it comes to auditions. In that case, how about some auditioning advice from Tara Rubin, who was in charge of casting Broadway productions like Mothers and Sons, Aladdin, Les Misérables and Bullets Over Broadway as well as replacement casting for The Phantom of the Opera, Mamma Mia! and Jersey Boys? Rubin spoke to Playbill about what she looks for in casting a replacement actor and how prepared an actor should be for a first audition and a callback.
According to Rubin, finding a replacement on a Broadway show is a combination of finding someone who can fulfill expectations of the audience and can also bring vivacity to the role. She explains, "On long-running shows we look for actors who can continue to portray the characters the way they were originally conceived. For instance, to play Christine Daaé in Phantom of the Opera you must be able to sing the score as written. But, we are always interested in making sure the characters remain lively and vivid — we aren't looking to replicate or duplicate, but rather for actors who are capable of playing the role and who inhabit the role with their own humanity and personality without changing the music or the text."
Still, Rubin doesn't think that an actor could be over-prepared when auditioning for a well-established role. She says,"I really don't think there is such a thing as 'too prepared.' Preparation is the spine in the audition — it will keep the actor standing upright when nerves or something unexpected happens in the audition room. But, we want to see a living, breathing human being in the audition — not someone who has prepared technically and rigidly. We want to see your ideas about the characters."
Rubin also has advice for musical theater actors who audition for non-musical roles. She points out, "I think actors who are accustomed to auditioning for musicals would do well to remember that characters who don't sing and dance have to be created by words alone. The actor needs to use the language with precision and thought. I like actors to make a lot of decisions about the sides — just making the words your own and the scene sound natural isn't enough. We expect a strongly developed sense of the scene in the audition room — not a general wash of feelings."
So what about the intangible things that Rubin looks for in an actor's first impression? "People who can be relaxed and just get on with the audition impress me. I'm not a fan of people who walk in 'in character' or who rush the table to shake hands. The actor should take his cue from the person who greets him: If he is being introduced that will be clear, and then a handshake and 'Nice to meet you' is appropriate. If not, it's best to take you place in the room and get started. You don't need to introduce yourself or your song in my auditions. We do everything we can to make the room comfortable and the actor welcome. Listen, and be aware of the tone of the room — acting has a lot to do with intuition, so let us see that you have taste and discretion."
A callback can be even more nerve-racking than a first audition, but Rubin reveals that she still isn't expecting perfection in the callback and actors shouldn't feel the pressure to nail the material from memory. She explains, "I think actors should be as memorized as possible and hold their pages to help out. We don't expect you to be off book — but the better you know the material the easier it will be for you to work in the room."
Latest Videos
http://www.dailyactor.com/wp-content/uploads/2014/10/alex-sharp-curious-incident-of-the-dog.jpg
Alex Sharp Talks About His Broadway Debut in 'The Curious Incident of the Dog in the Night-Time' (video)
Alex Sharp went from working in a call-center and renovating houses to going to Julliard. And now, he's starring in one of the most talked about shows of the season, The Curious Incident of the Dog in the Night-Time. Check out this great, inspiring video!
http://www.dailyactor.com/2014/10/alex-sharp-broadway-debut-the-curious-incident-of-the-dog-in-the-night-time-video/
http://www.dailyactor.com/wp-content/uploads/2014/10/Its-only-a-play.jpg
Watch a Scene From Terrance McNally's, 'It's Only a Play', Featuring Nathan Lane and Micah Stock
Here's a quick scene from Terrance McNally's It's Only a Play, currently on Broadway at the Schoenfeld Theater. In this scene, Nathan Lane and Micah Stock meet for the first time. The show, about the opening night of a new play, also stars Matthew Broderick, Stockard Channing, F. Murray Abraham, Rupert Grint and Megan Mullally.
http://www.dailyactor.com/2014/10/watch-a-scene-terrance-mcnally-its-only-a-play-nathan-lane-micah-stock/
http://www.dailyactor.com/wp-content/uploads/2014/10/birdman-director-alejandro-g-ina.jpg
'Birdman' Director Alejandro G. Iñárritu Narrates a Scene from the Film Featuring Michael Keaton and Edward Norton
Director Alejandro G. Iñárritu narrates a scene from Birdman or The Unexpected Virtue of Ignorance that features stars Michael Keaton and Edward Norton. The film is wonderful and if it's playing in your town, definitely check it out!
http://www.dailyactor.com/2014/10/birdman-director-alejandro-g-inarritu-michael-keaton-edward-norton/
http://www.dailyactor.com/wp-content/uploads/2014/10/the-cast-of-mad-men-on-the-final.jpg
The Cast of 'Mad Men' on the Final Season and More
Though the AMC television series Mad Men might not carry the same cultural weight that it did a few years ago (splitting your final season over two years might do that to you), the second half of the show's final season is expected to be full of powerful performances from its ensemble cast. With the […]
http://www.dailyactor.com/2014/10/cast-of-mad-men-final-season/
http://www.dailyactor.com/wp-content/uploads/2014/10/behind-the-scenes-of-a-sex-scene.jpg
Behind the Scenes of a Sex Scene with Patrick Wilson, Brooklyn Decker and Director Joe Carnahan
Director Joe Carnahan is giving viewers an inside look at what it is like to film a big screen Hollywood sex scene, as confirmed by Gawker. Carnahan released a brief video clip taken from the set of his latest film Stretch starring supermodel and actress Brooklyn Decker and Patrick Wilson. The video showcases the two […]
http://www.dailyactor.com/2014/10/behind-the-scenes-of-a-sex-scene-patrick-wilson-brooklyn-decker-director-joe-carnahan/