Broadway Casting Director Tara Rubin on Preparing for Auditions and Finding Replacement Actors for Long-Running Shows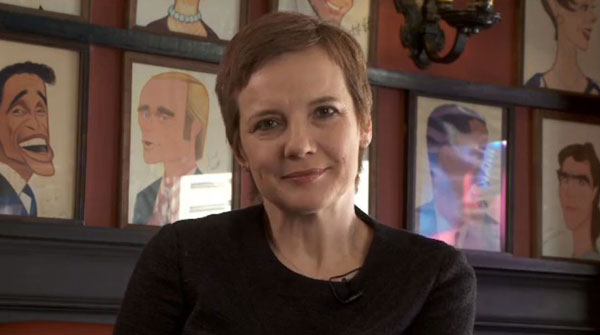 If you're an actor reading this (and considering this is Daily Actor, there's a very good chance that you are), you're likely always open for some good advice when it comes to auditions. In that case, how about some auditioning advice from Tara Rubin, who was in charge of casting Broadway productions like Mothers and Sons, Aladdin, Les Misérables and Bullets Over Broadway as well as replacement casting for The Phantom of the Opera, Mamma Mia! and Jersey Boys? Rubin spoke to Playbill about what she looks for in casting a replacement actor and how prepared an actor should be for a first audition and a callback.
According to Rubin, finding a replacement on a Broadway show is a combination of finding someone who can fulfill expectations of the audience and can also bring vivacity to the role. She explains, "On long-running shows we look for actors who can continue to portray the characters the way they were originally conceived. For instance, to play Christine Daaé in Phantom of the Opera you must be able to sing the score as written. But, we are always interested in making sure the characters remain lively and vivid — we aren't looking to replicate or duplicate, but rather for actors who are capable of playing the role and who inhabit the role with their own humanity and personality without changing the music or the text."
Still, Rubin doesn't think that an actor could be over-prepared when auditioning for a well-established role. She says,"I really don't think there is such a thing as 'too prepared.' Preparation is the spine in the audition — it will keep the actor standing upright when nerves or something unexpected happens in the audition room. But, we want to see a living, breathing human being in the audition — not someone who has prepared technically and rigidly. We want to see your ideas about the characters."
Rubin also has advice for musical theater actors who audition for non-musical roles. She points out, "I think actors who are accustomed to auditioning for musicals would do well to remember that characters who don't sing and dance have to be created by words alone. The actor needs to use the language with precision and thought. I like actors to make a lot of decisions about the sides — just making the words your own and the scene sound natural isn't enough. We expect a strongly developed sense of the scene in the audition room — not a general wash of feelings."
So what about the intangible things that Rubin looks for in an actor's first impression? "People who can be relaxed and just get on with the audition impress me. I'm not a fan of people who walk in 'in character' or who rush the table to shake hands. The actor should take his cue from the person who greets him: If he is being introduced that will be clear, and then a handshake and 'Nice to meet you' is appropriate. If not, it's best to take you place in the room and get started. You don't need to introduce yourself or your song in my auditions. We do everything we can to make the room comfortable and the actor welcome. Listen, and be aware of the tone of the room — acting has a lot to do with intuition, so let us see that you have taste and discretion."
A callback can be even more nerve-racking than a first audition, but Rubin reveals that she still isn't expecting perfection in the callback and actors shouldn't feel the pressure to nail the material from memory. She explains, "I think actors should be as memorized as possible and hold their pages to help out. We don't expect you to be off book — but the better you know the material the easier it will be for you to work in the room."
http://www.dailyactor.com/wp-content/uploads/2015/02/Larry-David.jpg
Larry David on Who he Wanted to Star in his Broadway Play 'Fish in the Dark': "Anybody but me"
"It's one of the reasons I didn't like acting. I don't like not being able to interject" – Larry David on acting with a script Who doesn't like Larry David? Well, to be honest, Larry David probably doesn't like Larry David. In fact, David didn't even want to cast himself in the lead of […]
http://www.dailyactor.com/2015/02/larry-david-on-who-he-wanted-to-star-broadway-play-fish-in-the-dark/
http://www.dailyactor.com/wp-content/uploads/2015/02/Helen-Mirren-The-Queen.jpg
Helen Mirren on Winning an Oscar: "It's an indescribable moment"
"It's hard to say, because you don't know what would have happened if you hadn't won" - Helen Mirren When Asked If Winning an Oscar Changed Her Career
http://www.dailyactor.com/2015/02/helen-mirren-on-winning-an-oscar/
http://www.dailyactor.com/wp-content/uploads/2015/02/anna-chlumsky-james-earl-jones.jpg
Anna Chlumsky on Her Broadway Debut: "For me, it was an opportunity to go in the direction that I hadn't played in a while"
"I think my personality lends itself to ensembles" - Anna Chlumsky
http://www.dailyactor.com/2015/02/anna-chlumsky-broadway-debut-ensemble/
http://www.dailyactor.com/wp-content/uploads/2015/02/joanne-froggatt-downton-abbey.jpg
'Downton Abbey' Star Joanne Froggatt on Creating Her Own Backstory and How She's "Not a Big-Budget Hollywood Type"
"They want the model type, classically beautiful, and I'm not" - Joanne Froggatt on Working in Hollywood
http://www.dailyactor.com/2015/02/downton-abbey-star-joanne-froggatt-character-backstory-hollywood/
http://www.dailyactor.com/wp-content/uploads/2015/01/al-pacino-the-humbling.jpg
Al Pacino on Acting: "It becomes such a part of your nature you rarely ever think about quitting"
After working infrequently in film over the last decade, Al Pacino appears in several films released in 2015, including The Humbling, an indie drama directed by Barry Levinson.
http://www.dailyactor.com/2015/02/al-pacino-on-acting-it-becomes-such-a-part-of-your-nature/