Broadway Actor Josh Tower Celebrates Birth of a Baby Girl the Same Night He First Appears in 'Motown The Musical'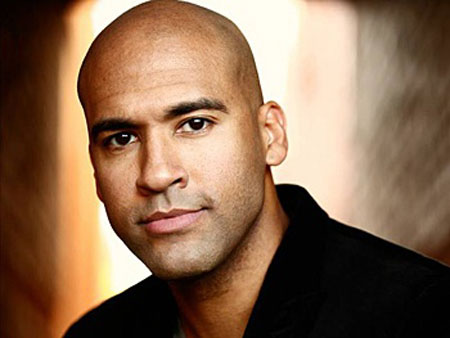 Returning to Broadway after a thirteen year absence in the lead role of a popular musical is nerve-wracking enough. But how about finding out during intermission that your pregnant wife is having contractions?
Actor Josh Tower, who stepped into the lead role of Berry Gordy in Motown The Musical on June 17, hadn't appeared on Broadway since Ragtime closed in 2000. During his first performance he received word from his wife Karen during intermission that she was having contractions. While Tower was on stage during the second Act, Karen informed a stage manager via text that she was off to the hospital to give birth to the couple's second child. Tower, who describes the whole experience as "insane," praised his wife, saying,  "She said, 'No, don't tell Josh until the show's done. He has to be able to do this. She's just a rock."
Of course, as soon as the show was over Tower was informed and he rushed to the hospital. He recalls, "The curtain comes down at the end of the show and I hear everyone go 'Yeah! Go! Go!' I was like, 'Yeah, woo-ho! Go!' They were like, 'No, GO! GO!'" He then rushed off to meet his wife and mother-in-law at St. Luke's Hospital. Incidentally, to make the Motown connection even stronger (and more bizarre), Karen's doctor, Dr. Maria Teaiwa-Rutherford, is Diana Ross' gynecologist (Ross is a key character in the musical).
Several hours later their new daughter, Marlowe Rose, arrived, but Tower returned to work two days later. Nonetheless, he admits that he had no issue returning to work. He explains, "I'm like, 'I can do these shows. It's OK.' Everything after that is fine. It's kind of like Shakespeare. Once you do Shakespeare, the rest of it is a cake walk."
However, though the couple already has a two year old son, Tower will likely still find the role of "father" not as much of a cakewalk!
via Yahoo!
http://www.dailyactor.com/wp-content/uploads/2015/02/Larry-David.jpg
Larry David on Who he Wanted to Star in his Broadway Play 'Fish in the Dark': "Anybody but me"
"It's one of the reasons I didn't like acting. I don't like not being able to interject" – Larry David on acting with a script Who doesn't like Larry David? Well, to be honest, Larry David probably doesn't like Larry David. In fact, David didn't even want to cast himself in the lead of […]
http://www.dailyactor.com/2015/02/larry-david-on-who-he-wanted-to-star-broadway-play-fish-in-the-dark/
http://www.dailyactor.com/wp-content/uploads/2015/02/Helen-Mirren-The-Queen.jpg
Helen Mirren on Winning an Oscar: "It's an indescribable moment"
"It's hard to say, because you don't know what would have happened if you hadn't won" - Helen Mirren When Asked If Winning an Oscar Changed Her Career
http://www.dailyactor.com/2015/02/helen-mirren-on-winning-an-oscar/
http://www.dailyactor.com/wp-content/uploads/2015/02/anna-chlumsky-james-earl-jones.jpg
Anna Chlumsky on Her Broadway Debut: "For me, it was an opportunity to go in the direction that I hadn't played in a while"
"I think my personality lends itself to ensembles" - Anna Chlumsky
http://www.dailyactor.com/2015/02/anna-chlumsky-broadway-debut-ensemble/
http://www.dailyactor.com/wp-content/uploads/2015/02/joanne-froggatt-downton-abbey.jpg
'Downton Abbey' Star Joanne Froggatt on Creating Her Own Backstory and How She's "Not a Big-Budget Hollywood Type"
"They want the model type, classically beautiful, and I'm not" - Joanne Froggatt on Working in Hollywood
http://www.dailyactor.com/2015/02/downton-abbey-star-joanne-froggatt-character-backstory-hollywood/
http://www.dailyactor.com/wp-content/uploads/2015/01/al-pacino-the-humbling.jpg
Al Pacino on Acting: "It becomes such a part of your nature you rarely ever think about quitting"
After working infrequently in film over the last decade, Al Pacino appears in several films released in 2015, including The Humbling, an indie drama directed by Barry Levinson.
http://www.dailyactor.com/2015/02/al-pacino-on-acting-it-becomes-such-a-part-of-your-nature/