Broadway Actor Josh Tower Celebrates Birth of a Baby Girl the Same Night He First Appears in 'Motown The Musical'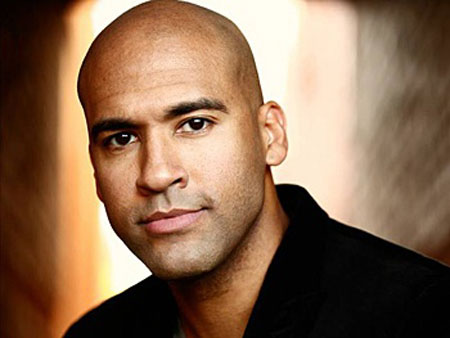 Returning to Broadway after a thirteen year absence in the lead role of a popular musical is nerve-wracking enough. But how about finding out during intermission that your pregnant wife is having contractions?
Actor Josh Tower, who stepped into the lead role of Berry Gordy in Motown The Musical on June 17, hadn't appeared on Broadway since Ragtime closed in 2000. During his first performance he received word from his wife Karen during intermission that she was having contractions. While Tower was on stage during the second Act, Karen informed a stage manager via text that she was off to the hospital to give birth to the couple's second child. Tower, who describes the whole experience as "insane," praised his wife, saying,  "She said, 'No, don't tell Josh until the show's done. He has to be able to do this. She's just a rock."
Of course, as soon as the show was over Tower was informed and he rushed to the hospital. He recalls, "The curtain comes down at the end of the show and I hear everyone go 'Yeah! Go! Go!' I was like, 'Yeah, woo-ho! Go!' They were like, 'No, GO! GO!'" He then rushed off to meet his wife and mother-in-law at St. Luke's Hospital. Incidentally, to make the Motown connection even stronger (and more bizarre), Karen's doctor, Dr. Maria Teaiwa-Rutherford, is Diana Ross' gynecologist (Ross is a key character in the musical).
Several hours later their new daughter, Marlowe Rose, arrived, but Tower returned to work two days later. Nonetheless, he admits that he had no issue returning to work. He explains, "I'm like, 'I can do these shows. It's OK.' Everything after that is fine. It's kind of like Shakespeare. Once you do Shakespeare, the rest of it is a cake walk."
However, though the couple already has a two year old son, Tower will likely still find the role of "father" not as much of a cakewalk!
via Yahoo!
http://www.dailyactor.com/wp-content/uploads/2015/01/watch-al-pacino-talks-the-humbli.jpg
Watch: Al Pacino Talks 'The Humbling' and His Extraordinary Career
In this conversation with Al Pacino talks about his role in The Humbling -- including working with Greta Gerwig -- and his historic acting career
http://www.dailyactor.com/2015/01/watch-al-pacino-extraordinary-career/
http://www.dailyactor.com/wp-content/uploads/2015/01/watch-oscar-nominee-steve-carell.jpg
Watch: Oscar Nominee Steve Carell Talks Improv, Auditioning for 'The Office' and 'Foxcatcher'
Carell talks about his entire career as an actor, including his background in improv, how he landed the Michael Scott role on The Office, and Foxcatcher
http://www.dailyactor.com/2015/01/oscar-nominee-steve-carell-improv-auditioning-for-the-office-foxcatcher/
http://www.dailyactor.com/wp-content/uploads/2015/01/ethan-hawke-ellar-coltrane-boyhood.jpg
Ethan Hawke Calls 'Boyhood' the "most special endeavor of my life"
Ethan Hawke is riding high with his fourth Oscar nomination for the Richard Linklater-directed Boyhood. In a recent "Ask Me Anything" on Reddit, the 44-year-old actor gave some thoughtful insight into his career and the 12-year creative endeavor that became the biggest film of the Oscar season. When asked what was the most difficult thing about […]
http://www.dailyactor.com/2015/01/ethan-hawke-boyhood-reddit-amaife/
http://www.dailyactor.com/wp-content/uploads/2015/01/martha-plimpton-a-delicate-balance.jpg
Martha Plimpton Takes a Refreshing Approach to a Long-Lasting Career
Martha Plimpton is an actress who enjoys the work, she's not in it for the fame. The proof is in her continually excellent work that she is doing on-screen and on the stage. She's currently starring in A Delicate Balance on Broadway. It's the audience who gives her the ultimate thrill. "I try to get […]
http://www.dailyactor.com/2015/01/martha-plimpton-long-lasting-career/
http://www.dailyactor.com/wp-content/uploads/2015/01/watch-michael-keaton-talks-candi.jpg
Watch: Michael Keaton Talks Candidly About His Career and His Approach to Acting in 'Birdman'
In this nearly 90 minute conversation, Michael Keaton is his usual affable self but is also remarkably candid about his career and his approach to acting.
http://www.dailyactor.com/2015/01/michael-keaton-career-approach-to-acting-birdman/