The Number One Resource You Have to Offer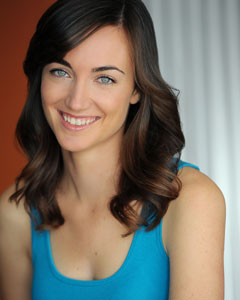 Written by Siobhan Doherty
Actors often think that the best way to be involved in our friends' projects is to offer our talent. How often have you heard "I'll act in that thing you're doing!" or "Let me know if they need actors!" But we all know that this is an overcrowded profession, and that offer is rarely taken up.
In reality, the most important resource you have to offer is your time.
Why?
Because they respect that you are giving them the one thing you cannot get back, your time.
I know that you may think, "Yes, I'm offering my time, as an actor," but what others may need in this world filled with actors, is your time as a human being.
Being of service to your community – offering to help your friends with their projects, in any capacity – teaches you more than you will learn in a class or from a book.
You learn by doing, and offering your help to others lets you DO! You may start out as a PA, getting coffee or picking up lunch, but they may need an extra or hear that you're an actor and suddenly you've found yourself a job. Or, you may get bumped up to Producer and find out that you like that more than anything else. Boom, you've found a new career.
When I offered to help out on my friend Valerie Rachelle's theater show Save Me, I had just moved to LA and had some extra time on my hands. I wanted to work on a project with a community of people that I knew created great things, and that community was Lucid By Proxy Theater Company.
Before moving to LA, I had written a webseries, and little did I know that Ed Robinson, one of the Executive Producers of Pairings, the award-winning webseries, was in the show.
Ed and I chatted about webseries at the cast party, and then I took him to coffee to pick his brain about "HOW TO WEBSERIES, please." While we were at coffee I asked if I could observe, or, if they needed extra hands, if I could help out so I could learn.
Turns out I got to be the Unit Production Manager. I learned all about the SAG Paperwork needed to produce a webseries using union talent (and let me tell you, it's a LOT of paperwork), and how a set functions from the Producing side of things.
Now, I'm able to apply all of that knowledge of being on set to producing my own series – called Super(fluous) – about Superheroes in a world filled with Superheroes.
The Pairings crew also helped immensely in teaching me about raising funds, which you have to learn if you want to produce your own work. They taught me all about the different crowdfunding sources, which helped us settle on Kickstarter. Our campaign runs through June 21 at 8pm, and as of writing this we're at 79%! I wouldn't have had the knowledge to put this all together without everything I learned working on Pairings.
The even more amazing thing is that I didn't set out to volunteer on a webseries – I just wanted to work with some awesome artists. Being open to supporting your friends with your time can allow for new opportunities, unexpected connections and more chances to create a fulfilling life as an artist.
Latest Videos
http://www.dailyactor.com/wp-content/uploads/2014/09/audtion-tapes-robin-wright-and-h.jpg
Audition Tapes: Robin Wright and Haley Joel Osment Audition with Tom Hanks for 'Forrest Gump'
Check out Robin Wright auditioning for the role of Jenny from Forest Gump opposite Tom Hanks. Interestingly enough, Hanks doesn't quite have Gump's southern drawl down just yet while the other actors audition with him. In fact, Hanks would base Gump's voice on the voice of Michael Conner Humphreys, who played the young Forrest and […]
http://www.dailyactor.com/2014/09/audtion-tapes-robin-wright-haley-joel-osment-tom-hanks-forrest-gump/
http://www.dailyactor.com/wp-content/uploads/2014/08/bryan-cranston-emmy-award-speech.jpg
Watch: Bryan Cranston's Emmy Award Speech: "I love to act. It is a passion of mine and I will do it until my last breath."
The Emmy Awards weren't the most exciting awards show this year but with Bryan Cranston winning for Outstanding Actor in a Drama for Breaking Bad, we at least got to hear one heck of a fantastic acceptance speech. "I was a kid who always looked for the shortcut," he said. "I did happen to stumble […]
http://www.dailyactor.com/2014/08/watch-bryan-cranston-and-aaron-pauls-emmy-award-speeches/
http://www.dailyactor.com/wp-content/uploads/2014/08/audition-tapes-gerard-butler-aud.jpg
Audition Tapes: Gerard Butler Auditions for 'Dracula 2000′
Check out Gerard Butler auditioning for the role of Dracula in the movie, Dracula 2000. The film, about a group of thieves who break into a chamber expecting to find paintings, but instead find Dracula himself, also starred Christopher Plummer, Jonny Lee Miller and Nathan Fillion. Bulter has some sweet rock star hair, huh?
http://www.dailyactor.com/2014/08/audition-tapes-gerard-butler-dracula-2000/
http://www.dailyactor.com/wp-content/uploads/2014/08/interview-matt-dillon-and-carla.jpg
Interview: Matt Dillon and Carla Gugino Talk 'Wayward Pines'
FOX has a new limited-series that's got a terrific cast and interesting premise. It's called Wayward Pines and stars Matt Dillon, Carla Gugino, Melissa Leo, Toby Jones, Terrance Howard, Juliette Lewis, Tim Griffin and Shannyn Sossamon. The show, whose pilot was directed by M. Night Shyamalan, is about a Secret Service agent (Dillon) goes to […]
http://www.dailyactor.com/2014/08/interview-matt-dillon-carla-gugino-wayward-pines-comic-con/
http://www.dailyactor.com/wp-content/uploads/2014/08/interview-wayward-pines-stars-ti.jpg
Interview: 'Wayward Pines' Stars Tim Griffin and Shannyn Sossamon on the Show, Their Characters and More!
Griffin and Sossamonwere at Comic-Con where they sat in on some roundtable interviews to talk about the show.
http://www.dailyactor.com/2014/08/interview-wayward-pines-stars-tim-griffin-shannyn-sossamon-comic-con/