'The Fault in Our Stars' Director Josh Boone admits that he "didn't want" Shailene Woodley for the Role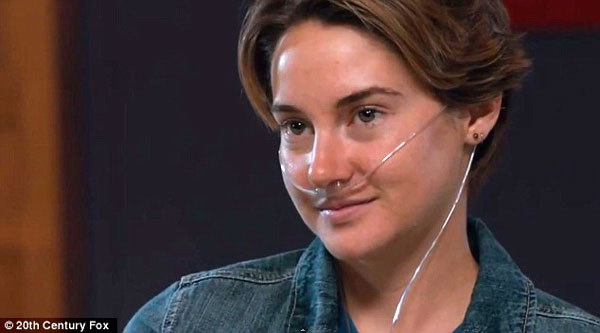 This summer's hottest teen romance film, The Fault in Our Stars, handily beat Tom Cruise's Edge of Tomorrow at the box office last weekend. Much of that success is credited to its 22-year-old star, Shailene Woodley, who embodies the role of the cancer-stricken Hazel to great aplomb.
Director Josh Boone talked to Vulture about working with The Descendants star and why she won the role.
He said, "When she came in and read with the different Guses, every single time she was able to hit that emotion with five, six guys in a row. Every time we did the scene where he sits down on the bench, she was emotionally there and crying and with them. It was pretty extraordinary."
One particular scene that gets the audience sobbing also moved Boone as well.
"If I'm thinking about those emotional scenes, I think about Shae waking up in bed when they get the phone call," said the 35-year-old director.
It was an excruciating moment in the film and Woodley had to do it "three or four times."
Boone elaborated, " Even [author] John [Green] was like, 'Should I get up and see if she's okay?' I said, 'No, she's fine, she knows what she's doing!' She did it over and over. Never not an authentic moment. If she felt like it wasn't authentic, we kept going until we were both happy. You watch that scene and, whether someone likes the movie or not, that's real. That's real. She's tapping into something."
The young director knows how crucial the Divergent actress' skills were in those moments. If she wasn't able to deliver, Boone believes he would have been "F***ed. Totally f***ed."
He admitted, "And I didn't want her at first. She's 22 or 21, she's athletic, she's fit, she's tall. She's really strong. She just doesn't seem at all like the Hazel that I read in the book. Even when I went to Chicago and had dinner with her, I loved her, but I still didn't think she was Hazel. The next morning she came in to audition, and within literally a minute or two, my casting director and I were both crying because she wasn't Shailene when she came in. She was Hazel. I was like, Why did I make this so hard on myself? We tested like 200 girls, probably. Every girl in Hollywood in that age range read for us. Some of them were amazing. Some of them did a great job, but none of them really had her voice. When Shae came in and read that eulogy, that pre-eulogy at the church, that was her audition scene. It was like I'd heard her for the first time and I was like, I think this is gonna work."
It certainly did work. The movie out-earned the film industry's biggest star — Tom Cruise.
Latest Videos
http://www.dailyactor.com/wp-content/uploads/2014/09/audtion-tapes-robin-wright-and-h.jpg
Audition Tapes: Robin Wright and Haley Joel Osment Audition with Tom Hanks for 'Forrest Gump'
Check out Robin Wright auditioning for the role of Jenny from Forest Gump opposite Tom Hanks. Interestingly enough, Hanks doesn't quite have Gump's southern drawl down just yet while the other actors audition with him. In fact, Hanks would base Gump's voice on the voice of Michael Conner Humphreys, who played the young Forrest and […]
http://www.dailyactor.com/2014/09/audtion-tapes-robin-wright-haley-joel-osment-tom-hanks-forrest-gump/
http://www.dailyactor.com/wp-content/uploads/2014/08/bryan-cranston-emmy-award-speech.jpg
Watch: Bryan Cranston's Emmy Award Speech: "I love to act. It is a passion of mine and I will do it until my last breath."
The Emmy Awards weren't the most exciting awards show this year but with Bryan Cranston winning for Outstanding Actor in a Drama for Breaking Bad, we at least got to hear one heck of a fantastic acceptance speech. "I was a kid who always looked for the shortcut," he said. "I did happen to stumble […]
http://www.dailyactor.com/2014/08/watch-bryan-cranston-and-aaron-pauls-emmy-award-speeches/
http://www.dailyactor.com/wp-content/uploads/2014/08/audition-tapes-gerard-butler-aud.jpg
Audition Tapes: Gerard Butler Auditions for 'Dracula 2000′
Check out Gerard Butler auditioning for the role of Dracula in the movie, Dracula 2000. The film, about a group of thieves who break into a chamber expecting to find paintings, but instead find Dracula himself, also starred Christopher Plummer, Jonny Lee Miller and Nathan Fillion. Bulter has some sweet rock star hair, huh?
http://www.dailyactor.com/2014/08/audition-tapes-gerard-butler-dracula-2000/
http://www.dailyactor.com/wp-content/uploads/2014/08/interview-matt-dillon-and-carla.jpg
Interview: Matt Dillon and Carla Gugino Talk 'Wayward Pines'
FOX has a new limited-series that's got a terrific cast and interesting premise. It's called Wayward Pines and stars Matt Dillon, Carla Gugino, Melissa Leo, Toby Jones, Terrance Howard, Juliette Lewis, Tim Griffin and Shannyn Sossamon. The show, whose pilot was directed by M. Night Shyamalan, is about a Secret Service agent (Dillon) goes to […]
http://www.dailyactor.com/2014/08/interview-matt-dillon-carla-gugino-wayward-pines-comic-con/
http://www.dailyactor.com/wp-content/uploads/2014/08/interview-wayward-pines-stars-ti.jpg
Interview: 'Wayward Pines' Stars Tim Griffin and Shannyn Sossamon on the Show, Their Characters and More!
Griffin and Sossamonwere at Comic-Con where they sat in on some roundtable interviews to talk about the show.
http://www.dailyactor.com/2014/08/interview-wayward-pines-stars-tim-griffin-shannyn-sossamon-comic-con/