Luke Grimes Reportedly Exited 'True Blood' Due to his Character's Gay Storyline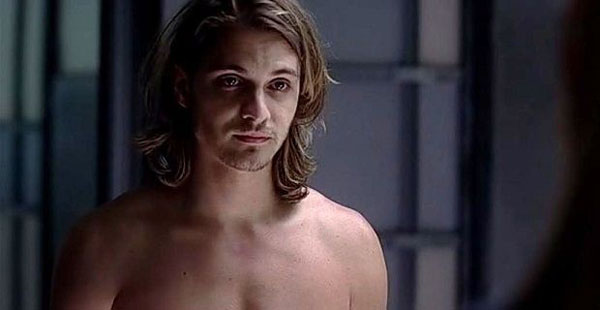 When True Blood returned last week on HBO for its seventh and final season, fans noticed that the character of James looked a bit different than before. With little explanation off-screen, original actor Luke Grimes had been replaced with former Bunheads star Nathan Parsons.
A week into the season and with social media gossiping about the replacement, BuzzFeed seems to have gotten to the heart of the story. The Season 7 premiere indicated that there is a romantic storyline ahead for James and Lafayette, played by Nelsan Ellis.
According to a source for the entertainment site, Grimes read the first few scripts and asked for his storyline to change. He was okay with Lafayette being attracted to James, but he didn't want the feelings to be mutual nor engage in any same-sex romantic scenes. Naturally, the writers objected to his requests.
The actor's publicist, Craig Schneider, gave a much different reason for his abrupt exit — scheduling.
He told BuzzFeed, "Luke always had an out clause as a means of pursuing other opportunities which arose in the form of features beginning with The Shangri-La Suite, followed by Fifty Shades of Grey, and most recently, Clint Eastwood's American Sniper with Bradley Cooper. It had nothing to do with storylines, which he had not been privy to at the time of that posting."
HBO has always maintained that Grimes left due to "the creative direction of the character." That reason supports the theory that the 30-year-old actor did have a problem with a gay love story.
The cast is reportedly baffled that Grimes had a problem with the storyline especially since the show has always dug deep into sexual issues, both straight and gay. Parsons is fitting in nicely into the role and the producers are happy with Grimes' replacement.
Now that the story is out in the media, does Grimes regret his decision?
Latest Videos
http://www.dailyactor.com/wp-content/uploads/2014/08/audition-tapes-gerard-butler-aud.jpg
Audition Tapes: Gerard Butler Auditions for 'Dracula 2000′
Check out Gerard Butler auditioning for the role of Dracula in the movie, Dracula 2000. The film, about a group of thieves who break into a chamber expecting to find paintings, but instead find Dracula himself, also starred Christopher Plummer, Jonny Lee Miller and Nathan Fillion. Bulter has some sweet rock star hair, huh? [...]
http://www.dailyactor.com/2014/08/audition-tapes-gerard-butler-dracula-2000/
http://www.dailyactor.com/wp-content/uploads/2014/08/interview-matt-dillon-and-carla.jpg
Interview: Matt Dillon and Carla Gugino Talk 'Wayward Pines'
FOX has a new limited-series that's got a terrific cast and interesting premise. It's called Wayward Pines and stars Matt Dillon, Carla Gugino, Melissa Leo, Toby Jones, Terrance Howard, Juliette Lewis, Tim Griffin and Shannyn Sossamon. The show, whose pilot was directed by M. Night Shyamalan, is about a Secret Service agent (Dillon) goes to [...]
http://www.dailyactor.com/2014/08/interview-matt-dillon-carla-gugino-wayward-pines-comic-con/
http://www.dailyactor.com/wp-content/uploads/2014/08/interview-wayward-pines-stars-ti.jpg
Interview: 'Wayward Pines' Stars Tim Griffin and Shannyn Sossamon on the Show, Their Characters and More!
Griffin and Sossamonwere at Comic-Con where they sat in on some roundtable interviews to talk about the show.
http://www.dailyactor.com/2014/08/interview-wayward-pines-stars-tim-griffin-shannyn-sossamon-comic-con/
http://www.dailyactor.com/wp-content/uploads/2014/08/interview-m-night-shyamalan-talk.jpg
Interview: M. Night Shyamalan Talks 'Wayward Pines' and Why He Expanded a Young Actors Role on the Show
I talked to Shyamalan at Comic-Con in a roundtable interview where he talked about the cast, what he learned from working in TV and how young actor Charlie Tahan started out with a small part but as the story grew, so did his role.
http://www.dailyactor.com/2014/08/interview-m-night-shyamalan-wayward-pines-comic-con/
http://www.dailyactor.com/wp-content/uploads/2014/08/interview-wayward-pines-producer.jpg
Interview: 'Wayward Pines' Producers and Writer Talk Casting and the 10-Episode Format
FOX's upcoming limited series Wayward Pines looks very cool. The show is supposed to be very Twin Peaks-ish in tone which, just hearing that, definitely sparks my interest. The pilot was directed by M. Night Shyamalan and stars Matt Dillon, Carla Gugino, Melissa Leo, Toby Jones, Terrance Howard and Juliette Lewis and is about a [...]
http://www.dailyactor.com/2014/08/interview-wayward-pines-creators-comic-con/