Luke Grimes Reportedly Exited 'True Blood' Due to his Character's Gay Storyline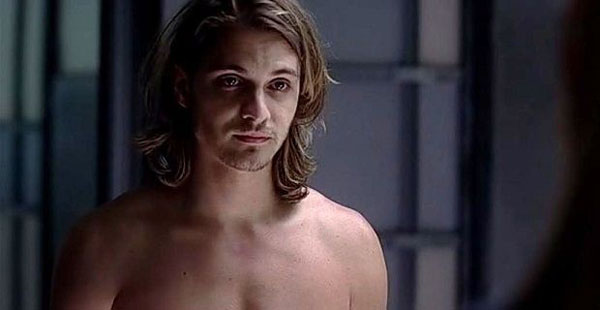 When True Blood returned last week on HBO for its seventh and final season, fans noticed that the character of James looked a bit different than before. With little explanation off-screen, original actor Luke Grimes had been replaced with former Bunheads star Nathan Parsons.
A week into the season and with social media gossiping about the replacement, BuzzFeed seems to have gotten to the heart of the story. The Season 7 premiere indicated that there is a romantic storyline ahead for James and Lafayette, played by Nelsan Ellis.
According to a source for the entertainment site, Grimes read the first few scripts and asked for his storyline to change. He was okay with Lafayette being attracted to James, but he didn't want the feelings to be mutual nor engage in any same-sex romantic scenes. Naturally, the writers objected to his requests.
The actor's publicist, Craig Schneider, gave a much different reason for his abrupt exit — scheduling.
He told BuzzFeed, "Luke always had an out clause as a means of pursuing other opportunities which arose in the form of features beginning with The Shangri-La Suite, followed by Fifty Shades of Grey, and most recently, Clint Eastwood's American Sniper with Bradley Cooper. It had nothing to do with storylines, which he had not been privy to at the time of that posting."
HBO has always maintained that Grimes left due to "the creative direction of the character." That reason supports the theory that the 30-year-old actor did have a problem with a gay love story.
The cast is reportedly baffled that Grimes had a problem with the storyline especially since the show has always dug deep into sexual issues, both straight and gay. Parsons is fitting in nicely into the role and the producers are happy with Grimes' replacement.
Now that the story is out in the media, does Grimes regret his decision?
Latest Videos
http://www.dailyactor.com/wp-content/uploads/2014/07/bill-hader.jpg
Bill Hader: "I kind of fell into acting" (video)
Bill Hader, starring in the soon to be released The Skeleton Twins, talks about the film and how he fell into acting and then got "crazy lucky" in this quick video from USA Today. Share on Tumblr
http://www.dailyactor.com/2014/07/bill-hader-fell-into-acting-video/
http://www.dailyactor.com/wp-content/uploads/2014/07/director-john-carney-narrates-a.jpg
Director John Carney Narrates a Scene from 'Begin Again' Starring Kiera Knightley and Mark Ruffalo
Director John Carney (Once) narrates a scene from his new film, Begin Again. Starring Keira Knightley and Mark Ruffalo, the scene shows the first time the two characters meet. I haven't seen it yet but I've heard it's great.
http://www.dailyactor.com/2014/07/begin-again-scene-director-john-carney-keira-knightley-mark-ruffalo/
http://www.dailyactor.com/wp-content/uploads/2014/07/holler-if-you-hear-me-gma.jpg
Watch the Cast of Broadway's 'Holler If You Hear Me' Perform 'California Love' on GMA
The cast of Broadway's newest musical, Holler If You Hear Me with music from Tupac Shakur, performed on Good Morning America this morning. Singing 'California Love', the cast (including the teriffic Christopher Jackson – read our interview here), show why they're the most energetic and inspiring group of actors on Broadway. Holler If Ya Hear [...]
http://www.dailyactor.com/2014/07/watch-cast-broadways-holler-hear-perform-california-love-gma/
http://www.dailyactor.com/wp-content/uploads/2014/07/behind-the-scenes-of-dawn-of-the.jpg
Behind the Scenes of 'Dawn of the Planet of the Apes' with Performance Capture Actor Terry Notary
Actor Terry Notary is 1 of 5 actors playing the apes in the new Dawn of the Planet of the Apes. "When you see armies of apes," he says, that's "five of us." Check out the video where you can watch his performance capture work.
http://www.dailyactor.com/2014/07/dawn-planet-apes-performance-capture-actor-terry-notary/
http://www.dailyactor.com/wp-content/uploads/2014/07/melissa-mccarthy-daily-show.jpg
Melissa McCarthy and John Stewart Talk About Terrible Commercial Auditions on 'The Daily Show'
Melissa McCarthy stopped by The Daily Show last week to plug about her new movie, Tammy. She talked about how she loved working with her husband, Ben Falcone (director of Tammy) and then segued into talking about some horrible working situations. The always hilarious McCarthy then started to tell host John Stewart about a particular [...]
http://www.dailyactor.com/2014/07/melissa-mccarthy-john-stewart-commercial-auditions-the-daily-show/