Luke Grimes Reportedly Exited 'True Blood' Due to his Character's Gay Storyline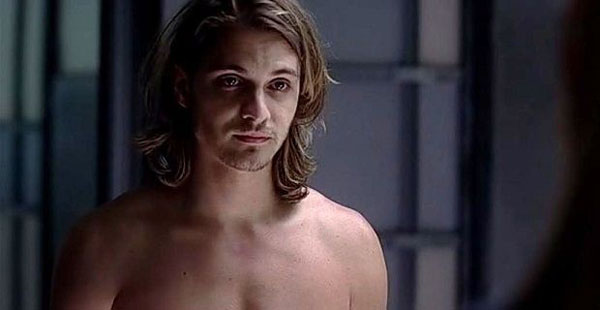 When True Blood returned last week on HBO for its seventh and final season, fans noticed that the character of James looked a bit different than before. With little explanation off-screen, original actor Luke Grimes had been replaced with former Bunheads star Nathan Parsons.
A week into the season and with social media gossiping about the replacement, BuzzFeed seems to have gotten to the heart of the story. The Season 7 premiere indicated that there is a romantic storyline ahead for James and Lafayette, played by Nelsan Ellis.
According to a source for the entertainment site, Grimes read the first few scripts and asked for his storyline to change. He was okay with Lafayette being attracted to James, but he didn't want the feelings to be mutual nor engage in any same-sex romantic scenes. Naturally, the writers objected to his requests.
The actor's publicist, Craig Schneider, gave a much different reason for his abrupt exit — scheduling.
He told BuzzFeed, "Luke always had an out clause as a means of pursuing other opportunities which arose in the form of features beginning with The Shangri-La Suite, followed by Fifty Shades of Grey, and most recently, Clint Eastwood's American Sniper with Bradley Cooper. It had nothing to do with storylines, which he had not been privy to at the time of that posting."
HBO has always maintained that Grimes left due to "the creative direction of the character." That reason supports the theory that the 30-year-old actor did have a problem with a gay love story.
The cast is reportedly baffled that Grimes had a problem with the storyline especially since the show has always dug deep into sexual issues, both straight and gay. Parsons is fitting in nicely into the role and the producers are happy with Grimes' replacement.
Now that the story is out in the media, does Grimes regret his decision?
http://www.dailyactor.com/wp-content/uploads/2015/05/Caitriona-Balfe-Outlander.jpg
Outlander's Caitriona Balfe On The Emotional Toll of Filming Violent Scenes
"Having to put yourself in that place is tough. To sit in that emotional space, especially when you're doing it day after day." - Caitriona Balfe
http://www.dailyactor.com/2015/05/outlander-catriona-balfe-emotional-toll-of-filming-violent-scenes/
http://www.dailyactor.com/wp-content/uploads/2015/05/Chrissie-Fit.jpg
Chrissie Fit on How She Landed Her Role in 'Pitch Perfect 2′
"I remember getting the audition and being like, "This might not happen," just because it is such a massive movie." - Chrissie Fit
http://www.dailyactor.com/2015/05/chrissie-fit-on-how-she-landed-her-role-in-pitch-perfect-2/
http://www.dailyactor.com/wp-content/uploads/2015/05/Sam-Elliott.jpg
Sam Elliot on How he "F–ked" Himself Out of a Career as a Lead Actor
The rugged Sam Elliot has most often cast in character actor roles throughout his long career in film, though the 70 year-old Elliot thinks it wasn't always meant to be that way.
http://www.dailyactor.com/2015/05/sam-elliot-on-how-he-f-ked-himself-out-of-a-career-as-a-lead-actor/
http://www.dailyactor.com/wp-content/uploads/2015/05/Anna-Kendrick-Pitch-Perfect-2.jpg
Anna Kendrick Talks Hollywood and its Gender Bias
"As an actress you're perpetually about to be unemployed." - Anna Kendrick
http://www.dailyactor.com/2015/05/anna-kendrick-talks-hollywood-and-its-gender-bias/
http://www.dailyactor.com/wp-content/uploads/2015/05/tom-hardy-mad-max-fury-road.jpg
Tom Hardy on Fame, Acting School, and His 'Mad Respect' for Michael Fassbender
"Do what you love doing, do it well—everything should fit into place." - Tom Hardy
http://www.dailyactor.com/2015/05/tom-hardy-fame-acting-school-michael-fassbender/