Interview: 9 Questions for 'Growing Up Fisher's Eli Baker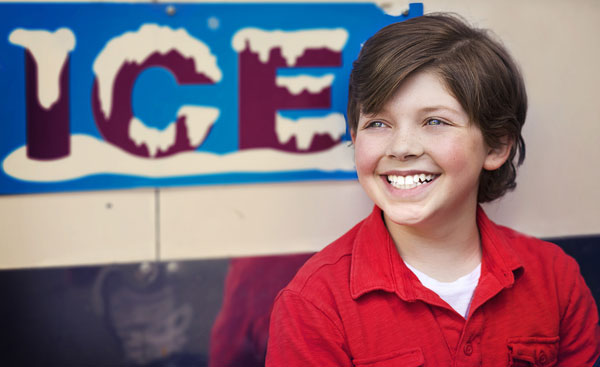 Eli Baker plays Henry Fisher in the NBC's Growing Up Fisher. The show, which just finished its run, had Eli starring opposite J.K. Simmons and Jenna Elfman and told the story of a typical family going through a divorce… except that the dad (Simmons) was blind.
Even at a young age, Eli's a veteran; he got his start in theatre and now as the star of his own show, he's working with some powerhouse actors.
Eli took some time to answer a handful of questions about his audition and call back for the show, working with Simmons and his advice to young actors.
What was your audition for the show like?
My first audition was taped on my iPhone in my basement.  I was then called into NYC for another 2 minute taping.  The next day I was told to fly out to LA to "Test" for the role.  This was awesome because I got to meet David Schwimmer and DJ Nash.  They couldn't have been any nicer.
Were you nervous for your final call back?
Everything happened so quickly that it left little time for nerves.  My mom and I went to ride the roller coasters at Universal Studios immediately prior to my final audition.  She thought that it would keep me calm.  And it did!
How did you finally hear that you got the part?
I was on my way home from another callback audition in NYC.  My Mon had received a call from David Schwimmer and DJ Nash telling her that I had been cast as Henry Fisher.  She arranged to have them call back when I got home so that they could be the ones to tell me the great news.  As soon as I walked into the house, the phone rang.  She told me to answer it.  When David and DJ told me, I fell to the floor in shock.  I was so excited.  It was actually hard to process it all at that moment.
What's a typical day on-set like for you?
A typical day on set was very long.  I did not have much down time and when I did, I went to school.  Despite working harder than I have in my life, I loved every minute that I was on set.  The crew was incredible.  It just felt like one big happy family.  They built me a basketball hoop, too.  So we always managed to sneak in some hoops to unwind.  Also, Jason Bateman gave me a football that we threw around the stages in between scenes.  I love that football.  It goes with me everywhere.
How is it working with JK Simmons?
Working with JK was great.  Everyday was like taking a Master Class in acting.  He is so incredibly talented.  I learned so much from working with him.
I'm sure you're learning a lot from people like JK, Jenna Elfman, Jason Bateman and the rest of the cast. What's the best piece of advice that they've given you?
I think that the best advice was that it is ok to just be a kid.  You are working in this very high profile industry with many demands so it is easy to lose sight of your childhood.
On that note, do you have any advice for young actors?
My advice to young actors is to always be yourself.  Do not let this business change who you are.  Remain grounded.  Be nice and respectful to everyone–and I mean EVERYONE.  And never be afraid to Dream Big!
You started out doing theatre. Which do you like better: TV or Theatre?
It's really a toss up for me between stage theater and on-camera work.  I do like the fact that on-camera you get to be more real.  But, there is something special about performing in front of a live audience. I love to entertain people.  With that said, I do think it is less stressful when you know that you can do multiple takes of a scene.
Any fun things planned for summer?
I am actually traveling to Israel with one of my best friends and our families to have our Bar Mitzvah on the top of Masada.  I CANNOT wait!
Latest Videos
http://www.dailyactor.com/wp-content/uploads/2014/10/alex-sharp-curious-incident-of-the-dog.jpg
Alex Sharp Talks About His Broadway Debut in 'The Curious Incident of the Dog in the Night-Time' (video)
Alex Sharp went from working in a call-center and renovating houses to going to Julliard. And now, he's starring in one of the most talked about shows of the season, The Curious Incident of the Dog in the Night-Time. Check out this great, inspiring video!
http://www.dailyactor.com/2014/10/alex-sharp-broadway-debut-the-curious-incident-of-the-dog-in-the-night-time-video/
http://www.dailyactor.com/wp-content/uploads/2014/10/Its-only-a-play.jpg
Watch a Scene From Terrance McNally's, 'It's Only a Play', Featuring Nathan Lane and Micah Stock
Here's a quick scene from Terrance McNally's It's Only a Play, currently on Broadway at the Schoenfeld Theater. In this scene, Nathan Lane and Micah Stock meet for the first time. The show, about the opening night of a new play, also stars Matthew Broderick, Stockard Channing, F. Murray Abraham, Rupert Grint and Megan Mullally.
http://www.dailyactor.com/2014/10/watch-a-scene-terrance-mcnally-its-only-a-play-nathan-lane-micah-stock/
http://www.dailyactor.com/wp-content/uploads/2014/10/birdman-director-alejandro-g-ina.jpg
'Birdman' Director Alejandro G. Iñárritu Narrates a Scene from the Film Featuring Michael Keaton and Edward Norton
Director Alejandro G. Iñárritu narrates a scene from Birdman or The Unexpected Virtue of Ignorance that features stars Michael Keaton and Edward Norton. The film is wonderful and if it's playing in your town, definitely check it out!
http://www.dailyactor.com/2014/10/birdman-director-alejandro-g-inarritu-michael-keaton-edward-norton/
http://www.dailyactor.com/wp-content/uploads/2014/10/the-cast-of-mad-men-on-the-final.jpg
The Cast of 'Mad Men' on the Final Season and More
Though the AMC television series Mad Men might not carry the same cultural weight that it did a few years ago (splitting your final season over two years might do that to you), the second half of the show's final season is expected to be full of powerful performances from its ensemble cast. With the […]
http://www.dailyactor.com/2014/10/cast-of-mad-men-final-season/
http://www.dailyactor.com/wp-content/uploads/2014/10/behind-the-scenes-of-a-sex-scene.jpg
Behind the Scenes of a Sex Scene with Patrick Wilson, Brooklyn Decker and Director Joe Carnahan
Director Joe Carnahan is giving viewers an inside look at what it is like to film a big screen Hollywood sex scene, as confirmed by Gawker. Carnahan released a brief video clip taken from the set of his latest film Stretch starring supermodel and actress Brooklyn Decker and Patrick Wilson. The video showcases the two […]
http://www.dailyactor.com/2014/10/behind-the-scenes-of-a-sex-scene-patrick-wilson-brooklyn-decker-director-joe-carnahan/