Greta Gerwig on Theater Acting: "There's no equivalent in film. It's so addicting"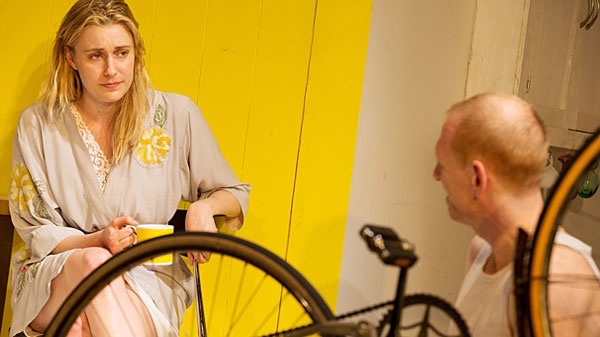 Indie It girl Greta Gerwig has made a return to the stage in New York in The Village Bike for the first time since she was a college student. In the play she stars as a pregnant woman with a husband uninterested in having sex with her who fulfills her desires in infidelity and porn. The lead role in this Penelope Skinner play isn't exactly the easiest role for a thirty year-old actress, and Gerwig spoke to the Wall Street Journal about the emotional hurdles she has gone through playing the role, why she has spent so much time away from the stage, and why she maintains such a busy schedule.
Gerwig admits that the role is very psychologically draining. She confesses, "I always feel destroyed after. I've just exposed myself, and it's really hard to look at people. I need a whiskey." However, she finds the rush of performing in front of a live audience exhilirating, adding, "There's no equivalent in film. It's so addicting."
This isn't the first time that Gerwig has worked in theater, since she acted in school productions while a student at Barnard College. She wanted to pursue a career as a playwright, but she was rejected from the playwriting programs at Yale, Julliard, and New York University. Though she was obviously disappointed, she recalls, "I continued to go to theater and be a fan of it, but it wasn't what life was telling me was working."
In addition to The Village Bike (which runs at the Lucille Lortel Theatre through June 28), Gerwig has been incredibly busy. She has several films coming out in 2014 — including The Humbling alongside Al Pacino — and recently starred in the pilot for How I Met Your Dad, though it is unlikely that a series will come of it. She is also still working on another film with her boyfriends and Frances Ha collaborator Noah Baumbach. However, that's exactly how Gerwig likes it. She says, "My happiest times are when I'm completely stretched beyond what I think I could do, in a kind of emotional and physical exhaustion. It makes other days seem so much less vivid."
Latest Videos
http://www.dailyactor.com/wp-content/uploads/2014/08/seth-rudetsky-reveals-the-5-wors.jpg
Seth Rudetsky Reveals the 5 Worst Musical Theater Audition Mistakes (video)
Seth Rudetsky, actor, musician and a host on SiriusXM's Broadway channel, has been teaching auditioning master classes this summer and he's seen his share of bad auditions lately. In this video, he reveals the 5 worst audition mistakes you can make in a musical theater audition and how to choose the perfect 16-bar audition song. [...]
http://www.dailyactor.com/2014/08/seth-rudetsky-5-worst-audition-mistakes/
http://www.dailyactor.com/wp-content/uploads/2014/07/sir-ben-kingsley-talks-about-the.jpg
Sir Ben Kingsley Talks about the Unique Way He Voiced His Character in the Animated Film, 'The Boxtrolls' (video)
I could listen to Sir Ben Kingsley talk about acting and.. well, I could listen to him talk about anything. He's starring in the new Laika stop-motion animated film, The Boxtrolls, and he and some of the cast (along with the director) joined in on a Comic-Con panel about the film. The Boxtrolls is about [...]
http://www.dailyactor.com/2014/07/sir-ben-kingsley-the-boxtrolls-comic-con/
http://www.dailyactor.com/wp-content/uploads/2014/07/bill-hader.jpg
Bill Hader: "I kind of fell into acting" (video)
Bill Hader, starring in the soon to be released The Skeleton Twins, talks about the film and how he fell into acting and then got "crazy lucky" in this quick video from USA Today.
http://www.dailyactor.com/2014/07/bill-hader-fell-into-acting-video/
http://www.dailyactor.com/wp-content/uploads/2014/07/director-john-carney-narrates-a.jpg
Director John Carney Narrates a Scene from 'Begin Again' Starring Kiera Knightley and Mark Ruffalo
Director John Carney (Once) narrates a scene from his new film, Begin Again. Starring Keira Knightley and Mark Ruffalo, the scene shows the first time the two characters meet. I haven't seen it yet but I've heard it's great.
http://www.dailyactor.com/2014/07/begin-again-scene-director-john-carney-keira-knightley-mark-ruffalo/
http://www.dailyactor.com/wp-content/uploads/2014/07/holler-if-you-hear-me-gma.jpg
Watch the Cast of Broadway's 'Holler If You Hear Me' Perform 'California Love' on GMA
The cast of Broadway's newest musical, Holler If You Hear Me with music from Tupac Shakur, performed on Good Morning America this morning. Singing 'California Love', the cast (including the teriffic Christopher Jackson – read our interview here), show why they're the most energetic and inspiring group of actors on Broadway. Holler If Ya Hear [...]
http://www.dailyactor.com/2014/07/watch-cast-broadways-holler-hear-perform-california-love-gma/