'Game of Thrones' Star Maisie Williams is just a Normal Teen who Enjoys Sword-fighting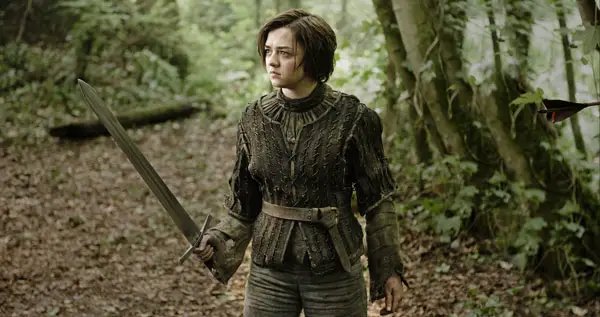 [Warning: Season finale spoilers ahead. You've been warned!]
The Season 4 finale of Game of Thrones left many fans speechless about the end result. Just before the final show of the season aired, The Wall Street Journal spoke with 17-year-old Maisie Williams who plays Arya Stark about her character's development this season.
The periodical asked her about the scene with Arya walking away from a wounded Hound.
She revealed, "It was one of my most enjoyable scenes, which sounds awful, because it's such a deep, twisted scene. But I'm really happy with the outcome. It felt like we were all on the same page. I read the scene for so long, but then to hear Rory [McCann]—the Hound—screaming to come back and kill him, it really got to me. It's just acting, but there's so much of you in the character, so it's awful to walk away from a full-grown man screaming to come back. He had all this makeup on, and broken bones and big bites on his neck. For a second, you have to remind yourself that it's fake, because it gets intense. You have to take a breath and remember you're not that cold-hearted bitch anymore."
Even with such an intense moment in the storyline, Williams is able to keep it light with her co-star.
"We can just have a laugh and a joke. With other actors I feel like I need to prove myself, that I'm not a child, that I'm not going to mess around," she said. "But Rory embraced that and we just goofed around together, which was great. For a 17-year-old to spend a lot of time with an adult, it could be really intense, but not at all. He's my friend!"
As her character has evolved in fight training, so has the young star. However, Williams has enjoyed it every step of the way.
"I had a lot to do this season, and I was happy because it keeps you so fit and healthy, which is vv a complete bonus. Sword fighting is way more fun than going to the gym, where the only point is to sweat and work out," she explained.
For Williams the one big challenge has been growing up in front of a global audience. She was cast in the role of Arya at the age of 12 and now faces normal pressures most high school students experience except on a different level.
"Everyone going through their adolescence isn't quite sure who they want to be. At school you pretend to be someone else because you want to be popular and you want to be liked. But over this past year I realized that that doesn't matter. I've met a new great set of friends, and I've started going to different sort of parties and this year I'm going to festivals. All these things I always wanted to do but have never done because my friends didn't want to do it, I guess," Williams shared. "It's similar to Arya, because in this past year she figured out that she needs to start again, and get away from all the negativity and the people who bring you down. I've taken a fresh step and figured out who I want to be for the rest of my life. I've become a lot more confident. I post whatever I want. Before, I was so caught up on what people thought of me."
Game of Thrones returns to HBO in April 2015.
Latest Videos
http://www.dailyactor.com/wp-content/uploads/2014/08/bryan-cranston-emmy-award-speech.jpg
Watch: Bryan Cranston's Emmy Award Speech: "I love to act. It is a passion of mine and I will do it until my last breath."
The Emmy Awards weren't the most exciting awards show this year but with Bryan Cranston winning for Outstanding Actor in a Drama for Breaking Bad, we at least got to hear one heck of a fantastic acceptance speech. "I was a kid who always looked for the shortcut," he said. "I did happen to stumble […]
http://www.dailyactor.com/2014/08/watch-bryan-cranston-and-aaron-pauls-emmy-award-speeches/
http://www.dailyactor.com/wp-content/uploads/2014/08/audition-tapes-gerard-butler-aud.jpg
Audition Tapes: Gerard Butler Auditions for 'Dracula 2000′
Check out Gerard Butler auditioning for the role of Dracula in the movie, Dracula 2000. The film, about a group of thieves who break into a chamber expecting to find paintings, but instead find Dracula himself, also starred Christopher Plummer, Jonny Lee Miller and Nathan Fillion. Bulter has some sweet rock star hair, huh?
http://www.dailyactor.com/2014/08/audition-tapes-gerard-butler-dracula-2000/
http://www.dailyactor.com/wp-content/uploads/2014/08/interview-matt-dillon-and-carla.jpg
Interview: Matt Dillon and Carla Gugino Talk 'Wayward Pines'
FOX has a new limited-series that's got a terrific cast and interesting premise. It's called Wayward Pines and stars Matt Dillon, Carla Gugino, Melissa Leo, Toby Jones, Terrance Howard, Juliette Lewis, Tim Griffin and Shannyn Sossamon. The show, whose pilot was directed by M. Night Shyamalan, is about a Secret Service agent (Dillon) goes to […]
http://www.dailyactor.com/2014/08/interview-matt-dillon-carla-gugino-wayward-pines-comic-con/
http://www.dailyactor.com/wp-content/uploads/2014/08/interview-wayward-pines-stars-ti.jpg
Interview: 'Wayward Pines' Stars Tim Griffin and Shannyn Sossamon on the Show, Their Characters and More!
Griffin and Sossamonwere at Comic-Con where they sat in on some roundtable interviews to talk about the show.
http://www.dailyactor.com/2014/08/interview-wayward-pines-stars-tim-griffin-shannyn-sossamon-comic-con/
http://www.dailyactor.com/wp-content/uploads/2014/08/interview-m-night-shyamalan-talk.jpg
Interview: M. Night Shyamalan Talks 'Wayward Pines' and Why He Expanded a Young Actors Role on the Show
I talked to Shyamalan at Comic-Con in a roundtable interview where he talked about the cast, what he learned from working in TV and how young actor Charlie Tahan started out with a small part but as the story grew, so did his role.
http://www.dailyactor.com/2014/08/interview-m-night-shyamalan-wayward-pines-comic-con/