Comedian Jenny Slate Talks about Her Disappointing Turn on 'Saturday Night Live'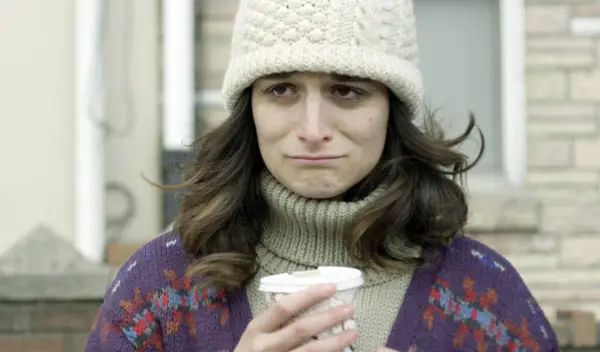 Comedian Jenny Slate wore a badge of dishonor for years after she was fired after her first season of Saturday Night Live for uttering the word "f**k" during her first episode in 2009. She punished herself for years after that incident.
She said, "I wasn't strong enough to tell myself it was okay, and I walked around with that kind of filthy, filthy embarrassment cloak on for a few years. I guess I chose to pay penance for quite a while."
The overall experience at NBC was a disappointing one for the 32-year-old actress because she never really fit in.
"Thirty Rock's a romantic place, and there are so many romantic things about it. The costumes have been there forever. You look in a pair of pants, and in Sharpie it says GILDA in them,a' Slate shared. "But it was a really weird disappointment when I got there and realized how foolish it was that what I expected it would be was from the expectations of a 7-year-old. And that they didn't actually want my creative input as a woman."
One thing Hollywood has done to Slate is create an impression that there isn't enough work out there for her.
The Obvious Child star explained, "There's a whole thing now in the entertainment industry that's like, 'You need to write for yourself. Those are the people that are really valuable.' And it's just like, I don't want to! I just want to act. It also says, 'You're not attractive enough or good enough that we would just let you act.'"
Slate is currently working as a scriptwriter on an upcoming Looney Tunes film for Warner Bros.
Via Vulture
Latest Videos
http://www.dailyactor.com/wp-content/uploads/2014/07/bill-hader.jpg
Bill Hader: "I kind of fell into acting" (video)
Bill Hader, starring in the soon to be released The Skeleton Twins, talks about the film and how he fell into acting and then got "crazy lucky" in this quick video from USA Today. Share on Tumblr
http://www.dailyactor.com/2014/07/bill-hader-fell-into-acting-video/
http://www.dailyactor.com/wp-content/uploads/2014/07/director-john-carney-narrates-a.jpg
Director John Carney Narrates a Scene from 'Begin Again' Starring Kiera Knightley and Mark Ruffalo
Director John Carney (Once) narrates a scene from his new film, Begin Again. Starring Keira Knightley and Mark Ruffalo, the scene shows the first time the two characters meet. I haven't seen it yet but I've heard it's great.
http://www.dailyactor.com/2014/07/begin-again-scene-director-john-carney-keira-knightley-mark-ruffalo/
http://www.dailyactor.com/wp-content/uploads/2014/07/holler-if-you-hear-me-gma.jpg
Watch the Cast of Broadway's 'Holler If You Hear Me' Perform 'California Love' on GMA
The cast of Broadway's newest musical, Holler If You Hear Me with music from Tupac Shakur, performed on Good Morning America this morning. Singing 'California Love', the cast (including the teriffic Christopher Jackson – read our interview here), show why they're the most energetic and inspiring group of actors on Broadway. Holler If Ya Hear [...]
http://www.dailyactor.com/2014/07/watch-cast-broadways-holler-hear-perform-california-love-gma/
http://www.dailyactor.com/wp-content/uploads/2014/07/behind-the-scenes-of-dawn-of-the.jpg
Behind the Scenes of 'Dawn of the Planet of the Apes' with Performance Capture Actor Terry Notary
Actor Terry Notary is 1 of 5 actors playing the apes in the new Dawn of the Planet of the Apes. "When you see armies of apes," he says, that's "five of us." Check out the video where you can watch his performance capture work.
http://www.dailyactor.com/2014/07/dawn-planet-apes-performance-capture-actor-terry-notary/
http://www.dailyactor.com/wp-content/uploads/2014/07/melissa-mccarthy-daily-show.jpg
Melissa McCarthy and John Stewart Talk About Terrible Commercial Auditions on 'The Daily Show'
Melissa McCarthy stopped by The Daily Show last week to plug about her new movie, Tammy. She talked about how she loved working with her husband, Ben Falcone (director of Tammy) and then segued into talking about some horrible working situations. The always hilarious McCarthy then started to tell host John Stewart about a particular [...]
http://www.dailyactor.com/2014/07/melissa-mccarthy-john-stewart-commercial-auditions-the-daily-show/