Chris Sheffield on His Audition for 'The Last Ship'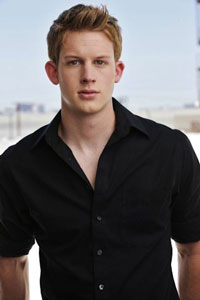 As a young actor, Chris Sheffield is having quite a year. He's been cast in the Michael Bay-directed pilot, The Last Ship, and he's starring in FOX's new show, The Maze Runner, which will debut in September.
While both projects had big budgets, The Last Ship is on TNT. Sheffield compared working on network versus cable television to HuffPost Entertainment.
He said, "Specifically, with The Last Ship and The Maze Runner, both had bigger budgets and required a lot of time, hard work, and passion from everyone involved. From Executive Producer Michael Bay, The Last Ship is a dramatic action TV series, but truly looks and felt like a film while working on it. Everything was just on a larger scale. From the large, ensemble cast lead by the incredible Eric Dane to filming on an active Navy Destroyer (USS Dewey) along side active Navy Sailors. Everything was a little more epic. The Maze Runner differs from any other project and crew. We can't get enough of each other — it's a little ridiculous. We have a group chat and talk every day. That kind of bond, though, is so important in the film and grounds these individuals together in a truly desperate, tragic world."
Auditioning for a Michael Bay project can be a daunting task for an actor given the director's successful, yet tough reputation. However, the 25-year-old actor handled it with aplomb.
"My character on The Last Ship was something that evolved over time. I worked with Denise Chamian, the casting director for Michael Bay's Transformers and she brought me back in. I originally went in for a nonspecific co-star role and I got called back and read for another character, a larger role that had already been cast. A few weeks go by and I hear I booked the role of the young communication officer Will Mason and needed to be in San Diego two days later for training with the cast and the Navy. Eventually, the role became recurring after the pilot was completed," he said. "After we got picked up to series I was able to have lunch with the producers and writers of the show where they informed me and my cast mates about the storylines we were going to have over the course of the season, and the writers shared their wonderful vision of whom this young man is."
Sheffield is living the dream of every aspiring actor and he's proud of the work he has done.
He reminisced with the entertainment site as to why he chose to go into the entertainment industry, "Even as a little kid, I have always had a strong imagination and a curious nature. I can remember playing pretend around my house when I was maybe nine years old. I loved to pretend to be a cop, a doctor, a truck driver, James Bond, a waiter, among countless others. The waiter one is ironic because I waited tables for years when I first moved to LA and let me tell you, it was much more fun in my imagination. I figured out early on that I loved people; how they affected me, and how I affected them. I read an interview with Denzel Washington once and he put my exact thoughts on 'why do you act?' into words. He said because (after reading a story, script, a human being's experiences) 'I want to know what that feels like.' Acting has allowed me to feed into my curiosity and imagination and have human experiences unlike any other."
The Last Ship is currently airing on TNT and The Maze Runner debuts Sept. 19 on FOX.
Latest Videos
http://www.dailyactor.com/wp-content/uploads/2014/09/audtion-tapes-robin-wright-and-h.jpg
Audition Tapes: Robin Wright and Haley Joel Osment Audition with Tom Hanks for 'Forrest Gump'
Check out Robin Wright auditioning for the role of Jenny from Forest Gump opposite Tom Hanks. Interestingly enough, Hanks doesn't quite have Gump's southern drawl down just yet while the other actors audition with him. In fact, Hanks would base Gump's voice on the voice of Michael Conner Humphreys, who played the young Forrest and […]
http://www.dailyactor.com/2014/09/audtion-tapes-robin-wright-haley-joel-osment-tom-hanks-forrest-gump/
http://www.dailyactor.com/wp-content/uploads/2014/08/bryan-cranston-emmy-award-speech.jpg
Watch: Bryan Cranston's Emmy Award Speech: "I love to act. It is a passion of mine and I will do it until my last breath."
The Emmy Awards weren't the most exciting awards show this year but with Bryan Cranston winning for Outstanding Actor in a Drama for Breaking Bad, we at least got to hear one heck of a fantastic acceptance speech. "I was a kid who always looked for the shortcut," he said. "I did happen to stumble […]
http://www.dailyactor.com/2014/08/watch-bryan-cranston-and-aaron-pauls-emmy-award-speeches/
http://www.dailyactor.com/wp-content/uploads/2014/08/audition-tapes-gerard-butler-aud.jpg
Audition Tapes: Gerard Butler Auditions for 'Dracula 2000′
Check out Gerard Butler auditioning for the role of Dracula in the movie, Dracula 2000. The film, about a group of thieves who break into a chamber expecting to find paintings, but instead find Dracula himself, also starred Christopher Plummer, Jonny Lee Miller and Nathan Fillion. Bulter has some sweet rock star hair, huh?
http://www.dailyactor.com/2014/08/audition-tapes-gerard-butler-dracula-2000/
http://www.dailyactor.com/wp-content/uploads/2014/08/interview-matt-dillon-and-carla.jpg
Interview: Matt Dillon and Carla Gugino Talk 'Wayward Pines'
FOX has a new limited-series that's got a terrific cast and interesting premise. It's called Wayward Pines and stars Matt Dillon, Carla Gugino, Melissa Leo, Toby Jones, Terrance Howard, Juliette Lewis, Tim Griffin and Shannyn Sossamon. The show, whose pilot was directed by M. Night Shyamalan, is about a Secret Service agent (Dillon) goes to […]
http://www.dailyactor.com/2014/08/interview-matt-dillon-carla-gugino-wayward-pines-comic-con/
http://www.dailyactor.com/wp-content/uploads/2014/08/interview-wayward-pines-stars-ti.jpg
Interview: 'Wayward Pines' Stars Tim Griffin and Shannyn Sossamon on the Show, Their Characters and More!
Griffin and Sossamonwere at Comic-Con where they sat in on some roundtable interviews to talk about the show.
http://www.dailyactor.com/2014/08/interview-wayward-pines-stars-tim-griffin-shannyn-sossamon-comic-con/