Broadway's 'Phantom of the Opera' Continues its Record-Breaking Run with Norm Lewis and Sierra Boggess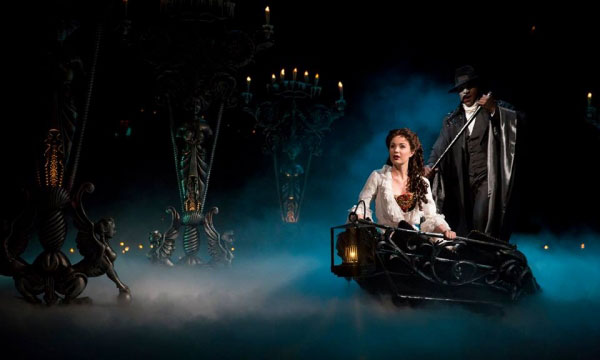 With each performance Broadway's Phantom of the Opera sets the record for longest-running Broadway show in history (it will cross 11,000 performances by the end of July), and the Phantom website boasts that more than 130 million people have seen a version of the musical in its various productions all over the world. Because Phantom is now regarded as a Broadway institution and continues to do excellent business, it probably seems to most Broadway fans that Phantom — which has run longer than many fans of it have been alive — has done just about everything it possibly can to pack the house.
However,  two recent major casting changes of the two leads have each been celebrated as a mixture of both classic and groundbreaking. Starting in May the lead role of Christine has been played in most performances by Sierra Boggess and the Phantom has been played by Norm Lewis.
Though only thirty-two, Boggess has a long history with Phantom of the Opera. In 2006 she originated the role of Christine in the Las Vegas production of Phantom, and later originated the role of Christine again in the West End production of Phantom's sequel, Love Never Dies. She returned to playing Christine in Phantom for the 25th anniversary concert in London in October 2011, and two years later finally played Christine on Broadway for a six-week engagement in early 2013. Just over a year later she rejoined the Broadway production, where she will be for the foreseeable future. Despite the musical's enduring popularity all over the world, there are few actresses worldwide who have had as much experience performing as Christine as Boggess.
Since Boggess' May re-debut in the role her experience has been paired with Lewis, who is the first African American to appear as the Phantom in the Broadway production. Lewis has an even more extensive background on Broadway as Boggess, and has a history of playing roles that are traditionally cast with white actors (Javert in Les Miserables, Billy Flynn in Chicago). He received a Tony nomination for his lead role in 2012's acclaimed The Gershwins' Porgy and Bess, and previously co-starred with Boggess in The Little Mermaid (she played the title character while Lewis played King Triton). It marks a personal triumph for Lewis, who told Playbill it was his lifelong dream to play the Phantom.
As a result, audiences attending Phantom this summer will see two of Broadway's best current performers in the lead roles, something that is rare for any long-running musical, let alone one that is the all-time longest-running.
For more information on The Phantom of the Opera, visit the Broadway production's Facebook, , Twitter & Instagram sites.
Special thanks to Serino/Coyne for hosting a Phantom of the Opera Buzzmaker Event at NYY Steak. For more information on NYY Steak, visit the restaurant's Facebook, Twitter & Instagram sites.
http://www.dailyactor.com/wp-content/uploads/2015/02/Larry-David.jpg
Larry David on Who he Wanted to Star in his Broadway Play 'Fish in the Dark': "Anybody but me"
"It's one of the reasons I didn't like acting. I don't like not being able to interject" – Larry David on acting with a script Who doesn't like Larry David? Well, to be honest, Larry David probably doesn't like Larry David. In fact, David didn't even want to cast himself in the lead of […]
http://www.dailyactor.com/2015/02/larry-david-on-who-he-wanted-to-star-broadway-play-fish-in-the-dark/
http://www.dailyactor.com/wp-content/uploads/2015/02/Helen-Mirren-The-Queen.jpg
Helen Mirren on Winning an Oscar: "It's an indescribable moment"
"It's hard to say, because you don't know what would have happened if you hadn't won" - Helen Mirren When Asked If Winning an Oscar Changed Her Career
http://www.dailyactor.com/2015/02/helen-mirren-on-winning-an-oscar/
http://www.dailyactor.com/wp-content/uploads/2015/02/anna-chlumsky-james-earl-jones.jpg
Anna Chlumsky on Her Broadway Debut: "For me, it was an opportunity to go in the direction that I hadn't played in a while"
"I think my personality lends itself to ensembles" - Anna Chlumsky
http://www.dailyactor.com/2015/02/anna-chlumsky-broadway-debut-ensemble/
http://www.dailyactor.com/wp-content/uploads/2015/02/joanne-froggatt-downton-abbey.jpg
'Downton Abbey' Star Joanne Froggatt on Creating Her Own Backstory and How She's "Not a Big-Budget Hollywood Type"
"They want the model type, classically beautiful, and I'm not" - Joanne Froggatt on Working in Hollywood
http://www.dailyactor.com/2015/02/downton-abbey-star-joanne-froggatt-character-backstory-hollywood/
http://www.dailyactor.com/wp-content/uploads/2015/01/al-pacino-the-humbling.jpg
Al Pacino on Acting: "It becomes such a part of your nature you rarely ever think about quitting"
After working infrequently in film over the last decade, Al Pacino appears in several films released in 2015, including The Humbling, an indie drama directed by Barry Levinson.
http://www.dailyactor.com/2015/02/al-pacino-on-acting-it-becomes-such-a-part-of-your-nature/