Broadway Review: 'Holler If You Hear Me'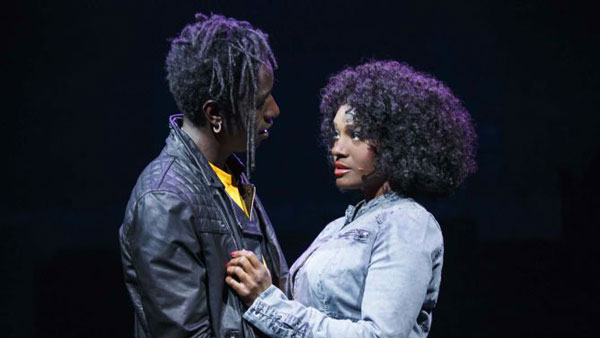 Holler If You Hear Me, the new Broadway musical based on the music of Tupac Shakur, has moments like the rapper himself: raw and electric.
And when those moments happen, it's truly exciting. But unfortunately, there aren't enough of those moments here.
Written by Todd Kreidler and directed by Kenny Leon (who just received a Tony Award for A Raisin in the Sun), Holler tells the story of ex-con John (Saul Williams), who comes back to the old neighborhood vowing to stay straight. But when his friends come looking for his help in the gang ravaged streets, he's reluctantly drawn back into that world.
The story, which has shades of West Side Story in it, doesn't feel as dangerous or gritty as the music itself. It's set in the inner city against a backdrop of violence and murder but Kreindler has managed to craft a story that's bland.
And the characters are, on the page, as generic as they come; the ex-con trying to go straight; the drug dealer trying to get out of the racket, the wise mother.
But, thanks to some crackling performances, Holler ultimately redeems itself.
Williams has a fire inside him that radiates right off the stage. He's got that dangerous feel even when he's smiling and making nice. Christopher Jackson, plays Vertus, the drug dealer who wants nothing more than to lead a normal life. As fierce as Williams is, Jackson is the opposite. He's all heart and is the soul of the production. His rendition of "Dear Mama" will knock your socks off. And Ben Thompson is teriffic as Griffy, the guy who could their dreams of a normal life possible.
There's one show-stopping number at the end of Act One that'll make you hungry for the Act Two but that momentum doesn't go anywhere. And the final moments of the show are sad and heart-wrenching – Leon's directing packs a wallop of a punch here.
I am curious why Jackson doesn't get equal billing alongside Williams. He's on stage as much, if not more, than Williams' John and I'd argue that his Vertus is the main character of the show.
Holler IF You Hear Me is currently playing at the Palace Theatre and also stars Saycon Sengbloh, Ben Thompson, John Earl Jelks, Joshua Boon, Dyllon Burnside and Tonya Pinkins. For tickets, click here.
http://www.dailyactor.com/wp-content/uploads/2015/05/Caitriona-Balfe-Outlander.jpg
Outlander's Caitriona Balfe On The Emotional Toll of Filming Violent Scenes
"Having to put yourself in that place is tough. To sit in that emotional space, especially when you're doing it day after day." - Caitriona Balfe
http://www.dailyactor.com/2015/05/outlander-catriona-balfe-emotional-toll-of-filming-violent-scenes/
http://www.dailyactor.com/wp-content/uploads/2015/05/Chrissie-Fit.jpg
Chrissie Fit on How She Landed Her Role in 'Pitch Perfect 2′
"I remember getting the audition and being like, "This might not happen," just because it is such a massive movie." - Chrissie Fit
http://www.dailyactor.com/2015/05/chrissie-fit-on-how-she-landed-her-role-in-pitch-perfect-2/
http://www.dailyactor.com/wp-content/uploads/2015/05/Sam-Elliott.jpg
Sam Elliot on How he "F–ked" Himself Out of a Career as a Lead Actor
The rugged Sam Elliot has most often cast in character actor roles throughout his long career in film, though the 70 year-old Elliot thinks it wasn't always meant to be that way.
http://www.dailyactor.com/2015/05/sam-elliot-on-how-he-f-ked-himself-out-of-a-career-as-a-lead-actor/
http://www.dailyactor.com/wp-content/uploads/2015/05/Anna-Kendrick-Pitch-Perfect-2.jpg
Anna Kendrick Talks Hollywood and its Gender Bias
"As an actress you're perpetually about to be unemployed." - Anna Kendrick
http://www.dailyactor.com/2015/05/anna-kendrick-talks-hollywood-and-its-gender-bias/
http://www.dailyactor.com/wp-content/uploads/2015/05/tom-hardy-mad-max-fury-road.jpg
Tom Hardy on Fame, Acting School, and His 'Mad Respect' for Michael Fassbender
"Do what you love doing, do it well—everything should fit into place." - Tom Hardy
http://www.dailyactor.com/2015/05/tom-hardy-fame-acting-school-michael-fassbender/