Broadway Review: 'Holler If You Hear Me'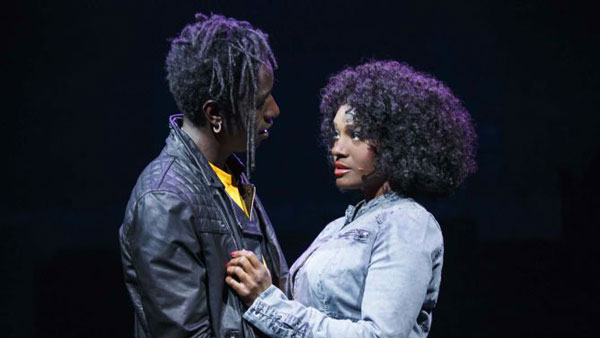 Holler If You Hear Me, the new Broadway musical based on the music of Tupac Shakur, has moments like the rapper himself: raw and electric.
And when those moments happen, it's truly exciting. But unfortunately, there aren't enough of those moments here.
Written by Todd Kreidler and directed by Kenny Leon (who just received a Tony Award for A Raisin in the Sun), Holler tells the story of ex-con John (Saul Williams), who comes back to the old neighborhood vowing to stay straight. But when his friends come looking for his help in the gang ravaged streets, he's reluctantly drawn back into that world.
The story, which has shades of West Side Story in it, doesn't feel as dangerous or gritty as the music itself. It's set in the inner city against a backdrop of violence and murder but Kreindler has managed to craft a story that's bland.
And the characters are, on the page, as generic as they come; the ex-con trying to go straight; the drug dealer trying to get out of the racket, the wise mother.
But, thanks to some crackling performances, Holler ultimately redeems itself.
Williams has a fire inside him that radiates right off the stage. He's got that dangerous feel even when he's smiling and making nice. Christopher Jackson, plays Vertus, the drug dealer who wants nothing more than to lead a normal life. As fierce as Williams is, Jackson is the opposite. He's all heart and is the soul of the production. His rendition of "Dear Mama" will knock your socks off. And Ben Thompson is teriffic as Griffy, the guy who could their dreams of a normal life possible.
There's one show-stopping number at the end of Act One that'll make you hungry for the Act Two but that momentum doesn't go anywhere. And the final moments of the show are sad and heart-wrenching – Leon's directing packs a wallop of a punch here.
I am curious why Jackson doesn't get equal billing alongside Williams. He's on stage as much, if not more, than Williams' John and I'd argue that his Vertus is the main character of the show.
Holler IF You Hear Me is currently playing at the Palace Theatre and also stars Saycon Sengbloh, Ben Thompson, John Earl Jelks, Joshua Boon, Dyllon Burnside and Tonya Pinkins. For tickets, click here.
Latest Videos
http://www.dailyactor.com/wp-content/uploads/2014/08/bryan-cranston-emmy-award-speech.jpg
Watch: Bryan Cranston's Emmy Award Speech: "I love to act. It is a passion of mine and I will do it until my last breath."
The Emmy Awards weren't the most exciting awards show this year but with Bryan Cranston winning for Outstanding Actor in a Drama for Breaking Bad, we at least got to hear one heck of a fantastic acceptance speech. "I was a kid who always looked for the shortcut," he said. "I did happen to stumble […]
http://www.dailyactor.com/2014/08/watch-bryan-cranston-and-aaron-pauls-emmy-award-speeches/
http://www.dailyactor.com/wp-content/uploads/2014/08/audition-tapes-gerard-butler-aud.jpg
Audition Tapes: Gerard Butler Auditions for 'Dracula 2000′
Check out Gerard Butler auditioning for the role of Dracula in the movie, Dracula 2000. The film, about a group of thieves who break into a chamber expecting to find paintings, but instead find Dracula himself, also starred Christopher Plummer, Jonny Lee Miller and Nathan Fillion. Bulter has some sweet rock star hair, huh?
http://www.dailyactor.com/2014/08/audition-tapes-gerard-butler-dracula-2000/
http://www.dailyactor.com/wp-content/uploads/2014/08/interview-matt-dillon-and-carla.jpg
Interview: Matt Dillon and Carla Gugino Talk 'Wayward Pines'
FOX has a new limited-series that's got a terrific cast and interesting premise. It's called Wayward Pines and stars Matt Dillon, Carla Gugino, Melissa Leo, Toby Jones, Terrance Howard, Juliette Lewis, Tim Griffin and Shannyn Sossamon. The show, whose pilot was directed by M. Night Shyamalan, is about a Secret Service agent (Dillon) goes to […]
http://www.dailyactor.com/2014/08/interview-matt-dillon-carla-gugino-wayward-pines-comic-con/
http://www.dailyactor.com/wp-content/uploads/2014/08/interview-wayward-pines-stars-ti.jpg
Interview: 'Wayward Pines' Stars Tim Griffin and Shannyn Sossamon on the Show, Their Characters and More!
Griffin and Sossamonwere at Comic-Con where they sat in on some roundtable interviews to talk about the show.
http://www.dailyactor.com/2014/08/interview-wayward-pines-stars-tim-griffin-shannyn-sossamon-comic-con/
http://www.dailyactor.com/wp-content/uploads/2014/08/interview-m-night-shyamalan-talk.jpg
Interview: M. Night Shyamalan Talks 'Wayward Pines' and Why He Expanded a Young Actors Role on the Show
I talked to Shyamalan at Comic-Con in a roundtable interview where he talked about the cast, what he learned from working in TV and how young actor Charlie Tahan started out with a small part but as the story grew, so did his role.
http://www.dailyactor.com/2014/08/interview-m-night-shyamalan-wayward-pines-comic-con/