Actor Playing Big Daddy in 'Cat on a Hot Tin Roof' Fired After Kicking Out Audience Member Shouting Gay Slurs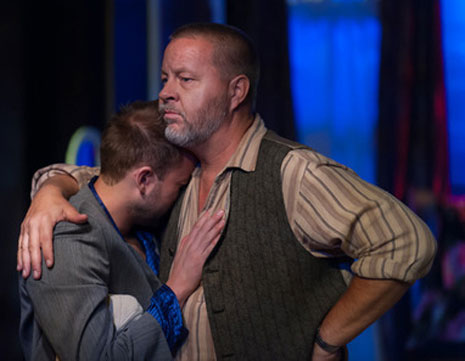 We've chronicled several instances here at Daily Actor when unruly audience members in a theater get put in their places by the actors on stage. In his current role in Hedwig and the Angry Inch, Neil Patrick Harris has cursed out audience members who rudely shout out things to him in-character as Hedwig.  Similarly, during a performance of A Streetcar Named Desire at the Yale Repertory Theatre, actor Joe Manganiello had to shout at an audience member to stop her from taking photos while maintaining the character of Stanley Kowalski. But those were minor incidents compared to what went down between an actor and an obnoxious audience member during a performance of Cat on a Hot Tin Roof at the Repertory East Playhouse in Santa Clarita, California on Saturday, May 31.
According to The Wrap, a particular audience member — which the article points out "had apparently been drinking before the show and returned to the audience after consuming more alcohol during intermission" — was repeatedly catcalling the actress who played Maggie the Cat and shouted anti-gay slurs for almost half of the performance. With apparently nobody else responding to the obnoxious heckler, actor John Lacy, who was playing Big Daddy and has appeared in film and television roles since 1989, jumped off the stage and was involved in a physical altercation that resulted in the removal from the theater of the jerk in question. The performance continued without interruption and received a standing ovation. However, Lacy was fired by producers immediately after the performance for his actions.
In support of Lacy, lead actor Anton Troy, who was playing Brick in the production, resigned. In a statement on his Facebook page. Troy's statement read in part:
"I support my cast mate— no John Lacy means no Anton Troy. I will not support homophobia or an establishment that doesn't support its talent. Hate in any form is not something I choose to subscribe to. John is a seasoned professional and an honorable man. It should never escalate to a point where the talent has to handle an unruly drunk in the audience themselves regardless of the outcome. Producers dropped the ball, the fish stinks from the head on down."
In addition, Troy's statement included additional comments from Lacy, who wrote, "The producers did NOTHING about it, after admitting to me moments before I walked on stage it was 'the drunkest audience they ever had,' [...] I took charge and showed him what was what. And, get this, the producer, Michael Ovington Michael Owston FIRED ME!"
However, not all cast members agreed with Lacy's actions. On Facebook, actress Missy Kaye wrote, "I, unlike most of you, am NOT proud to be an actor today. By you jumping off the stage and putting your hands on this guy put the whole theatre in jeopardy, cast and audience, and to me that is unforgivable. What if this guy had a weapon? Did that cross your mind?"
Emily E. Low, who played the catcalled Maggie in the production and uses the stage name Jolee Blon', seemed to agree with Kaye. She responded to Kaye's comments by saying, "As actors we must take the positive audience responses with the negative. It's not always about cheers and standing ovations." However, she later told LA Weekly that she did not believe that Lacy should have been fired even if she disagreed with his actions.
REP responded to the incident with a statement that read:
"The management of the REP regrets that this situation was not brought to their attention sooner and would like to assure future audiences that disruptive behavior, including disparaging remarks from the audience, incidents of bullying or hate speech, and racial, discriminatory or homophobic utterances, will not be tolerated and offending parties will be asked to leave the theater."
In addition, because of the loss of the two leads the remaining performances have been canceled and a potential tour of the production has been shelved.
However, there remains a number of questions. In particular, why was nothing done about the heckler by anyone in the theater, especially those producers who were backstage (as per Lacy's statement)? Why did the theater continue to serve the drunk audience member drinks during intermission? Indeed, why wasn't the whole matter addressed by somebody — staff, crew, cast, or another audience member — during intermission? And frankly, why would a drunk, homophobic person pay to see Cat on a Hot Tin Roof just to be obnoxious anyway?
While Low is correct that actors need to take both positive and negative criticism, it is clear from the various accounts that the audience member's reactions were disruptive, obnoxious, and offensive, so we aren't talking about a negative review in the local paper here. This is an example of behavior that should have been shut down long before it got to the level of a physical confrontation. No actor or audience should have to endure that behavior during any performance.
Latest Videos
http://www.dailyactor.com/wp-content/uploads/2014/09/audtion-tapes-robin-wright-and-h.jpg
Audition Tapes: Robin Wright and Haley Joel Osment Audition with Tom Hanks for 'Forrest Gump'
Check out Robin Wright auditioning for the role of Jenny from Forest Gump opposite Tom Hanks. Interestingly enough, Hanks doesn't quite have Gump's southern drawl down just yet while the other actors audition with him. In fact, Hanks would base Gump's voice on the voice of Michael Conner Humphreys, who played the young Forrest and […]
http://www.dailyactor.com/2014/09/audtion-tapes-robin-wright-haley-joel-osment-tom-hanks-forrest-gump/
http://www.dailyactor.com/wp-content/uploads/2014/08/bryan-cranston-emmy-award-speech.jpg
Watch: Bryan Cranston's Emmy Award Speech: "I love to act. It is a passion of mine and I will do it until my last breath."
The Emmy Awards weren't the most exciting awards show this year but with Bryan Cranston winning for Outstanding Actor in a Drama for Breaking Bad, we at least got to hear one heck of a fantastic acceptance speech. "I was a kid who always looked for the shortcut," he said. "I did happen to stumble […]
http://www.dailyactor.com/2014/08/watch-bryan-cranston-and-aaron-pauls-emmy-award-speeches/
http://www.dailyactor.com/wp-content/uploads/2014/08/audition-tapes-gerard-butler-aud.jpg
Audition Tapes: Gerard Butler Auditions for 'Dracula 2000′
Check out Gerard Butler auditioning for the role of Dracula in the movie, Dracula 2000. The film, about a group of thieves who break into a chamber expecting to find paintings, but instead find Dracula himself, also starred Christopher Plummer, Jonny Lee Miller and Nathan Fillion. Bulter has some sweet rock star hair, huh?
http://www.dailyactor.com/2014/08/audition-tapes-gerard-butler-dracula-2000/
http://www.dailyactor.com/wp-content/uploads/2014/08/interview-matt-dillon-and-carla.jpg
Interview: Matt Dillon and Carla Gugino Talk 'Wayward Pines'
FOX has a new limited-series that's got a terrific cast and interesting premise. It's called Wayward Pines and stars Matt Dillon, Carla Gugino, Melissa Leo, Toby Jones, Terrance Howard, Juliette Lewis, Tim Griffin and Shannyn Sossamon. The show, whose pilot was directed by M. Night Shyamalan, is about a Secret Service agent (Dillon) goes to […]
http://www.dailyactor.com/2014/08/interview-matt-dillon-carla-gugino-wayward-pines-comic-con/
http://www.dailyactor.com/wp-content/uploads/2014/08/interview-wayward-pines-stars-ti.jpg
Interview: 'Wayward Pines' Stars Tim Griffin and Shannyn Sossamon on the Show, Their Characters and More!
Griffin and Sossamonwere at Comic-Con where they sat in on some roundtable interviews to talk about the show.
http://www.dailyactor.com/2014/08/interview-wayward-pines-stars-tim-griffin-shannyn-sossamon-comic-con/