'The 24-Hour Plays: Los Angeles 2014′ Will Create Six Plays in 24 Hours for Arts Education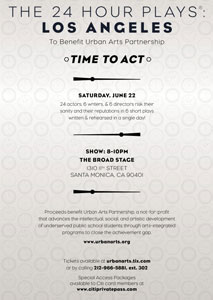 It's quite a feat to tackle, but that's exactly what a group of actors, directors and writers are going to do — create six plays in 24 hours. The event is happening on June 20 at The Broad Stage in Santa Monica as a benefit for the Urban Arts Partnership. The charity brings arts to public schools that are under-served in arts education.
This year, the spectacle will include 24 actors, six writers and six directors. Some of the familiar faces participating as actors are Anna Camp, Constance Zimmer, Jason Ritter, Rosie Perez and Seth Green. Audiences will also see Wilmer Valderrama, Alanis Morissette, Kelly Osbourne, Sasha Alexander and Michael Ealy.
Writers from The Colbert Report, Modern Family and Arrested Development are writing the 10-minute plays while Fred Savage and Rob Greenberg are two of the names representing the directors this year.
Alicia Witt told the Los Angeles Daily News about her participation, "It's the scariest thing you can do as an actor. It's like that nightmare when you're on stage and the curtain raises and you have to explain that you don't know your lines."
The whole process begins on Thursday evening at 10 p.m. with actors collaborating with the writers for inspiration. At 9 a.m. on Friday, the casting and rehearsing process commences. The shows then go up on stage at 8 p.m that day.
Urban Arts Partnership's executive director Philip Courtney explained to the periodical why this fundraiser is so important. He said, "The goal is to infuse classrooms with art. We are in an educational crises. Our view is that art is engaging and using art to engage young people in learning will produce successful adults.
Tickets cost $200 and can be purchased at urbanarts.tix.com
http://www.dailyactor.com/wp-content/uploads/2015/02/Larry-David.jpg
Larry David on Who he Wanted to Star in his Broadway Play 'Fish in the Dark': "Anybody but me"
"It's one of the reasons I didn't like acting. I don't like not being able to interject" – Larry David on acting with a script Who doesn't like Larry David? Well, to be honest, Larry David probably doesn't like Larry David. In fact, David didn't even want to cast himself in the lead of […]
http://www.dailyactor.com/2015/02/larry-david-on-who-he-wanted-to-star-broadway-play-fish-in-the-dark/
http://www.dailyactor.com/wp-content/uploads/2015/02/Helen-Mirren-The-Queen.jpg
Helen Mirren on Winning an Oscar: "It's an indescribable moment"
"It's hard to say, because you don't know what would have happened if you hadn't won" - Helen Mirren When Asked If Winning an Oscar Changed Her Career
http://www.dailyactor.com/2015/02/helen-mirren-on-winning-an-oscar/
http://www.dailyactor.com/wp-content/uploads/2015/02/anna-chlumsky-james-earl-jones.jpg
Anna Chlumsky on Her Broadway Debut: "For me, it was an opportunity to go in the direction that I hadn't played in a while"
"I think my personality lends itself to ensembles" - Anna Chlumsky
http://www.dailyactor.com/2015/02/anna-chlumsky-broadway-debut-ensemble/
http://www.dailyactor.com/wp-content/uploads/2015/02/joanne-froggatt-downton-abbey.jpg
'Downton Abbey' Star Joanne Froggatt on Creating Her Own Backstory and How She's "Not a Big-Budget Hollywood Type"
"They want the model type, classically beautiful, and I'm not" - Joanne Froggatt on Working in Hollywood
http://www.dailyactor.com/2015/02/downton-abbey-star-joanne-froggatt-character-backstory-hollywood/
http://www.dailyactor.com/wp-content/uploads/2015/01/al-pacino-the-humbling.jpg
Al Pacino on Acting: "It becomes such a part of your nature you rarely ever think about quitting"
After working infrequently in film over the last decade, Al Pacino appears in several films released in 2015, including The Humbling, an indie drama directed by Barry Levinson.
http://www.dailyactor.com/2015/02/al-pacino-on-acting-it-becomes-such-a-part-of-your-nature/