'The 24-Hour Plays: Los Angeles 2014′ Will Create Six Plays in 24 Hours for Arts Education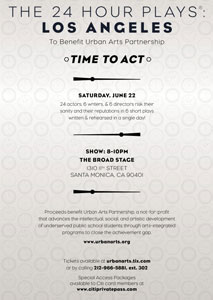 It's quite a feat to tackle, but that's exactly what a group of actors, directors and writers are going to do — create six plays in 24 hours. The event is happening on June 20 at The Broad Stage in Santa Monica as a benefit for the Urban Arts Partnership. The charity brings arts to public schools that are under-served in arts education.
This year, the spectacle will include 24 actors, six writers and six directors. Some of the familiar faces participating as actors are Anna Camp, Constance Zimmer, Jason Ritter, Rosie Perez and Seth Green. Audiences will also see Wilmer Valderrama, Alanis Morissette, Kelly Osbourne, Sasha Alexander and Michael Ealy.
Writers from The Colbert Report, Modern Family and Arrested Development are writing the 10-minute plays while Fred Savage and Rob Greenberg are two of the names representing the directors this year.
Alicia Witt told the Los Angeles Daily News about her participation, "It's the scariest thing you can do as an actor. It's like that nightmare when you're on stage and the curtain raises and you have to explain that you don't know your lines."
The whole process begins on Thursday evening at 10 p.m. with actors collaborating with the writers for inspiration. At 9 a.m. on Friday, the casting and rehearsing process commences. The shows then go up on stage at 8 p.m that day.
Urban Arts Partnership's executive director Philip Courtney explained to the periodical why this fundraiser is so important. He said, "The goal is to infuse classrooms with art. We are in an educational crises. Our view is that art is engaging and using art to engage young people in learning will produce successful adults.
Tickets cost $200 and can be purchased at urbanarts.tix.com
Latest Videos
http://www.dailyactor.com/wp-content/uploads/2014/07/bill-hader.jpg
Bill Hader: "I kind of fell into acting" (video)
Bill Hader, starring in the soon to be released The Skeleton Twins, talks about the film and how he fell into acting and then got "crazy lucky" in this quick video from USA Today. Share on Tumblr
http://www.dailyactor.com/2014/07/bill-hader-fell-into-acting-video/
http://www.dailyactor.com/wp-content/uploads/2014/07/director-john-carney-narrates-a.jpg
Director John Carney Narrates a Scene from 'Begin Again' Starring Kiera Knightley and Mark Ruffalo
Director John Carney (Once) narrates a scene from his new film, Begin Again. Starring Keira Knightley and Mark Ruffalo, the scene shows the first time the two characters meet. I haven't seen it yet but I've heard it's great.
http://www.dailyactor.com/2014/07/begin-again-scene-director-john-carney-keira-knightley-mark-ruffalo/
http://www.dailyactor.com/wp-content/uploads/2014/07/holler-if-you-hear-me-gma.jpg
Watch the Cast of Broadway's 'Holler If You Hear Me' Perform 'California Love' on GMA
The cast of Broadway's newest musical, Holler If You Hear Me with music from Tupac Shakur, performed on Good Morning America this morning. Singing 'California Love', the cast (including the teriffic Christopher Jackson – read our interview here), show why they're the most energetic and inspiring group of actors on Broadway. Holler If Ya Hear [...]
http://www.dailyactor.com/2014/07/watch-cast-broadways-holler-hear-perform-california-love-gma/
http://www.dailyactor.com/wp-content/uploads/2014/07/behind-the-scenes-of-dawn-of-the.jpg
Behind the Scenes of 'Dawn of the Planet of the Apes' with Performance Capture Actor Terry Notary
Actor Terry Notary is 1 of 5 actors playing the apes in the new Dawn of the Planet of the Apes. "When you see armies of apes," he says, that's "five of us." Check out the video where you can watch his performance capture work.
http://www.dailyactor.com/2014/07/dawn-planet-apes-performance-capture-actor-terry-notary/
http://www.dailyactor.com/wp-content/uploads/2014/07/melissa-mccarthy-daily-show.jpg
Melissa McCarthy and John Stewart Talk About Terrible Commercial Auditions on 'The Daily Show'
Melissa McCarthy stopped by The Daily Show last week to plug about her new movie, Tammy. She talked about how she loved working with her husband, Ben Falcone (director of Tammy) and then segued into talking about some horrible working situations. The always hilarious McCarthy then started to tell host John Stewart about a particular [...]
http://www.dailyactor.com/2014/07/melissa-mccarthy-john-stewart-commercial-auditions-the-daily-show/