16-Year-Old Elle Fanning Goes from 'Maleficent' to Indie Film to "Switch Things Up"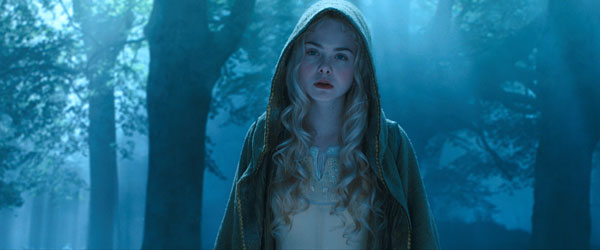 Maleficent had a huge box office opening the first weekend raking in over $70 million. For 16-year-old Elle Fanning, who has been in the entertainment industry since she was two years old, this was certainly the most impressive set she has worked on in her career.
Fanning shared, "This is definitely the biggest scale – set-wise, green screen and Angelina [Jolie]. It's pretty huge. And playing a Disney princess [Sleeping Beauty], going on set and being there with so many crew members was very different. But it was exciting to have all the world around you."
Now that the teen star is growing up, she also has a voice in how she's choosing her roles.
"You get scripts and read them. I feel like if you have to deliberate about it – 'should I do this or not?' – it is probably 'no.' Because you are going to have to go do it for three months and play that person so you want to have a huge connection to it," she explained.
"I always try to switch things up. From Maleficent, which is such a huge scale, I went and did Young Ones and Low Down which were real small independent films. I like having different experiences and obviously playing different characters because you don't want to get bored. You want to always look different in films and speak differently. That's the fun of it. It's like dressing up," she said.
Fanning just completed voicing the animated film, The Boxtrolls, which is due in theaters on Sept. 26.
Via Reuters.
http://www.dailyactor.com/wp-content/uploads/2015/05/Caitriona-Balfe-Outlander.jpg
Outlander's Caitriona Balfe On The Emotional Toll of Filming Violent Scenes
"Having to put yourself in that place is tough. To sit in that emotional space, especially when you're doing it day after day." - Caitriona Balfe
http://www.dailyactor.com/2015/05/outlander-catriona-balfe-emotional-toll-of-filming-violent-scenes/
http://www.dailyactor.com/wp-content/uploads/2015/05/Chrissie-Fit.jpg
Chrissie Fit on How She Landed Her Role in 'Pitch Perfect 2′
"I remember getting the audition and being like, "This might not happen," just because it is such a massive movie." - Chrissie Fit
http://www.dailyactor.com/2015/05/chrissie-fit-on-how-she-landed-her-role-in-pitch-perfect-2/
http://www.dailyactor.com/wp-content/uploads/2015/05/Sam-Elliott.jpg
Sam Elliot on How he "F–ked" Himself Out of a Career as a Lead Actor
The rugged Sam Elliot has most often cast in character actor roles throughout his long career in film, though the 70 year-old Elliot thinks it wasn't always meant to be that way.
http://www.dailyactor.com/2015/05/sam-elliot-on-how-he-f-ked-himself-out-of-a-career-as-a-lead-actor/
http://www.dailyactor.com/wp-content/uploads/2015/05/Anna-Kendrick-Pitch-Perfect-2.jpg
Anna Kendrick Talks Hollywood and its Gender Bias
"As an actress you're perpetually about to be unemployed." - Anna Kendrick
http://www.dailyactor.com/2015/05/anna-kendrick-talks-hollywood-and-its-gender-bias/
http://www.dailyactor.com/wp-content/uploads/2015/05/tom-hardy-mad-max-fury-road.jpg
Tom Hardy on Fame, Acting School, and His 'Mad Respect' for Michael Fassbender
"Do what you love doing, do it well—everything should fit into place." - Tom Hardy
http://www.dailyactor.com/2015/05/tom-hardy-fame-acting-school-michael-fassbender/