Will Hugh Jackman be back for 'X-Men: Apocalypse'? He weighs in on the possibility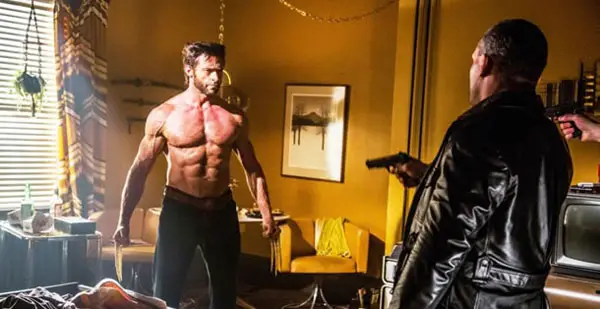 X-Men: Days of Future Past had a huge Memorial Day weekend at the box office. One of the big draws for the film is Hugh Jackman who has played Wolverine for the franchise of films. The actor talked to Vulture about how he keeps the job fresh after all of these years.
He said, "I've always loved that idea that as an actor, you get to learn something new, and it's often exciting and nerve-wracking to start in a new position each time. Someone said to me the other day — someone who makes speeches all the time — that someone asked him, 'Do you ever get nervous anymore?' And he said to me, 'It'd be like you. You don't get nervous.' And I said, 'Well, it's not really like that for me. Of course, I've been on-camera, so it's not like I get nervous about being in front of the camera.' But I said to him, 'Imagine if every time you spoke, it was a completely different topic.' And he said, 'Ah! All right, I see.' And I said, 'Because the character I played last time, I had to act something totally different.' And whilst you get into that, weirdly, for Wolverine, I don't have the nervousness of finding it.
Even if he doesn't get nervous, Jackman finds it comforting to be back in a character he knows so well.
"I have a great comfort, actually, in knowing the character to some degree, but also I love that it's different every time, and this one in particular, a whole different side to him than you've ever seen before. So I enjoy that. But it feels comfortable in a way to me. It's still challenging, and physically very challenging, more challenging, but I get a great feeling of comfort, going back to that character. Probably more than ever," said the 45-year-old star.
The big question that keeps coming up is whether he will be back for the next installment of the franchise. X-Men: Apocalypse is already slated for Memorial Day weekend 2016.
The actor summed up, "But I don't want to lie and say I'm definitely doing the next one. Because since X-Men 1 and 2, where I had a two-picture deal, I haven't made the decision until I've seen the script and know who the director is. And I don't have scripts yet. But I am working with Jim [Mangold] on another Wolverine movie, and I would like that to happen. I feel like the scripts and story lines are getting better and better. So I'm not going to do it unless we stay on that trajectory. I don't want to … There's no point in doing it if you're like, 'Eh, it's sort of there … ' And everyone will say yes to it because it's got a following, but I want to keep it up there, for me and for the fans, out of respect. So I won't sign on until we see it. But I'll be very honest. Would I like it to happen? Yes. Do I want it to happen? Yeah, because I'm enjoying it. But I do know there is a use-by date to all this stuff, you know?"
Latest Videos
http://www.dailyactor.com/wp-content/uploads/2014/08/bryan-cranston-emmy-award-speech.jpg
Watch: Bryan Cranston's Emmy Award Speech: "I love to act. It is a passion of mine and I will do it until my last breath."
The Emmy Awards weren't the most exciting awards show this year but with Bryan Cranston winning for Outstanding Actor in a Drama for Breaking Bad, we at least got to hear one heck of a fantastic acceptance speech. "I was a kid who always looked for the shortcut," he said. "I did happen to stumble […]
http://www.dailyactor.com/2014/08/watch-bryan-cranston-and-aaron-pauls-emmy-award-speeches/
http://www.dailyactor.com/wp-content/uploads/2014/08/audition-tapes-gerard-butler-aud.jpg
Audition Tapes: Gerard Butler Auditions for 'Dracula 2000′
Check out Gerard Butler auditioning for the role of Dracula in the movie, Dracula 2000. The film, about a group of thieves who break into a chamber expecting to find paintings, but instead find Dracula himself, also starred Christopher Plummer, Jonny Lee Miller and Nathan Fillion. Bulter has some sweet rock star hair, huh?
http://www.dailyactor.com/2014/08/audition-tapes-gerard-butler-dracula-2000/
http://www.dailyactor.com/wp-content/uploads/2014/08/interview-matt-dillon-and-carla.jpg
Interview: Matt Dillon and Carla Gugino Talk 'Wayward Pines'
FOX has a new limited-series that's got a terrific cast and interesting premise. It's called Wayward Pines and stars Matt Dillon, Carla Gugino, Melissa Leo, Toby Jones, Terrance Howard, Juliette Lewis, Tim Griffin and Shannyn Sossamon. The show, whose pilot was directed by M. Night Shyamalan, is about a Secret Service agent (Dillon) goes to […]
http://www.dailyactor.com/2014/08/interview-matt-dillon-carla-gugino-wayward-pines-comic-con/
http://www.dailyactor.com/wp-content/uploads/2014/08/interview-wayward-pines-stars-ti.jpg
Interview: 'Wayward Pines' Stars Tim Griffin and Shannyn Sossamon on the Show, Their Characters and More!
Griffin and Sossamonwere at Comic-Con where they sat in on some roundtable interviews to talk about the show.
http://www.dailyactor.com/2014/08/interview-wayward-pines-stars-tim-griffin-shannyn-sossamon-comic-con/
http://www.dailyactor.com/wp-content/uploads/2014/08/interview-m-night-shyamalan-talk.jpg
Interview: M. Night Shyamalan Talks 'Wayward Pines' and Why He Expanded a Young Actors Role on the Show
I talked to Shyamalan at Comic-Con in a roundtable interview where he talked about the cast, what he learned from working in TV and how young actor Charlie Tahan started out with a small part but as the story grew, so did his role.
http://www.dailyactor.com/2014/08/interview-m-night-shyamalan-wayward-pines-comic-con/