Theatre Review: 'Mud Blue Sky' at San Diego's Moxie Theatre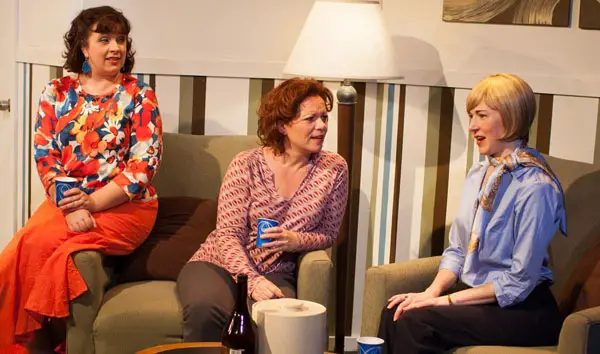 Ninety percent of Mud Blue Sky, which opened last week at San Diego's MOXIE Theatre, is set in a small, almost cramped hotel room near Chicago's O'Hare airport. But out of that tiny space comes some really terrific performances.
The play, which is having its West Coast premiere, was written by Marisa Wegrzyn and tells the story of aging flight attendant, Beth (DeAnna Driscoll). Stuck night after night in non-descript hotel rooms, she's thinking it's about time to call it a career and take a buyout the airline is offering. She's done with the travel and thanks to her bad back, it's not as easy as it used to be.
Thankfully though, she's got a "guy" in the form of Jonathan (J. Tyler Jones), a high school senior who makes extra money selling weed. Tonight though, things aren't going to well for Jonathan – after getting all dressed up in his fancy tuxedo, he's just been dumped by his prom date.
The two are eventually joined by Beth's co-worker Sam (Jo Anne Glover) and former co-worker Angie (Melissa Fernandes) who each have problems of their own.
Directed by MOXIE Associate Artistic Director Jennifer Eve Thorn, the show went by so quick, I had to check my watch when the lights came up to see what time it was. The performances as a whole are really wonderful but the standouts were Driscoll and Fernandes.
Fernandes hides some deep sadness behind those eyes of Angie and at one point, delivers a heart-wrenching monologue that every actress of a certain age should be memorizing for their next audition. If you can come 50% close to what she delivered on stage, you'd be in the running for a call back.
Driscoll, I have to say, looks so much like my mother-in-law that it's scary. And what's worse, it felt like her Beth was modeled after her. Completely weird. Driscoll could have easily floated on the wonderful script but she adds so much to Beth – asides, looks and glances, angst and pain – that it's hard to take your eyes off her.
This is the second show I've seen at the Moxie and so far, this is their second home run.
Mud Blue Sky will play Thursdays through Sundays at 8PM, with Sunday matinees at 2PM, through June 8, 2014. MOXIE Theatre is located at 6663 El Cajon Blvd Suite N, San Diego, CA 92115. Tickets: Opening Night – $40; Previews–$20; General Admission –$27; Seniors, Students, Military, AASD–$5 off general admission.
Call 858-598-7620 or visit www.moxietheatre.com/mudbluesky to purchase tickets.
Latest Videos
http://www.dailyactor.com/wp-content/uploads/2014/09/audtion-tapes-robin-wright-and-h.jpg
Audition Tapes: Robin Wright and Haley Joel Osment Audition with Tom Hanks for 'Forrest Gump'
Check out Robin Wright auditioning for the role of Jenny from Forest Gump opposite Tom Hanks. Interestingly enough, Hanks doesn't quite have Gump's southern drawl down just yet while the other actors audition with him. In fact, Hanks would base Gump's voice on the voice of Michael Conner Humphreys, who played the young Forrest and […]
http://www.dailyactor.com/2014/09/audtion-tapes-robin-wright-haley-joel-osment-tom-hanks-forrest-gump/
http://www.dailyactor.com/wp-content/uploads/2014/08/bryan-cranston-emmy-award-speech.jpg
Watch: Bryan Cranston's Emmy Award Speech: "I love to act. It is a passion of mine and I will do it until my last breath."
The Emmy Awards weren't the most exciting awards show this year but with Bryan Cranston winning for Outstanding Actor in a Drama for Breaking Bad, we at least got to hear one heck of a fantastic acceptance speech. "I was a kid who always looked for the shortcut," he said. "I did happen to stumble […]
http://www.dailyactor.com/2014/08/watch-bryan-cranston-and-aaron-pauls-emmy-award-speeches/
http://www.dailyactor.com/wp-content/uploads/2014/08/audition-tapes-gerard-butler-aud.jpg
Audition Tapes: Gerard Butler Auditions for 'Dracula 2000′
Check out Gerard Butler auditioning for the role of Dracula in the movie, Dracula 2000. The film, about a group of thieves who break into a chamber expecting to find paintings, but instead find Dracula himself, also starred Christopher Plummer, Jonny Lee Miller and Nathan Fillion. Bulter has some sweet rock star hair, huh?
http://www.dailyactor.com/2014/08/audition-tapes-gerard-butler-dracula-2000/
http://www.dailyactor.com/wp-content/uploads/2014/08/interview-matt-dillon-and-carla.jpg
Interview: Matt Dillon and Carla Gugino Talk 'Wayward Pines'
FOX has a new limited-series that's got a terrific cast and interesting premise. It's called Wayward Pines and stars Matt Dillon, Carla Gugino, Melissa Leo, Toby Jones, Terrance Howard, Juliette Lewis, Tim Griffin and Shannyn Sossamon. The show, whose pilot was directed by M. Night Shyamalan, is about a Secret Service agent (Dillon) goes to […]
http://www.dailyactor.com/2014/08/interview-matt-dillon-carla-gugino-wayward-pines-comic-con/
http://www.dailyactor.com/wp-content/uploads/2014/08/interview-wayward-pines-stars-ti.jpg
Interview: 'Wayward Pines' Stars Tim Griffin and Shannyn Sossamon on the Show, Their Characters and More!
Griffin and Sossamonwere at Comic-Con where they sat in on some roundtable interviews to talk about the show.
http://www.dailyactor.com/2014/08/interview-wayward-pines-stars-tim-griffin-shannyn-sossamon-comic-con/