Review: 'X-Men: Days of Future Past'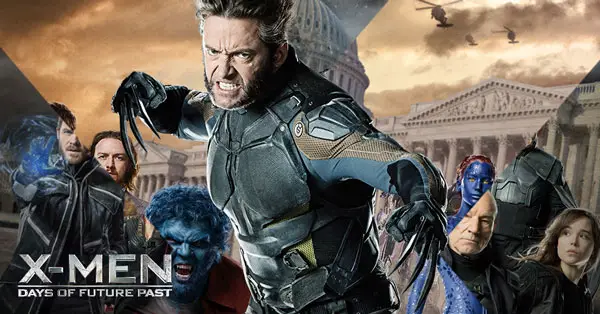 20th Century FOX should just give the keys to their X-Kingdom to Bryan Singer. Let him do whatever he wants with the series because clearly he's the only one who can put mutants on film with any success.
With the first X-Men and the terrific X2, he showed what he could do with these characters. Then the reigns were given to Brett Ratner who almost drove the franchise into the ground with his pathetic X3. Thankfully, the studio decided to re-boot the series with X-Men: First Class. Matthew Vaughn's film halfway there; casting the three leads (James McAvoy, Michael Fassbender and Jennifer Lawrence), the rest of the cast were terrible. Terrible! And if the three main actors weren't in any of the scenes, the film took a sudden leap into the toilet.
FOX thankfully wizened up and brought back Singer.
Thank you, thank you, thank you.
X-Men: Days of Future Past is fantastic. It's the X-Men we've all dreamed about.
In a nutshell, it's the 70's and Bolivar Trask (Peter Dinklage) has created a fleet of robots – dubbed the Sentinels – to keep mutants under control. Flash-forward to present day where we see the havoc that his creation has brought. Almost total devastation of the world. Professor X (Patrick Stewart) and Magneto (Ian McKellen) recruit Wolverine (Hugh Jackman) into going back in time to stop Trask.  With the help of Kitty Pride (Ellen Page), he wakes up in the past and quickly finds young Xavier.
What follows is a mash-up of past and present that brings back almost every single character from the previous films while simultaneously (miraculously) giving each main character a full on story arc.
Jackman seems to be his best Wolverine while working with an ensemble because here, he knocks it out of the park. Since he doesn't have to be the main focus, it feels like he's freer than the characters solo efforts. Stewart and McKellen… well, what can I say? On screen they're partnership is as finely tuned as a piano and now that they are working together to save all of mankind, they're scenes take on an urgent, yet warm and fuzzy feel.
McAvoy, Fassbender and Lawrence, leads in almost any other film, seem to take a cue from Jackman and are relishing working in this ensemble. Fassbender's Magneto is suave and dangerous, McAvoy's Xavier is broken and fragile and Lawrence's Mystique – the reason why the future Sentinels are so dangerous – is determined and smart.
Singer expertly juggles each character and they don't seem to get short-changed here. He knows this world of alienation and heroism like the back of his hand. The film is smart – as was the comic book storyline it's based off of – and thankfully doesn't dumb anything down. And even though the world is ending and the stakes are high, there are still some very funny moments.
X-Men: Days of Future Past is the best of the franchise.
http://www.dailyactor.com/wp-content/uploads/2015/05/Caitriona-Balfe-Outlander.jpg
Outlander's Caitriona Balfe On The Emotional Toll of Filming Violent Scenes
"Having to put yourself in that place is tough. To sit in that emotional space, especially when you're doing it day after day." - Caitriona Balfe
http://www.dailyactor.com/2015/05/outlander-catriona-balfe-emotional-toll-of-filming-violent-scenes/
http://www.dailyactor.com/wp-content/uploads/2015/05/Chrissie-Fit.jpg
Chrissie Fit on How She Landed Her Role in 'Pitch Perfect 2′
"I remember getting the audition and being like, "This might not happen," just because it is such a massive movie." - Chrissie Fit
http://www.dailyactor.com/2015/05/chrissie-fit-on-how-she-landed-her-role-in-pitch-perfect-2/
http://www.dailyactor.com/wp-content/uploads/2015/05/Sam-Elliott.jpg
Sam Elliot on How he "F–ked" Himself Out of a Career as a Lead Actor
The rugged Sam Elliot has most often cast in character actor roles throughout his long career in film, though the 70 year-old Elliot thinks it wasn't always meant to be that way.
http://www.dailyactor.com/2015/05/sam-elliot-on-how-he-f-ked-himself-out-of-a-career-as-a-lead-actor/
http://www.dailyactor.com/wp-content/uploads/2015/05/Anna-Kendrick-Pitch-Perfect-2.jpg
Anna Kendrick Talks Hollywood and its Gender Bias
"As an actress you're perpetually about to be unemployed." - Anna Kendrick
http://www.dailyactor.com/2015/05/anna-kendrick-talks-hollywood-and-its-gender-bias/
http://www.dailyactor.com/wp-content/uploads/2015/05/tom-hardy-mad-max-fury-road.jpg
Tom Hardy on Fame, Acting School, and His 'Mad Respect' for Michael Fassbender
"Do what you love doing, do it well—everything should fit into place." - Tom Hardy
http://www.dailyactor.com/2015/05/tom-hardy-fame-acting-school-michael-fassbender/