Megan Hilty on the Failure of 'Smash': "I can only do so much"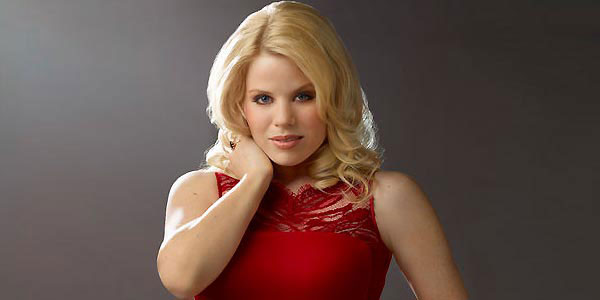 Not many actors can still claim to have a career after starring in two failed television series. But Megan Hilty, who starred in NBC's Smash (canceled after two seasons) and Sean Saves the World (canceled midway through its first season), isn't just still working, she's actually talking about her experiences on the highly-promoted but commercially disappointing Smash. In conversation with The Daily Beast, Hilty talks about what went wrong and how it felt to be on a series while knowing its days were numbered.
Hilty admits that the pressure that NBC put on Smash was a big deal. She reveals, "I was terrified. I also felt like I had a lot to prove, being the theater gal in the cast, because we get a bad rap. People think that theater actors are too big for the camera. It's like,  'No, we're actors and we adjust for our audience.' So without being like, 'I'm going to show that every theater girl can do it!' I felt like I had to prove something."
When the show wasn't delivering the ratings that NBC hoped for, panic began to sink in behind the scenes, which included major behind-the-scenes changes for the second and final season. However, Hilty points out that as an actress she could do little about the drama except to roll with it. She explains, "Honestly, we were so separate from it all. I dealt with the cast and the crew all the time, but it was just them. I was aware of all the other drama, but that's it—I was aware of it. And it's so far out of your control when that's going on, whatever the fans or critics or whoever is saying and whatever anyone is doing at the network. There's nothing I can about it."
This included performing scenes that she didn't feel were high quality — she cites the storyline when he character became addicted to pills — which she confesses sometimes caused her to speak out on the set. She reveals, "My job is to go and make the words work. And if they don't, then what am I going to do? I didn't throw a lot of fits. I chose when to throw my toys, and when I did, they actually listened to me. But especially at the beginning, what am I going to do? Tell DreamWorks and NBC how to do their show? I can only do so much."
http://www.dailyactor.com/wp-content/uploads/2015/02/Larry-David.jpg
Larry David on Who he Wanted to Star in his Broadway Play 'Fish in the Dark': "Anybody but me"
"It's one of the reasons I didn't like acting. I don't like not being able to interject" – Larry David on acting with a script Who doesn't like Larry David? Well, to be honest, Larry David probably doesn't like Larry David. In fact, David didn't even want to cast himself in the lead of […]
http://www.dailyactor.com/2015/02/larry-david-on-who-he-wanted-to-star-broadway-play-fish-in-the-dark/
http://www.dailyactor.com/wp-content/uploads/2015/02/Helen-Mirren-The-Queen.jpg
Helen Mirren on Winning an Oscar: "It's an indescribable moment"
"It's hard to say, because you don't know what would have happened if you hadn't won" - Helen Mirren When Asked If Winning an Oscar Changed Her Career
http://www.dailyactor.com/2015/02/helen-mirren-on-winning-an-oscar/
http://www.dailyactor.com/wp-content/uploads/2015/02/anna-chlumsky-james-earl-jones.jpg
Anna Chlumsky on Her Broadway Debut: "For me, it was an opportunity to go in the direction that I hadn't played in a while"
"I think my personality lends itself to ensembles" - Anna Chlumsky
http://www.dailyactor.com/2015/02/anna-chlumsky-broadway-debut-ensemble/
http://www.dailyactor.com/wp-content/uploads/2015/02/joanne-froggatt-downton-abbey.jpg
'Downton Abbey' Star Joanne Froggatt on Creating Her Own Backstory and How She's "Not a Big-Budget Hollywood Type"
"They want the model type, classically beautiful, and I'm not" - Joanne Froggatt on Working in Hollywood
http://www.dailyactor.com/2015/02/downton-abbey-star-joanne-froggatt-character-backstory-hollywood/
http://www.dailyactor.com/wp-content/uploads/2015/01/al-pacino-the-humbling.jpg
Al Pacino on Acting: "It becomes such a part of your nature you rarely ever think about quitting"
After working infrequently in film over the last decade, Al Pacino appears in several films released in 2015, including The Humbling, an indie drama directed by Barry Levinson.
http://www.dailyactor.com/2015/02/al-pacino-on-acting-it-becomes-such-a-part-of-your-nature/