Kristin Chenoweth and Peter Gallagher to Star in Roundabout's 'On Twentieth Century'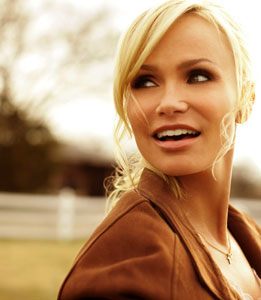 Kristin Chenoweth, I mean Tony & Emmy Award winner Kristin Chenoweth, will star in Roundabout Theatre Company's On The Twentieth Century. 
The musical, directed by Scott Ellis, will also star Peter Gallagher.
Here's the story: It's nonstop laughs aboard the Twentieth Century, a luxury coach travelling from Chicago to New York City. Luck, love and mischief collide when the bankrupt theater producer Oscar Jaffe (Gallagher) embarks on a madcap mission to cajole glamorous Hollywood starlet Lily Garland (Chenoweth) into playing the lead in his new, non-existent epic drama. But is the train ride long enough to reignite the spark between these former lovers, create a play from scratch, and find the money to get it all the way to Broadway?
The show will play a 20-week limited engagement through July 5, 2015, beginning previews on February 12, 2015 and opening officially on March 12, 2015 at the American Airlines Theatre on Broadway (227 West 42nd Street).
The full cast will be announced shortly.
http://www.dailyactor.com/wp-content/uploads/2015/05/Caitriona-Balfe-Outlander.jpg
Outlander's Caitriona Balfe On The Emotional Toll of Filming Violent Scenes
"Having to put yourself in that place is tough. To sit in that emotional space, especially when you're doing it day after day." - Caitriona Balfe
http://www.dailyactor.com/2015/05/outlander-catriona-balfe-emotional-toll-of-filming-violent-scenes/
http://www.dailyactor.com/wp-content/uploads/2015/05/Chrissie-Fit.jpg
Chrissie Fit on How She Landed Her Role in 'Pitch Perfect 2′
"I remember getting the audition and being like, "This might not happen," just because it is such a massive movie." - Chrissie Fit
http://www.dailyactor.com/2015/05/chrissie-fit-on-how-she-landed-her-role-in-pitch-perfect-2/
http://www.dailyactor.com/wp-content/uploads/2015/05/Sam-Elliott.jpg
Sam Elliot on How he "F–ked" Himself Out of a Career as a Lead Actor
The rugged Sam Elliot has most often cast in character actor roles throughout his long career in film, though the 70 year-old Elliot thinks it wasn't always meant to be that way.
http://www.dailyactor.com/2015/05/sam-elliot-on-how-he-f-ked-himself-out-of-a-career-as-a-lead-actor/
http://www.dailyactor.com/wp-content/uploads/2015/05/Anna-Kendrick-Pitch-Perfect-2.jpg
Anna Kendrick Talks Hollywood and its Gender Bias
"As an actress you're perpetually about to be unemployed." - Anna Kendrick
http://www.dailyactor.com/2015/05/anna-kendrick-talks-hollywood-and-its-gender-bias/
http://www.dailyactor.com/wp-content/uploads/2015/05/tom-hardy-mad-max-fury-road.jpg
Tom Hardy on Fame, Acting School, and His 'Mad Respect' for Michael Fassbender
"Do what you love doing, do it well—everything should fit into place." - Tom Hardy
http://www.dailyactor.com/2015/05/tom-hardy-fame-acting-school-michael-fassbender/