Josh Hartnett on His Return to Television: "It's been a learning experience"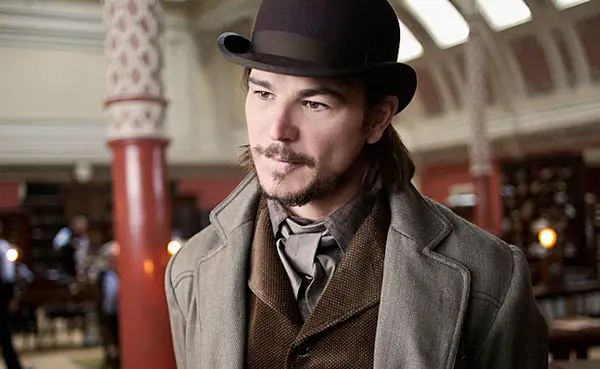 The main problem with being considered a teen heartthrob actor is that the hearts of millions of teenagers stop throbbing at some point. In the early 2000s, Josh Hartnett was best known for playing the good looking guy in movies like The Virgin Suicides, Pearl Harbor, O, and 40 Days and 40 Nights. Although he also starred in critically acclaimed movies for maturer audiences like Black Hawk Down and Sin City, Hartnett's profile has fallen as his days of being featured on teen magazine covers have passed. However, that doesn't mean Hartnett hasn't been working. Like many actors whose film careers have seen better days, he has made the move to premium cable television by starring in the Showtime horror series Penny Dreadful. He spoke to the Los Angeles Times about what he has been up to since his heartthrob heyday and how he's coping with playing a character in a television series rather than a film.
As for how Hartnett has felt about his work over the past decade, he explains, "Basically I grew and learned. For me, when people ask what happened to me, it's a little weird, because I have been working this whole time. And the thing is, I feel like I spent a lot of time doing work that was worthy and good, but it's a little frustrating when the stuff you care about isn't seen because it isn't high-profile."
Though Hartnett first got noticed on the short-lived television series Cracker, he admits that he found it difficult getting into character on Penny Dreadful because the series is open-ended and does not yet tell a complete story. He says, "I kept asking John [Logan, series creator and writer] where the character was coming from. I needed to know. He was like, 'I don't know yet. You kind of have to leave your options open or just choose something.' It was something I couldn't wrap my brain around. What if I choose the wrong thing? It's been a learning experience."
Latest Videos
http://www.dailyactor.com/wp-content/uploads/2014/07/bill-hader.jpg
Bill Hader: "I kind of fell into acting" (video)
Bill Hader, starring in the soon to be released The Skeleton Twins, talks about the film and how he fell into acting and then got "crazy lucky" in this quick video from USA Today. Share on Tumblr
http://www.dailyactor.com/2014/07/bill-hader-fell-into-acting-video/
http://www.dailyactor.com/wp-content/uploads/2014/07/director-john-carney-narrates-a.jpg
Director John Carney Narrates a Scene from 'Begin Again' Starring Kiera Knightley and Mark Ruffalo
Director John Carney (Once) narrates a scene from his new film, Begin Again. Starring Keira Knightley and Mark Ruffalo, the scene shows the first time the two characters meet. I haven't seen it yet but I've heard it's great.
http://www.dailyactor.com/2014/07/begin-again-scene-director-john-carney-keira-knightley-mark-ruffalo/
http://www.dailyactor.com/wp-content/uploads/2014/07/holler-if-you-hear-me-gma.jpg
Watch the Cast of Broadway's 'Holler If You Hear Me' Perform 'California Love' on GMA
The cast of Broadway's newest musical, Holler If You Hear Me with music from Tupac Shakur, performed on Good Morning America this morning. Singing 'California Love', the cast (including the teriffic Christopher Jackson – read our interview here), show why they're the most energetic and inspiring group of actors on Broadway. Holler If Ya Hear [...]
http://www.dailyactor.com/2014/07/watch-cast-broadways-holler-hear-perform-california-love-gma/
http://www.dailyactor.com/wp-content/uploads/2014/07/behind-the-scenes-of-dawn-of-the.jpg
Behind the Scenes of 'Dawn of the Planet of the Apes' with Performance Capture Actor Terry Notary
Actor Terry Notary is 1 of 5 actors playing the apes in the new Dawn of the Planet of the Apes. "When you see armies of apes," he says, that's "five of us." Check out the video where you can watch his performance capture work.
http://www.dailyactor.com/2014/07/dawn-planet-apes-performance-capture-actor-terry-notary/
http://www.dailyactor.com/wp-content/uploads/2014/07/melissa-mccarthy-daily-show.jpg
Melissa McCarthy and John Stewart Talk About Terrible Commercial Auditions on 'The Daily Show'
Melissa McCarthy stopped by The Daily Show last week to plug about her new movie, Tammy. She talked about how she loved working with her husband, Ben Falcone (director of Tammy) and then segued into talking about some horrible working situations. The always hilarious McCarthy then started to tell host John Stewart about a particular [...]
http://www.dailyactor.com/2014/07/melissa-mccarthy-john-stewart-commercial-auditions-the-daily-show/