Jon Hamm on 'Million Dollar Arm' and the End of 'Mad Men'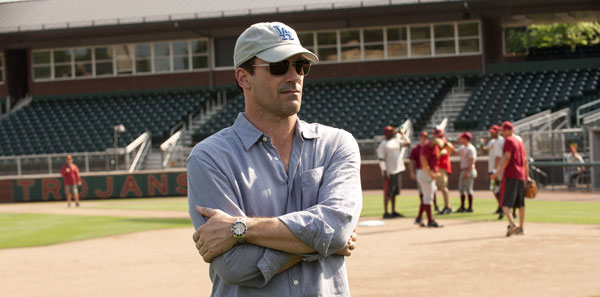 With Million Dollar Arm, Jon Hamm is starring as the lead in a big studio movie for the first time since Mad Men became one of the most popular shows on television. The family-friendly Disney movie is a major change from Mad Men's mature content. Hamm plays real-life sports agent J.B. Bernstein, who started a contest in India to find cricket players who could pitch in professional baseball in America. In an interview with The Huffington Post, Hamm spoke about taking on the role, meeting the person he played in the film, and his thoughts on the end of Mad Men.
Initially Hamm was surprised that he had never heard about the true story that Million Dollar Arm was based on. He reveals, "I was blown away that it had somehow escaped my radar. To get the opportunity to kind of tell this story is really cool."
Hamm didn't actually meet Bernstein until production was well underway. Nonetheless, he felt he was accurate in portraying Bernstein's character before he ever met him. He explains, "I think I had him pegged pretty good by the time we met. There's a lot of similarities between being an agent and being an actor. There's the false confidence you need to have all the time. The charisma, where you have to fake it until you make it. There's a lot of that in what I do for a living and certainly a lot of that in what J.B. does for a living. I realized that it was a really good fit [for me]."
Of course, while Million Dollar Arm is Hamm's highest-profile movie role in recent years, he is still best known for playing Don Draper on AMC's Mad Men, which is now wrapping up its run. While Hamm says he will miss working with the cast and crew, he admits that in some ways he's ready to see it end, saying, "It's been a big, big, big part of my life. I've got a lot of really good friends in the cast and crew. It's going to be tricky [to see it end]. I'm not going to say I wish it wouldn't end, because everything has to end, but it is what it is. We're going to have an emotional journey once we wrap it up. We'll walk away and lock the door."
http://www.dailyactor.com/wp-content/uploads/2015/01/watch-al-pacino-talks-the-humbli.jpg
Watch: Al Pacino Talks 'The Humbling' and His Extraordinary Career
In this conversation with Al Pacino talks about his role in The Humbling -- including working with Greta Gerwig -- and his historic acting career
http://www.dailyactor.com/2015/01/watch-al-pacino-extraordinary-career/
http://www.dailyactor.com/wp-content/uploads/2015/01/watch-oscar-nominee-steve-carell.jpg
Watch: Oscar Nominee Steve Carell Talks Improv, Auditioning for 'The Office' and 'Foxcatcher'
Carell talks about his entire career as an actor, including his background in improv, how he landed the Michael Scott role on The Office, and Foxcatcher
http://www.dailyactor.com/2015/01/oscar-nominee-steve-carell-improv-auditioning-for-the-office-foxcatcher/
http://www.dailyactor.com/wp-content/uploads/2015/01/ethan-hawke-ellar-coltrane-boyhood.jpg
Ethan Hawke Calls 'Boyhood' the "most special endeavor of my life"
Ethan Hawke is riding high with his fourth Oscar nomination for the Richard Linklater-directed Boyhood. In a recent "Ask Me Anything" on Reddit, the 44-year-old actor gave some thoughtful insight into his career and the 12-year creative endeavor that became the biggest film of the Oscar season. When asked what was the most difficult thing about […]
http://www.dailyactor.com/2015/01/ethan-hawke-boyhood-reddit-amaife/
http://www.dailyactor.com/wp-content/uploads/2015/01/martha-plimpton-a-delicate-balance.jpg
Martha Plimpton Takes a Refreshing Approach to a Long-Lasting Career
Martha Plimpton is an actress who enjoys the work, she's not in it for the fame. The proof is in her continually excellent work that she is doing on-screen and on the stage. She's currently starring in A Delicate Balance on Broadway. It's the audience who gives her the ultimate thrill. "I try to get […]
http://www.dailyactor.com/2015/01/martha-plimpton-long-lasting-career/
http://www.dailyactor.com/wp-content/uploads/2015/01/watch-michael-keaton-talks-candi.jpg
Watch: Michael Keaton Talks Candidly About His Career and His Approach to Acting in 'Birdman'
In this nearly 90 minute conversation, Michael Keaton is his usual affable self but is also remarkably candid about his career and his approach to acting.
http://www.dailyactor.com/2015/01/michael-keaton-career-approach-to-acting-birdman/