Gedde "Long Duk Dong" Watanabe on Duping John Hughes to Get His Famed 'Sixteen Candles' Role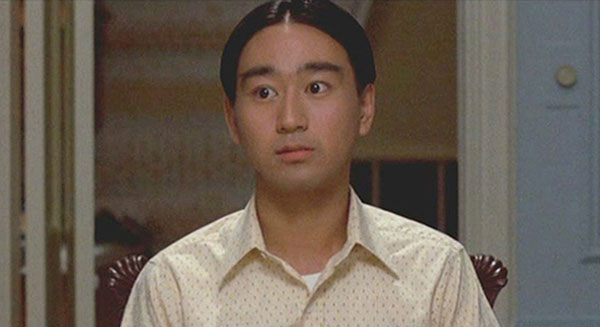 No director has ever offered teenager actors such well-written parts in movies as John Hughes, who is best remembered for writing and directing the "Brat Pack" films Sixteen Candles, The Breakfast Club, Ferris Bueller's Day Off, as well as writing Pretty in Pink. Nonetheless, though known for writing substantial roles for young people, Hughes wrote his fair share of comedy relief parts in his scripts. Perhaps none are as memorable as Long Duk Dong, the Asian foreign exchange student in Sixteen Candles, portrayed by Gedde Watanabe. Though an accomplished New York stage actor before being cast, Watanabe was adamant about pursuing the role of a stereotypical Asian student despite being raised in Utah. To celebrate the thirtieth anniversary of Sixteen Candles, Watanabe spoke to New York magazine about how he duped Hughes into giving him the part despite being as American as apple pie.
He reveals, "I was living in New York and had been in the original cast of [Stephen Sondheim's] Pacific Overtures and done work with the Public Theater and Joe Papp. My agent at the time sent me the script. It said the character of Long Duk Dong was a foreign exchange student and from Asia, but that was about it. To set myself apart, I asked a friend of mine who had a thick Korean accent if I could hang out with him and learn. I then went to the audition in character using my friend's accent. Which wasn't a very smart idea because I was basically lying and would have to tell them at some point that I only spoke English and was from Ogden, Utah. The casting director, Jackie Burch, was talking to me like I was from another country. Finally I had to admit I was lying. She wanted me for the role and said, 'Don't tell John.' So we kept it a secret until the table read in Chicago when I took him aside and said, 'John, I have to tell you something … ' He said, 'Where's your accent?' I was just so nervous telling him that I was afraid I'd get fired and aware of my own embarrassment that I'd told a huge lie. But John just had a big chuckle as if to say, 'Boy, was I duped.'"
If only all directors took deception that well!
http://www.dailyactor.com/wp-content/uploads/2015/02/Larry-David.jpg
Larry David on Who he Wanted to Star in his Broadway Play 'Fish in the Dark': "Anybody but me"
"It's one of the reasons I didn't like acting. I don't like not being able to interject" – Larry David on acting with a script Who doesn't like Larry David? Well, to be honest, Larry David probably doesn't like Larry David. In fact, David didn't even want to cast himself in the lead of […]
http://www.dailyactor.com/2015/02/larry-david-on-who-he-wanted-to-star-broadway-play-fish-in-the-dark/
http://www.dailyactor.com/wp-content/uploads/2015/02/Helen-Mirren-The-Queen.jpg
Helen Mirren on Winning an Oscar: "It's an indescribable moment"
"It's hard to say, because you don't know what would have happened if you hadn't won" - Helen Mirren When Asked If Winning an Oscar Changed Her Career
http://www.dailyactor.com/2015/02/helen-mirren-on-winning-an-oscar/
http://www.dailyactor.com/wp-content/uploads/2015/02/anna-chlumsky-james-earl-jones.jpg
Anna Chlumsky on Her Broadway Debut: "For me, it was an opportunity to go in the direction that I hadn't played in a while"
"I think my personality lends itself to ensembles" - Anna Chlumsky
http://www.dailyactor.com/2015/02/anna-chlumsky-broadway-debut-ensemble/
http://www.dailyactor.com/wp-content/uploads/2015/02/joanne-froggatt-downton-abbey.jpg
'Downton Abbey' Star Joanne Froggatt on Creating Her Own Backstory and How She's "Not a Big-Budget Hollywood Type"
"They want the model type, classically beautiful, and I'm not" - Joanne Froggatt on Working in Hollywood
http://www.dailyactor.com/2015/02/downton-abbey-star-joanne-froggatt-character-backstory-hollywood/
http://www.dailyactor.com/wp-content/uploads/2015/01/al-pacino-the-humbling.jpg
Al Pacino on Acting: "It becomes such a part of your nature you rarely ever think about quitting"
After working infrequently in film over the last decade, Al Pacino appears in several films released in 2015, including The Humbling, an indie drama directed by Barry Levinson.
http://www.dailyactor.com/2015/02/al-pacino-on-acting-it-becomes-such-a-part-of-your-nature/