Gedde "Long Duk Dong" Watanabe on Duping John Hughes to Get His Famed 'Sixteen Candles' Role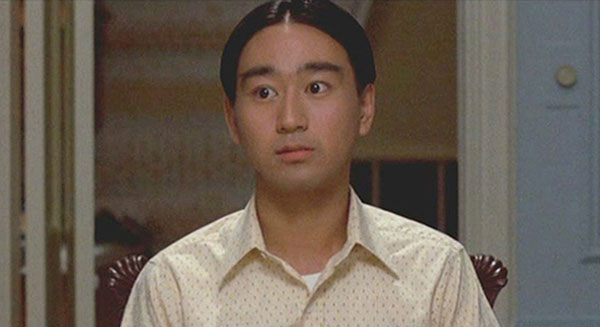 No director has ever offered teenager actors such well-written parts in movies as John Hughes, who is best remembered for writing and directing the "Brat Pack" films Sixteen Candles, The Breakfast Club, Ferris Bueller's Day Off, as well as writing Pretty in Pink. Nonetheless, though known for writing substantial roles for young people, Hughes wrote his fair share of comedy relief parts in his scripts. Perhaps none are as memorable as Long Duk Dong, the Asian foreign exchange student in Sixteen Candles, portrayed by Gedde Watanabe. Though an accomplished New York stage actor before being cast, Watanabe was adamant about pursuing the role of a stereotypical Asian student despite being raised in Utah. To celebrate the thirtieth anniversary of Sixteen Candles, Watanabe spoke to New York magazine about how he duped Hughes into giving him the part despite being as American as apple pie.
He reveals, "I was living in New York and had been in the original cast of [Stephen Sondheim's] Pacific Overtures and done work with the Public Theater and Joe Papp. My agent at the time sent me the script. It said the character of Long Duk Dong was a foreign exchange student and from Asia, but that was about it. To set myself apart, I asked a friend of mine who had a thick Korean accent if I could hang out with him and learn. I then went to the audition in character using my friend's accent. Which wasn't a very smart idea because I was basically lying and would have to tell them at some point that I only spoke English and was from Ogden, Utah. The casting director, Jackie Burch, was talking to me like I was from another country. Finally I had to admit I was lying. She wanted me for the role and said, 'Don't tell John.' So we kept it a secret until the table read in Chicago when I took him aside and said, 'John, I have to tell you something … ' He said, 'Where's your accent?' I was just so nervous telling him that I was afraid I'd get fired and aware of my own embarrassment that I'd told a huge lie. But John just had a big chuckle as if to say, 'Boy, was I duped.'"
If only all directors took deception that well!
Latest Videos
http://www.dailyactor.com/wp-content/uploads/2014/08/bryan-cranston-emmy-award-speech.jpg
Watch: Bryan Cranston's Emmy Award Speech: "I love to act. It is a passion of mine and I will do it until my last breath."
The Emmy Awards weren't the most exciting awards show this year but with Bryan Cranston winning for Outstanding Actor in a Drama for Breaking Bad, we at least got to hear one heck of a fantastic acceptance speech. "I was a kid who always looked for the shortcut," he said. "I did happen to stumble […]
http://www.dailyactor.com/2014/08/watch-bryan-cranston-and-aaron-pauls-emmy-award-speeches/
http://www.dailyactor.com/wp-content/uploads/2014/08/audition-tapes-gerard-butler-aud.jpg
Audition Tapes: Gerard Butler Auditions for 'Dracula 2000′
Check out Gerard Butler auditioning for the role of Dracula in the movie, Dracula 2000. The film, about a group of thieves who break into a chamber expecting to find paintings, but instead find Dracula himself, also starred Christopher Plummer, Jonny Lee Miller and Nathan Fillion. Bulter has some sweet rock star hair, huh?
http://www.dailyactor.com/2014/08/audition-tapes-gerard-butler-dracula-2000/
http://www.dailyactor.com/wp-content/uploads/2014/08/interview-matt-dillon-and-carla.jpg
Interview: Matt Dillon and Carla Gugino Talk 'Wayward Pines'
FOX has a new limited-series that's got a terrific cast and interesting premise. It's called Wayward Pines and stars Matt Dillon, Carla Gugino, Melissa Leo, Toby Jones, Terrance Howard, Juliette Lewis, Tim Griffin and Shannyn Sossamon. The show, whose pilot was directed by M. Night Shyamalan, is about a Secret Service agent (Dillon) goes to […]
http://www.dailyactor.com/2014/08/interview-matt-dillon-carla-gugino-wayward-pines-comic-con/
http://www.dailyactor.com/wp-content/uploads/2014/08/interview-wayward-pines-stars-ti.jpg
Interview: 'Wayward Pines' Stars Tim Griffin and Shannyn Sossamon on the Show, Their Characters and More!
Griffin and Sossamonwere at Comic-Con where they sat in on some roundtable interviews to talk about the show.
http://www.dailyactor.com/2014/08/interview-wayward-pines-stars-tim-griffin-shannyn-sossamon-comic-con/
http://www.dailyactor.com/wp-content/uploads/2014/08/interview-m-night-shyamalan-talk.jpg
Interview: M. Night Shyamalan Talks 'Wayward Pines' and Why He Expanded a Young Actors Role on the Show
I talked to Shyamalan at Comic-Con in a roundtable interview where he talked about the cast, what he learned from working in TV and how young actor Charlie Tahan started out with a small part but as the story grew, so did his role.
http://www.dailyactor.com/2014/08/interview-m-night-shyamalan-wayward-pines-comic-con/