Gedde "Long Duk Dong" Watanabe on Duping John Hughes to Get His Famed 'Sixteen Candles' Role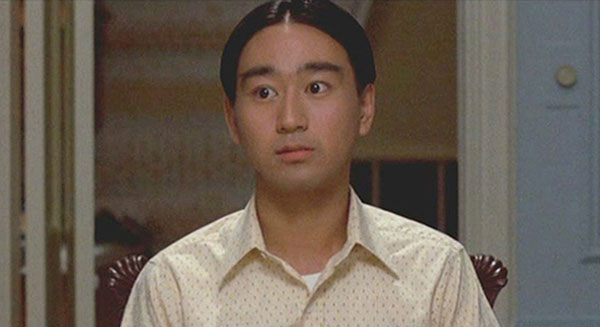 No director has ever offered teenager actors such well-written parts in movies as John Hughes, who is best remembered for writing and directing the "Brat Pack" films Sixteen Candles, The Breakfast Club, Ferris Bueller's Day Off, as well as writing Pretty in Pink. Nonetheless, though known for writing substantial roles for young people, Hughes wrote his fair share of comedy relief parts in his scripts. Perhaps none are as memorable as Long Duk Dong, the Asian foreign exchange student in Sixteen Candles, portrayed by Gedde Watanabe. Though an accomplished New York stage actor before being cast, Watanabe was adamant about pursuing the role of a stereotypical Asian student despite being raised in Utah. To celebrate the thirtieth anniversary of Sixteen Candles, Watanabe spoke to New York magazine about how he duped Hughes into giving him the part despite being as American as apple pie.
He reveals, "I was living in New York and had been in the original cast of [Stephen Sondheim's] Pacific Overtures and done work with the Public Theater and Joe Papp. My agent at the time sent me the script. It said the character of Long Duk Dong was a foreign exchange student and from Asia, but that was about it. To set myself apart, I asked a friend of mine who had a thick Korean accent if I could hang out with him and learn. I then went to the audition in character using my friend's accent. Which wasn't a very smart idea because I was basically lying and would have to tell them at some point that I only spoke English and was from Ogden, Utah. The casting director, Jackie Burch, was talking to me like I was from another country. Finally I had to admit I was lying. She wanted me for the role and said, 'Don't tell John.' So we kept it a secret until the table read in Chicago when I took him aside and said, 'John, I have to tell you something … ' He said, 'Where's your accent?' I was just so nervous telling him that I was afraid I'd get fired and aware of my own embarrassment that I'd told a huge lie. But John just had a big chuckle as if to say, 'Boy, was I duped.'"
If only all directors took deception that well!
Latest Videos
http://www.dailyactor.com/wp-content/uploads/2014/07/sir-ben-kingsley-talks-about-the.jpg
Sir Ben Kingsley Talks about the Unique Way He Voiced His Character in the Animated Film, 'The Boxtrolls' (video)
I could listen to Sir Ben Kingsley talk about acting and.. well, I could listen to him talk about anything. He's starring in the new Laika stop-motion animated film, The Boxtrolls, and he and some of the cast (along with the director) joined in on a Comic-Con panel about the film. The Boxtrolls is about [...]
http://www.dailyactor.com/2014/07/sir-ben-kingsley-the-boxtrolls-comic-con/
http://www.dailyactor.com/wp-content/uploads/2014/07/bill-hader.jpg
Bill Hader: "I kind of fell into acting" (video)
Bill Hader, starring in the soon to be released The Skeleton Twins, talks about the film and how he fell into acting and then got "crazy lucky" in this quick video from USA Today.
http://www.dailyactor.com/2014/07/bill-hader-fell-into-acting-video/
http://www.dailyactor.com/wp-content/uploads/2014/07/director-john-carney-narrates-a.jpg
Director John Carney Narrates a Scene from 'Begin Again' Starring Kiera Knightley and Mark Ruffalo
Director John Carney (Once) narrates a scene from his new film, Begin Again. Starring Keira Knightley and Mark Ruffalo, the scene shows the first time the two characters meet. I haven't seen it yet but I've heard it's great.
http://www.dailyactor.com/2014/07/begin-again-scene-director-john-carney-keira-knightley-mark-ruffalo/
http://www.dailyactor.com/wp-content/uploads/2014/07/holler-if-you-hear-me-gma.jpg
Watch the Cast of Broadway's 'Holler If You Hear Me' Perform 'California Love' on GMA
The cast of Broadway's newest musical, Holler If You Hear Me with music from Tupac Shakur, performed on Good Morning America this morning. Singing 'California Love', the cast (including the teriffic Christopher Jackson – read our interview here), show why they're the most energetic and inspiring group of actors on Broadway. Holler If Ya Hear [...]
http://www.dailyactor.com/2014/07/watch-cast-broadways-holler-hear-perform-california-love-gma/
http://www.dailyactor.com/wp-content/uploads/2014/07/behind-the-scenes-of-dawn-of-the.jpg
Behind the Scenes of 'Dawn of the Planet of the Apes' with Performance Capture Actor Terry Notary
Actor Terry Notary is 1 of 5 actors playing the apes in the new Dawn of the Planet of the Apes. "When you see armies of apes," he says, that's "five of us." Check out the video where you can watch his performance capture work.
http://www.dailyactor.com/2014/07/dawn-planet-apes-performance-capture-actor-terry-notary/