'Bullets Over Broadway' Star Nick Cordero Talks About His Striking Height, Pink Socks and Playing a Mafioso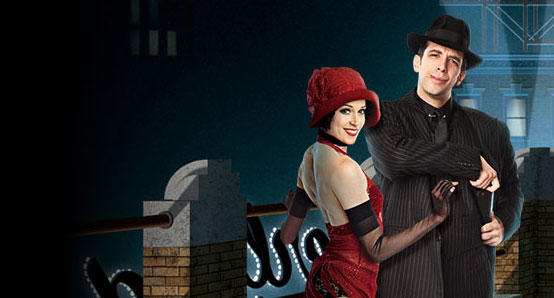 Nick Cordero is an unusual figure in the Broadway musical theatre community. Standing at a striking 6 feet, 5 inches tall, the actor is currently playing a mafioso named Cheech in Woody Allen's Bullets Over Broadway.
Even though he's had successful runs in Rock of Ages and The Toxic Avenger, he shared that being so tall resulted in losing out on roles, "most of them," because of his height. He explained, "They give it to someone who looks better next to the leading lady."
He didn't have to worry about a leading lady in his current show, but he did have a bit of a misstep with his director, Susan Stroman.
The Tony nominee for Best Featured Actor in a Musical said, "We were doing a presentation in the fall. I hadn't had time to do laundry, so I wore pink socks. I walked up to Susan and I was like, 'I hope you don't mind.' She was like, 'What are you doing?' She sent [an assistant] to get me some black socks. I thought it would be a cool thing, Cheech expressing himself."
While it is obviously not pink socks that drives his character, it is more of a physicality that creates his demeanor.
"The thuggishness of him, the physical intimidation, that took me a little bit to get," Cordero said. "What I realized: It's really just his stillness. He's the rock, this stoic sort of presence amid all these characters going crazy."
Bullets Over Broadway is currently nominated for 6 Tony Awards. It is playing at the St. James Theatre in New York City.
Latest Videos
http://www.dailyactor.com/wp-content/uploads/2014/07/bill-hader.jpg
Bill Hader: "I kind of fell into acting" (video)
Bill Hader, starring in the soon to be released The Skeleton Twins, talks about the film and how he fell into acting and then got "crazy lucky" in this quick video from USA Today. Share on Tumblr
http://www.dailyactor.com/2014/07/bill-hader-fell-into-acting-video/
http://www.dailyactor.com/wp-content/uploads/2014/07/director-john-carney-narrates-a.jpg
Director John Carney Narrates a Scene from 'Begin Again' Starring Kiera Knightley and Mark Ruffalo
Director John Carney (Once) narrates a scene from his new film, Begin Again. Starring Keira Knightley and Mark Ruffalo, the scene shows the first time the two characters meet. I haven't seen it yet but I've heard it's great.
http://www.dailyactor.com/2014/07/begin-again-scene-director-john-carney-keira-knightley-mark-ruffalo/
http://www.dailyactor.com/wp-content/uploads/2014/07/holler-if-you-hear-me-gma.jpg
Watch the Cast of Broadway's 'Holler If You Hear Me' Perform 'California Love' on GMA
The cast of Broadway's newest musical, Holler If You Hear Me with music from Tupac Shakur, performed on Good Morning America this morning. Singing 'California Love', the cast (including the teriffic Christopher Jackson – read our interview here), show why they're the most energetic and inspiring group of actors on Broadway. Holler If Ya Hear [...]
http://www.dailyactor.com/2014/07/watch-cast-broadways-holler-hear-perform-california-love-gma/
http://www.dailyactor.com/wp-content/uploads/2014/07/behind-the-scenes-of-dawn-of-the.jpg
Behind the Scenes of 'Dawn of the Planet of the Apes' with Performance Capture Actor Terry Notary
Actor Terry Notary is 1 of 5 actors playing the apes in the new Dawn of the Planet of the Apes. "When you see armies of apes," he says, that's "five of us." Check out the video where you can watch his performance capture work.
http://www.dailyactor.com/2014/07/dawn-planet-apes-performance-capture-actor-terry-notary/
http://www.dailyactor.com/wp-content/uploads/2014/07/melissa-mccarthy-daily-show.jpg
Melissa McCarthy and John Stewart Talk About Terrible Commercial Auditions on 'The Daily Show'
Melissa McCarthy stopped by The Daily Show last week to plug about her new movie, Tammy. She talked about how she loved working with her husband, Ben Falcone (director of Tammy) and then segued into talking about some horrible working situations. The always hilarious McCarthy then started to tell host John Stewart about a particular [...]
http://www.dailyactor.com/2014/07/melissa-mccarthy-john-stewart-commercial-auditions-the-daily-show/