'A Separation' Actress Leila Hatami Threatened with Public Flogging for Kissing Cannes President on the Cheek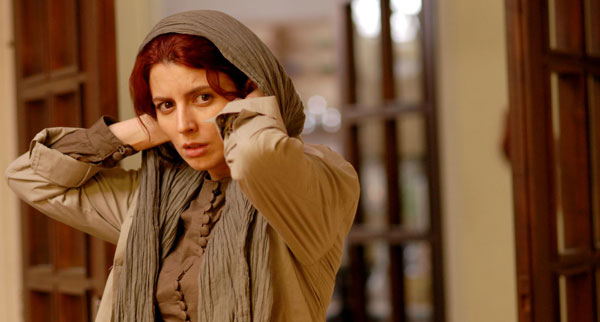 In one of those stories that make you question what century we are living in, Iranian actress Leila Hatami, who starred in the Oscar-winning film A Separation, has been reported to Iran's judiciary for "violating Islamic laws." Her supposed crime? While on a red carpet at this year's Cannes Film Festival, Hatami — who was a member of the Festival's jury — was kissed on the cheek by Gilles Jacob, the President of Cannes Festival, a gesture that Hatami returned.
The university organization Hizbullah Students filed the complaint and want the government to make an example of Hatami by giving her a public flogging. According to law, she could face as many as 50 lashes for embracing a man who is not her relative in public. The organization also criticized Hatami because the scarf covering her head during the kissing did not cover all of her hair, which is in violation of another law. Though Hatami typically wears a headscarf in public, it rarely covers all of her hair.
Jacob pointed out that it is a common greeting custom in the West, remarking, "This controversy based on a normal Western custom is baseless."
Hatami has since written a letter to Iran's Cinema Organization to apologize for the embrace, stating that she instructed festival organizers that she would be unable to shake hands or embrace any men at festival events, but blamed the kiss on Jacob, who in his old age "forgot" about her restrictions. She wrote, "Due to his age, he had forgotten about the measures. He is obviously elderly and I consider his status to be like that of a grandfather."
via The Telegraph & Bloomberg
Latest Videos
http://www.dailyactor.com/wp-content/uploads/2014/08/seth-rudetsky-reveals-the-5-wors.jpg
Seth Rudetsky Reveals the 5 Worst Musical Theater Audition Mistakes (video)
Seth Rudetsky, actor, musician and a host on SiriusXM's Broadway channel, has been teaching auditioning master classes this summer and he's seen his share of bad auditions lately. In this video, he reveals the 5 worst audition mistakes you can make in a musical theater audition and how to choose the perfect 16-bar audition song. [...]
http://www.dailyactor.com/2014/08/seth-rudetsky-5-worst-audition-mistakes/
http://www.dailyactor.com/wp-content/uploads/2014/07/sir-ben-kingsley-talks-about-the.jpg
Sir Ben Kingsley Talks about the Unique Way He Voiced His Character in the Animated Film, 'The Boxtrolls' (video)
I could listen to Sir Ben Kingsley talk about acting and.. well, I could listen to him talk about anything. He's starring in the new Laika stop-motion animated film, The Boxtrolls, and he and some of the cast (along with the director) joined in on a Comic-Con panel about the film. The Boxtrolls is about [...]
http://www.dailyactor.com/2014/07/sir-ben-kingsley-the-boxtrolls-comic-con/
http://www.dailyactor.com/wp-content/uploads/2014/07/bill-hader.jpg
Bill Hader: "I kind of fell into acting" (video)
Bill Hader, starring in the soon to be released The Skeleton Twins, talks about the film and how he fell into acting and then got "crazy lucky" in this quick video from USA Today.
http://www.dailyactor.com/2014/07/bill-hader-fell-into-acting-video/
http://www.dailyactor.com/wp-content/uploads/2014/07/director-john-carney-narrates-a.jpg
Director John Carney Narrates a Scene from 'Begin Again' Starring Kiera Knightley and Mark Ruffalo
Director John Carney (Once) narrates a scene from his new film, Begin Again. Starring Keira Knightley and Mark Ruffalo, the scene shows the first time the two characters meet. I haven't seen it yet but I've heard it's great.
http://www.dailyactor.com/2014/07/begin-again-scene-director-john-carney-keira-knightley-mark-ruffalo/
http://www.dailyactor.com/wp-content/uploads/2014/07/holler-if-you-hear-me-gma.jpg
Watch the Cast of Broadway's 'Holler If You Hear Me' Perform 'California Love' on GMA
The cast of Broadway's newest musical, Holler If You Hear Me with music from Tupac Shakur, performed on Good Morning America this morning. Singing 'California Love', the cast (including the teriffic Christopher Jackson – read our interview here), show why they're the most energetic and inspiring group of actors on Broadway. Holler If Ya Hear [...]
http://www.dailyactor.com/2014/07/watch-cast-broadways-holler-hear-perform-california-love-gma/