'A Separation' Actress Leila Hatami Threatened with Public Flogging for Kissing Cannes President on the Cheek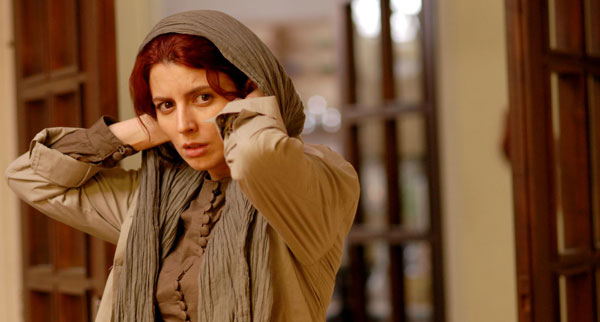 In one of those stories that make you question what century we are living in, Iranian actress Leila Hatami, who starred in the Oscar-winning film A Separation, has been reported to Iran's judiciary for "violating Islamic laws." Her supposed crime? While on a red carpet at this year's Cannes Film Festival, Hatami — who was a member of the Festival's jury — was kissed on the cheek by Gilles Jacob, the President of Cannes Festival, a gesture that Hatami returned.
The university organization Hizbullah Students filed the complaint and want the government to make an example of Hatami by giving her a public flogging. According to law, she could face as many as 50 lashes for embracing a man who is not her relative in public. The organization also criticized Hatami because the scarf covering her head during the kissing did not cover all of her hair, which is in violation of another law. Though Hatami typically wears a headscarf in public, it rarely covers all of her hair.
Jacob pointed out that it is a common greeting custom in the West, remarking, "This controversy based on a normal Western custom is baseless."
Hatami has since written a letter to Iran's Cinema Organization to apologize for the embrace, stating that she instructed festival organizers that she would be unable to shake hands or embrace any men at festival events, but blamed the kiss on Jacob, who in his old age "forgot" about her restrictions. She wrote, "Due to his age, he had forgotten about the measures. He is obviously elderly and I consider his status to be like that of a grandfather."
via The Telegraph & Bloomberg
http://www.dailyactor.com/wp-content/uploads/2015/01/watch-al-pacino-talks-the-humbli.jpg
Watch: Al Pacino Talks 'The Humbling' and His Extraordinary Career
In this conversation with Al Pacino talks about his role in The Humbling -- including working with Greta Gerwig -- and his historic acting career
http://www.dailyactor.com/2015/01/watch-al-pacino-extraordinary-career/
http://www.dailyactor.com/wp-content/uploads/2015/01/watch-oscar-nominee-steve-carell.jpg
Watch: Oscar Nominee Steve Carell Talks Improv, Auditioning for 'The Office' and 'Foxcatcher'
Carell talks about his entire career as an actor, including his background in improv, how he landed the Michael Scott role on The Office, and Foxcatcher
http://www.dailyactor.com/2015/01/oscar-nominee-steve-carell-improv-auditioning-for-the-office-foxcatcher/
http://www.dailyactor.com/wp-content/uploads/2015/01/ethan-hawke-ellar-coltrane-boyhood.jpg
Ethan Hawke Calls 'Boyhood' the "most special endeavor of my life"
Ethan Hawke is riding high with his fourth Oscar nomination for the Richard Linklater-directed Boyhood. In a recent "Ask Me Anything" on Reddit, the 44-year-old actor gave some thoughtful insight into his career and the 12-year creative endeavor that became the biggest film of the Oscar season. When asked what was the most difficult thing about […]
http://www.dailyactor.com/2015/01/ethan-hawke-boyhood-reddit-amaife/
http://www.dailyactor.com/wp-content/uploads/2015/01/martha-plimpton-a-delicate-balance.jpg
Martha Plimpton Takes a Refreshing Approach to a Long-Lasting Career
Martha Plimpton is an actress who enjoys the work, she's not in it for the fame. The proof is in her continually excellent work that she is doing on-screen and on the stage. She's currently starring in A Delicate Balance on Broadway. It's the audience who gives her the ultimate thrill. "I try to get […]
http://www.dailyactor.com/2015/01/martha-plimpton-long-lasting-career/
http://www.dailyactor.com/wp-content/uploads/2015/01/watch-michael-keaton-talks-candi.jpg
Watch: Michael Keaton Talks Candidly About His Career and His Approach to Acting in 'Birdman'
In this nearly 90 minute conversation, Michael Keaton is his usual affable self but is also remarkably candid about his career and his approach to acting.
http://www.dailyactor.com/2015/01/michael-keaton-career-approach-to-acting-birdman/