'Violet' Star Sutton Foster Talks about her Latest Broadway Role: "I'm as naked and bare as I've ever been as a character"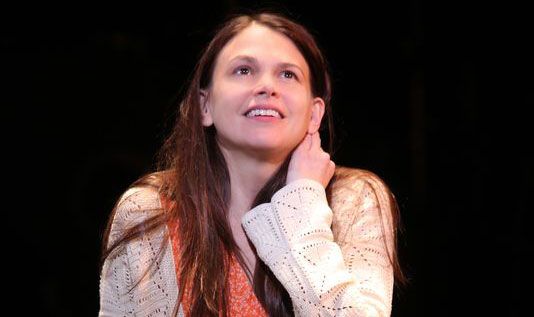 Sutton Foster is a true Broadway baby. With two Tony Awards for Best Performance by a Leading Actress in a Musical under her belt, the 39-year-old star is currently tackling a different type of role in the new musical, Violet.
Violet follows the journey of a young woman who was scarred by an axe as a teen. Her disfigured face is the impetus to take a bus journey from North Carolina to Oklahoma in 1964 to seek the healing powers of a TV preacher. Her life changes once she meets two young soldiers along the way.
Foster talked to W magazine about how this role is so different from her Tony Award-winning characters.
She shared, "I'm used to playing the spunky girl next door like Millie (Thoroughly Modern Millie) who's coming into town and going to take over the world! Or Reno Sweeney (Anything Goes), who is so assured and sexy and fabulous. Of course I could relate to Millie because I was that girl with the suitcase, staring at the city with big dreams. But Violet has probably been my biggest challenge. She wants to be powerful. That's goes beyond beauty. She wants to be the one everyone adores. I had to work to understand that she truly believes she's ugly. She is ruled by this scar and by how people react to her. I have this image she wears a coat of spikes to face the world because something was taken from her. As a child she was hit in the face with an axe, so her innocence was taken from her."
Besides the physical scars, the Broadway veteran explained how challenging the role has been.
"I'm as naked and bare as I've ever been as a character. It's so stripped down. It's interesting to play a character in an environment where there's not much spectacle. There no fancy costumes, no wigs, no fabulousness. I don't wear a stitch of makeup," she said. "At first I shied away from the ugliness of her. She's all edges and I wanted it to be pretty and soft. I had to figure out, 'where do I dig in?'"
After her Violet run, Foster will be seen in the new TVLand show called Younger. It debuts in September with the actress playing a 40-year-old mother masquerading as a 26-year-old hipster in order to get a job.
She explained how her age range is both positive and negative in her career,"I do look younger for my age, but I want to start transitioning to playing older, more age-appropriate roles. And the mother in Younger is at a crossroads. She missed out on her 20s because she had a kid young, so now gets to relive that part of her life. They're dressing me very hipster cool. Patricia Field is the costume designer. In one episode, they had me wearing a leather mini skirt with thigh-high stockings and wedged leopard boots. I kept thinking, 'do people dress like this?' Of course they do! I'm going to become much cooler than I think I am."
Violet is running through Aug. 10,2014 at the American Airlines Theatre.
http://www.dailyactor.com/wp-content/uploads/2015/01/watch-al-pacino-talks-the-humbli.jpg
Watch: Al Pacino Talks 'The Humbling' and His Extraordinary Career
In this conversation with Al Pacino talks about his role in The Humbling -- including working with Greta Gerwig -- and his historic acting career
http://www.dailyactor.com/2015/01/watch-al-pacino-extraordinary-career/
http://www.dailyactor.com/wp-content/uploads/2015/01/watch-oscar-nominee-steve-carell.jpg
Watch: Oscar Nominee Steve Carell Talks Improv, Auditioning for 'The Office' and 'Foxcatcher'
Carell talks about his entire career as an actor, including his background in improv, how he landed the Michael Scott role on The Office, and Foxcatcher
http://www.dailyactor.com/2015/01/oscar-nominee-steve-carell-improv-auditioning-for-the-office-foxcatcher/
http://www.dailyactor.com/wp-content/uploads/2015/01/ethan-hawke-ellar-coltrane-boyhood.jpg
Ethan Hawke Calls 'Boyhood' the "most special endeavor of my life"
Ethan Hawke is riding high with his fourth Oscar nomination for the Richard Linklater-directed Boyhood. In a recent "Ask Me Anything" on Reddit, the 44-year-old actor gave some thoughtful insight into his career and the 12-year creative endeavor that became the biggest film of the Oscar season. When asked what was the most difficult thing about […]
http://www.dailyactor.com/2015/01/ethan-hawke-boyhood-reddit-amaife/
http://www.dailyactor.com/wp-content/uploads/2015/01/martha-plimpton-a-delicate-balance.jpg
Martha Plimpton Takes a Refreshing Approach to a Long-Lasting Career
Martha Plimpton is an actress who enjoys the work, she's not in it for the fame. The proof is in her continually excellent work that she is doing on-screen and on the stage. She's currently starring in A Delicate Balance on Broadway. It's the audience who gives her the ultimate thrill. "I try to get […]
http://www.dailyactor.com/2015/01/martha-plimpton-long-lasting-career/
http://www.dailyactor.com/wp-content/uploads/2015/01/watch-michael-keaton-talks-candi.jpg
Watch: Michael Keaton Talks Candidly About His Career and His Approach to Acting in 'Birdman'
In this nearly 90 minute conversation, Michael Keaton is his usual affable self but is also remarkably candid about his career and his approach to acting.
http://www.dailyactor.com/2015/01/michael-keaton-career-approach-to-acting-birdman/