Sophie Okonedo Talks Working with Denzel Washington on Broadway's 'A Raisin in the Sun'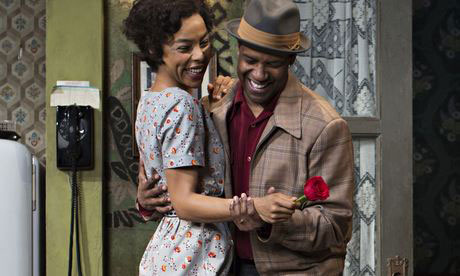 Sophie Okonedo is stepping into the bright lights of Broadway in the revival of Lorraine Hansberry's A Raisin in the Sun. For the actress who calls the opportunity a "dream come true," the London-born star talked to The Guardian about her role in the classic play.
Okenodo plays Ruth, the wife of Walter Lee played by Denzel Washington. Ruth has worked long and hard to make their American dreams come true, but life has been hard and weary for the family. The matriarch carries the weight of the world on her shoulders.
To get into character, Okenedo had to nail the Chicago accent which took weeks of practice with a dialect coach. She also researched "the legacy of slavery in America" which pushed show director Kenny Leon into a more realistic direction with the play.
Leon explained Okonedo's methods on the first day of rehearsal, "I need the iron to be real and hot, I need real running water on stage." Leon told her that if she worked toward "a great, honest Ruth … I will give you everything that you need."
In addition to working hard to get into character, the 46-year-old actress developed incredible chemistry with her co-star Washington.
She shared, "We're similar in that we like to try out different things all the time, every night. I never know quite what he's going to do and he never knows quite what I'm going to do."
With strong reviews, the show is doing well on Broadway. For Okonedo, it's exciting, but she does wish she could spend more time at home in London.
She said, "I just get offered a lot more work in America than I do in Britain. I may be here now. There are just more roles for me in America. Sadly. Because I love working in Britain. It's my home."
Latest Videos
Audtion Tapes: Robin Wright and Haley Joel Osment Audition with Tom Hanks for 'Forrest Gump'
Check out Robin Wright auditioning for the role of Jenny from Forest Gump opposite Tom Hanks. Interestingly enough, Hanks doesn't quite have Gump's southern drawl down just yet while the other actors audition with him. In fact, Hanks would base Gump's voice on the voice of Michael Conner Humphreys, who played the young Forrest and […]
http://www.dailyactor.com/2014/09/audtion-tapes-robin-wright-haley-joel-osment-tom-hanks-forrest-gump/
Watch Judi Dench Performing "Send In The Clowns" on The South Bank Show in 1995
Dame Judi Dench has such a commanding presence as a film actress that it's easy to forget that her big break came on stage in England with the Old Vic Company in 1957. In fact, she made her Broadway debut the very next year when the Old Vic Company performed Twelfth Night and Henry V […]
http://www.dailyactor.com/?p=63821
Bloopers: Marvel's Agents of S.H.I.E.L.D. – Season 1
Forgetting lines? Corpsing? Delivering lines in Spanish? Unruly props? All in a day's work on the set of Marvel's Agents of S.H.I.E.L.D, apparently. Clark Gregg, Ming-Na Wen, and the rest of the cast find plenty of humor while playing super-serious secret agents in the Marvel Universe. While you're waiting for season 2 of the series […]
http://www.dailyactor.com/?p=63834
http://www.dailyactor.com/wp-content/uploads/2014/08/bryan-cranston-emmy-award-speech.jpg
Watch: Bryan Cranston's Emmy Award Speech: "I love to act. It is a passion of mine and I will do it until my last breath."
The Emmy Awards weren't the most exciting awards show this year but with Bryan Cranston winning for Outstanding Actor in a Drama for Breaking Bad, we at least got to hear one heck of a fantastic acceptance speech. "I was a kid who always looked for the shortcut," he said. "I did happen to stumble […]
http://www.dailyactor.com/2014/08/watch-bryan-cranston-and-aaron-pauls-emmy-award-speeches/
http://www.dailyactor.com/wp-content/uploads/2014/08/audition-tapes-gerard-butler-aud.jpg
Audition Tapes: Gerard Butler Auditions for 'Dracula 2000′
Check out Gerard Butler auditioning for the role of Dracula in the movie, Dracula 2000. The film, about a group of thieves who break into a chamber expecting to find paintings, but instead find Dracula himself, also starred Christopher Plummer, Jonny Lee Miller and Nathan Fillion. Bulter has some sweet rock star hair, huh?
http://www.dailyactor.com/2014/08/audition-tapes-gerard-butler-dracula-2000/