Sophie Okonedo Talks Working with Denzel Washington on Broadway's 'A Raisin in the Sun'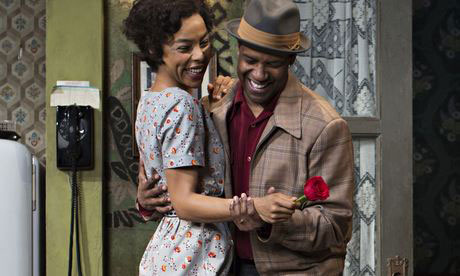 Sophie Okonedo is stepping into the bright lights of Broadway in the revival of Lorraine Hansberry's A Raisin in the Sun. For the actress who calls the opportunity a "dream come true," the London-born star talked to The Guardian about her role in the classic play.
Okenodo plays Ruth, the wife of Walter Lee played by Denzel Washington. Ruth has worked long and hard to make their American dreams come true, but life has been hard and weary for the family. The matriarch carries the weight of the world on her shoulders.
To get into character, Okenedo had to nail the Chicago accent which took weeks of practice with a dialect coach. She also researched "the legacy of slavery in America" which pushed show director Kenny Leon into a more realistic direction with the play.
Leon explained Okonedo's methods on the first day of rehearsal, "I need the iron to be real and hot, I need real running water on stage." Leon told her that if she worked toward "a great, honest Ruth … I will give you everything that you need."
In addition to working hard to get into character, the 46-year-old actress developed incredible chemistry with her co-star Washington.
She shared, "We're similar in that we like to try out different things all the time, every night. I never know quite what he's going to do and he never knows quite what I'm going to do."
With strong reviews, the show is doing well on Broadway. For Okonedo, it's exciting, but she does wish she could spend more time at home in London.
She said, "I just get offered a lot more work in America than I do in Britain. I may be here now. There are just more roles for me in America. Sadly. Because I love working in Britain. It's my home."
http://www.dailyactor.com/wp-content/uploads/2015/05/Caitriona-Balfe-Outlander.jpg
Outlander's Caitriona Balfe On The Emotional Toll of Filming Violent Scenes
"Having to put yourself in that place is tough. To sit in that emotional space, especially when you're doing it day after day." - Caitriona Balfe
http://www.dailyactor.com/2015/05/outlander-catriona-balfe-emotional-toll-of-filming-violent-scenes/
http://www.dailyactor.com/wp-content/uploads/2015/05/Chrissie-Fit.jpg
Chrissie Fit on How She Landed Her Role in 'Pitch Perfect 2′
"I remember getting the audition and being like, "This might not happen," just because it is such a massive movie." - Chrissie Fit
http://www.dailyactor.com/2015/05/chrissie-fit-on-how-she-landed-her-role-in-pitch-perfect-2/
http://www.dailyactor.com/wp-content/uploads/2015/05/Sam-Elliott.jpg
Sam Elliot on How he "F–ked" Himself Out of a Career as a Lead Actor
The rugged Sam Elliot has most often cast in character actor roles throughout his long career in film, though the 70 year-old Elliot thinks it wasn't always meant to be that way.
http://www.dailyactor.com/2015/05/sam-elliot-on-how-he-f-ked-himself-out-of-a-career-as-a-lead-actor/
http://www.dailyactor.com/wp-content/uploads/2015/05/Anna-Kendrick-Pitch-Perfect-2.jpg
Anna Kendrick Talks Hollywood and its Gender Bias
"As an actress you're perpetually about to be unemployed." - Anna Kendrick
http://www.dailyactor.com/2015/05/anna-kendrick-talks-hollywood-and-its-gender-bias/
http://www.dailyactor.com/wp-content/uploads/2015/05/tom-hardy-mad-max-fury-road.jpg
Tom Hardy on Fame, Acting School, and His 'Mad Respect' for Michael Fassbender
"Do what you love doing, do it well—everything should fit into place." - Tom Hardy
http://www.dailyactor.com/2015/05/tom-hardy-fame-acting-school-michael-fassbender/