Robert Duvall on His Career Low, Why Johnny Depp Needs a "New Bag of Tricks," and Marlon Brando's Cue Cards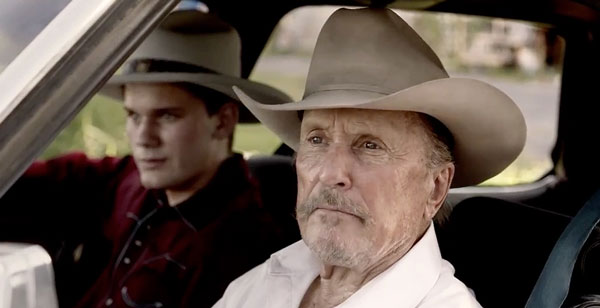 Robert Duvall has worked as an actor for over sixty years and has appeared in television and movies for over fifty. While he might be 83 years old, he has absolutely no plans of going anywhere — he still appears in about two to three movies a year. His longevity is so remarkable that he has worked with generations of acting legends, from Studio-era stars like John Wayne, Gregory Peck, and Marlon Brando, to New Hollywood stars like Al Pacino, James Caan, and Jeff Bridges, to more recent stars like Tom Cruise, Joaquin Phoenix, and Will Ferrell. While Kevin Bacon might be considered the center of the movie universe, Duvall has quite an impressive "universe" himself (oh, and Duvall and Bacon appeared together in 2012's Jayne Mansfield's Car, so these prolific actors have already crossed paths).
In an interview with The Daily Beast, Duvall spoke about his latest film, A Night in Old Mexico, but also touched upon his legendary career in general, including stories about working with Marlon Brando and Brando's cue-card habit.
A Night in Old Mexico begins with Duvall's character thinking of committing suicide. While Duvall himself has never been in that dark of a mindset, he admits that he did experience a low point in the early part of his career. He recalls, "Around the time of M*A*S*H, I was always looking for the next job. I thought, 'When's the next one coming?' I did TV and then I wanted to get into movies, but it was TV, TV, TV. Come on! Some of the old episodic shows were good to do, but it got to be repetitious."
Duvall also spoke about a dream role that passed him by — playing Don Quixote in Terry Gilliam's still-unmade The Man Who Killed Don Quixote — and he seems to blame Johnny Depp, whom he was supposed to co-star with, for bailing on the project. He also seems to think Johnny Depp is being cast in the wrong roles by saying, "I like doing character parts. I told someone recently that if I lived in England I could fit because I feel I'm a character actor. I played Stalin, a Cuban barber. Terry Gilliam saw it and wanted me to play Don Quixote, but it'll never happen now. Johnny Depp wouldn't do it with [Gilliam]. My friend, Scott Cooper, cast Johnny Depp as Whitey Bulger [in Black Mass], but the guy who should play Whitey Bulger is Mark Wahlberg, because he knows Boston. I told Scott, 'Johnny's gotta get rid of his old bag of tricks and find a new bag of tricks to play that guy.'"
He also humorously recalls how his Godfather and Apocalypse Now co-star Marlon Brando would refuse to memorize lines and how that wouldn't work for his own technique. He remembers, "Sometimes we'd put up Brando's lines but then remove them right before and put in a little wedding invite with really small letters and Coppola would say, 'ACTION!' and he couldn't see it! Or Pacino during a scene outside would have his lines up on a billboard and he'd look up at them. I don't know how you could do it that way, but he did. In the Philippines, during Apocalypse, Brando had an earphone thing where they fed him lines. I think Downey does that, too. I don't know how you do it. I like to learn them, and if called for, I love to improvise."
Latest Videos
Watch: Benedict Cumberbatch Film the Smaug Motion Capture for 'The Hobbit: The Desolation of Smaug'
Though Peter Jackson's movie adaptations of The Hobbit haven't received the same critical acclaim as his films based on the book's sequel, The Lord of the Rings (turning a 300 page book into 9+ hours of film tends to do that), fans are still eagerly anticipating the release of the final part of The Hobbit […]
http://www.dailyactor.com/2014/11/watch-benedict-cumberbatch-film-smaug-motion-capture-the-hobbit/
Watch: Daniel Radcliffe on the Differences Between American and British Theater Audiences
Though moviegoers can see Daniel Radcliffe in the fantasy film Horns, which opens today, Broadway fans will have to wait a bit longer. Radcliffe is an unapologetic fan of Broadway — he has starred in Equus, How to Succeed in Business Without Really Trying, and The Cripple of Inishmaan — but he hasn't yet made […]
http://www.dailyactor.com/2014/10/daniel-radcliffe-differences-between-american-british-theater-audiences/
Watch: Anna Gunn, Jacki Weaver and Virginia Kull on 'Gracepoint' and Strong Female Roles on TV
The actresses also speak candidly about how they feel about their characters in the series and why its important for TV to feature series with strong female leads.Check out the conversation above!
http://www.dailyactor.com/2014/10/watch-anna-gunn-jacki-weaver-virginia-kull-gracepoint-strong-female-roles-on-tv/
Watch: Cristin Milioti Talks 'A to Z', 'Once' and 'How I Met Your Mother'
Few actresses have the kind of rise as Cristin Milioti has had in the last few years. A virtual unknown in 2011, she became a bona fide Broadway star in the 2012 hit Once, appeared in a supporting role in the 2013 film The Wolf of Wall Street, and was featured as the titular mother […]
http://www.dailyactor.com/2014/10/watch-cristin-milioti-a-to-z-once-how-i-met-your-mother/
http://www.dailyactor.com/wp-content/uploads/2014/10/watch-bryan-cranstons-acting-adv.jpg
Watch: Bryan Cranston's Acting Advice
With Breaking Bad: The Complete Series Barrel being released on Blu-ray with all kinds of goodies today, it gives us yet another opportunity to reflect on the series' star Bryan Cranston and all of the incredible advice he has offered actors in the wake of his success. In a video he filmed in 2013 for […]
http://www.dailyactor.com/2014/10/bryan-cranston-acting-advice-video/