Robert Duvall on His Career Low, Why Johnny Depp Needs a "New Bag of Tricks," and Marlon Brando's Cue Cards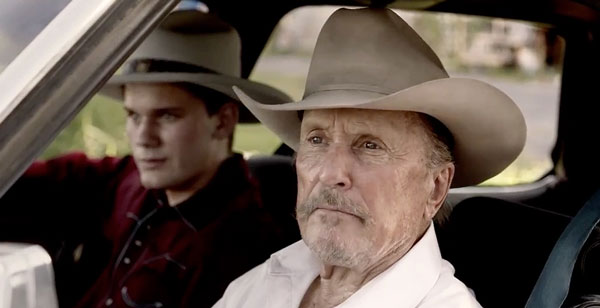 Robert Duvall has worked as an actor for over sixty years and has appeared in television and movies for over fifty. While he might be 83 years old, he has absolutely no plans of going anywhere — he still appears in about two to three movies a year. His longevity is so remarkable that he has worked with generations of acting legends, from Studio-era stars like John Wayne, Gregory Peck, and Marlon Brando, to New Hollywood stars like Al Pacino, James Caan, and Jeff Bridges, to more recent stars like Tom Cruise, Joaquin Phoenix, and Will Ferrell. While Kevin Bacon might be considered the center of the movie universe, Duvall has quite an impressive "universe" himself (oh, and Duvall and Bacon appeared together in 2012's Jayne Mansfield's Car, so these prolific actors have already crossed paths).
In an interview with The Daily Beast, Duvall spoke about his latest film, A Night in Old Mexico, but also touched upon his legendary career in general, including stories about working with Marlon Brando and Brando's cue-card habit.
A Night in Old Mexico begins with Duvall's character thinking of committing suicide. While Duvall himself has never been in that dark of a mindset, he admits that he did experience a low point in the early part of his career. He recalls, "Around the time of M*A*S*H, I was always looking for the next job. I thought, 'When's the next one coming?' I did TV and then I wanted to get into movies, but it was TV, TV, TV. Come on! Some of the old episodic shows were good to do, but it got to be repetitious."
Duvall also spoke about a dream role that passed him by — playing Don Quixote in Terry Gilliam's still-unmade The Man Who Killed Don Quixote — and he seems to blame Johnny Depp, whom he was supposed to co-star with, for bailing on the project. He also seems to think Johnny Depp is being cast in the wrong roles by saying, "I like doing character parts. I told someone recently that if I lived in England I could fit because I feel I'm a character actor. I played Stalin, a Cuban barber. Terry Gilliam saw it and wanted me to play Don Quixote, but it'll never happen now. Johnny Depp wouldn't do it with [Gilliam]. My friend, Scott Cooper, cast Johnny Depp as Whitey Bulger [in Black Mass], but the guy who should play Whitey Bulger is Mark Wahlberg, because he knows Boston. I told Scott, 'Johnny's gotta get rid of his old bag of tricks and find a new bag of tricks to play that guy.'"
He also humorously recalls how his Godfather and Apocalypse Now co-star Marlon Brando would refuse to memorize lines and how that wouldn't work for his own technique. He remembers, "Sometimes we'd put up Brando's lines but then remove them right before and put in a little wedding invite with really small letters and Coppola would say, 'ACTION!' and he couldn't see it! Or Pacino during a scene outside would have his lines up on a billboard and he'd look up at them. I don't know how you could do it that way, but he did. In the Philippines, during Apocalypse, Brando had an earphone thing where they fed him lines. I think Downey does that, too. I don't know how you do it. I like to learn them, and if called for, I love to improvise."
Latest Videos
http://www.dailyactor.com/wp-content/uploads/2014/09/audtion-tapes-robin-wright-and-h.jpg
Audition Tapes: Robin Wright and Haley Joel Osment Audition with Tom Hanks for 'Forrest Gump'
Check out Robin Wright auditioning for the role of Jenny from Forest Gump opposite Tom Hanks. Interestingly enough, Hanks doesn't quite have Gump's southern drawl down just yet while the other actors audition with him. In fact, Hanks would base Gump's voice on the voice of Michael Conner Humphreys, who played the young Forrest and […]
http://www.dailyactor.com/2014/09/audtion-tapes-robin-wright-haley-joel-osment-tom-hanks-forrest-gump/
http://www.dailyactor.com/wp-content/uploads/2014/08/bryan-cranston-emmy-award-speech.jpg
Watch: Bryan Cranston's Emmy Award Speech: "I love to act. It is a passion of mine and I will do it until my last breath."
The Emmy Awards weren't the most exciting awards show this year but with Bryan Cranston winning for Outstanding Actor in a Drama for Breaking Bad, we at least got to hear one heck of a fantastic acceptance speech. "I was a kid who always looked for the shortcut," he said. "I did happen to stumble […]
http://www.dailyactor.com/2014/08/watch-bryan-cranston-and-aaron-pauls-emmy-award-speeches/
http://www.dailyactor.com/wp-content/uploads/2014/08/audition-tapes-gerard-butler-aud.jpg
Audition Tapes: Gerard Butler Auditions for 'Dracula 2000′
Check out Gerard Butler auditioning for the role of Dracula in the movie, Dracula 2000. The film, about a group of thieves who break into a chamber expecting to find paintings, but instead find Dracula himself, also starred Christopher Plummer, Jonny Lee Miller and Nathan Fillion. Bulter has some sweet rock star hair, huh?
http://www.dailyactor.com/2014/08/audition-tapes-gerard-butler-dracula-2000/
http://www.dailyactor.com/wp-content/uploads/2014/08/interview-matt-dillon-and-carla.jpg
Interview: Matt Dillon and Carla Gugino Talk 'Wayward Pines'
FOX has a new limited-series that's got a terrific cast and interesting premise. It's called Wayward Pines and stars Matt Dillon, Carla Gugino, Melissa Leo, Toby Jones, Terrance Howard, Juliette Lewis, Tim Griffin and Shannyn Sossamon. The show, whose pilot was directed by M. Night Shyamalan, is about a Secret Service agent (Dillon) goes to […]
http://www.dailyactor.com/2014/08/interview-matt-dillon-carla-gugino-wayward-pines-comic-con/
http://www.dailyactor.com/wp-content/uploads/2014/08/interview-wayward-pines-stars-ti.jpg
Interview: 'Wayward Pines' Stars Tim Griffin and Shannyn Sossamon on the Show, Their Characters and More!
Griffin and Sossamonwere at Comic-Con where they sat in on some roundtable interviews to talk about the show.
http://www.dailyactor.com/2014/08/interview-wayward-pines-stars-tim-griffin-shannyn-sossamon-comic-con/