Review: Steve Coogan in 'Alan Partridge'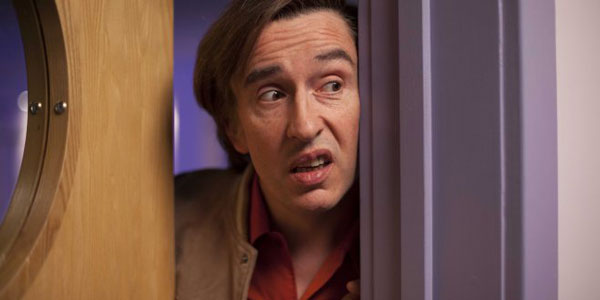 I've never seen Steve Coogan as Alan Partridge. I've wanted to check them out but you know how it goes… it's on the list of things you want to watch but you just never get around to watching. But, after watching Coogan in the wonderful film, The Trip, and Philomena this past Christmas, I've become a big fan of his and now even more so after watching him in the new film, Alan Partridge.
He's been playing the character for over 20 years and I'm really interested in watching a few of the earlier incarnations to see how the character has changed over the years.
In the film, Partridge (Coogan) is working at a radio station when it's bought out by a new corporate entity. They come in and immediately sack some of the employees, one of them being long time DJ Pat Farrell (Colm Meany). Farrell then goes off the deep end and decides to take the radio station and it's employees hostage, propelling Partridge into the situation as mediator – possibly the worlds worst mediator, actually. Because with all the attention the siege is getting, he's getting back in the limelight… and now he's got no desire to stop Farrell from turning himself in. In fact, he's now the face of the 'siege', or as he calls it, "siege face."
Most of the jokes are on Partridge and his planetary-sized ego and they will definitely get you smiling. And there are some genuine laugh out loud moments.
The film does make a good introduction to the character but as I was watching it, I couldn't help but wonder if I would have liked it even more had I watched some of the previous series. For instance, I had no idea who the housekeeper character was. Why was she so important (more or less) to Alan? If it was in the movie, I didn't catch it.
But, that doesn't mean I won't recommend the film because I absolutely enjoyed the heck out of it. didn't enjoy it because I did. Coogan's on a role right now and I'm looking forward to seeing what else he has coming down the pike.
http://www.dailyactor.com/wp-content/uploads/2015/02/Larry-David.jpg
Larry David on Who he Wanted to Star in his Broadway Play 'Fish in the Dark': "Anybody but me"
"It's one of the reasons I didn't like acting. I don't like not being able to interject" – Larry David on acting with a script Who doesn't like Larry David? Well, to be honest, Larry David probably doesn't like Larry David. In fact, David didn't even want to cast himself in the lead of […]
http://www.dailyactor.com/2015/02/larry-david-on-who-he-wanted-to-star-broadway-play-fish-in-the-dark/
http://www.dailyactor.com/wp-content/uploads/2015/02/Helen-Mirren-The-Queen.jpg
Helen Mirren on Winning an Oscar: "It's an indescribable moment"
"It's hard to say, because you don't know what would have happened if you hadn't won" - Helen Mirren When Asked If Winning an Oscar Changed Her Career
http://www.dailyactor.com/2015/02/helen-mirren-on-winning-an-oscar/
http://www.dailyactor.com/wp-content/uploads/2015/02/anna-chlumsky-james-earl-jones.jpg
Anna Chlumsky on Her Broadway Debut: "For me, it was an opportunity to go in the direction that I hadn't played in a while"
"I think my personality lends itself to ensembles" - Anna Chlumsky
http://www.dailyactor.com/2015/02/anna-chlumsky-broadway-debut-ensemble/
http://www.dailyactor.com/wp-content/uploads/2015/02/joanne-froggatt-downton-abbey.jpg
'Downton Abbey' Star Joanne Froggatt on Creating Her Own Backstory and How She's "Not a Big-Budget Hollywood Type"
"They want the model type, classically beautiful, and I'm not" - Joanne Froggatt on Working in Hollywood
http://www.dailyactor.com/2015/02/downton-abbey-star-joanne-froggatt-character-backstory-hollywood/
http://www.dailyactor.com/wp-content/uploads/2015/01/al-pacino-the-humbling.jpg
Al Pacino on Acting: "It becomes such a part of your nature you rarely ever think about quitting"
After working infrequently in film over the last decade, Al Pacino appears in several films released in 2015, including The Humbling, an indie drama directed by Barry Levinson.
http://www.dailyactor.com/2015/02/al-pacino-on-acting-it-becomes-such-a-part-of-your-nature/