Review: Steve Coogan in 'Alan Partridge'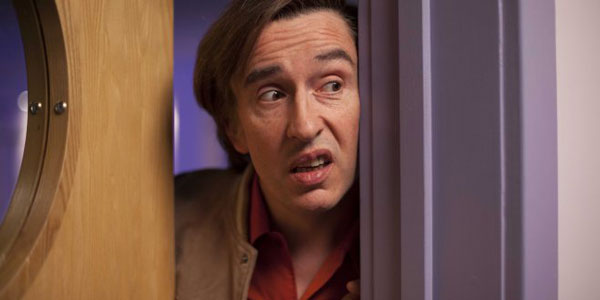 I've never seen Steve Coogan as Alan Partridge. I've wanted to check them out but you know how it goes… it's on the list of things you want to watch but you just never get around to watching. But, after watching Coogan in the wonderful film, The Trip, and Philomena this past Christmas, I've become a big fan of his and now even more so after watching him in the new film, Alan Partridge.
He's been playing the character for over 20 years and I'm really interested in watching a few of the earlier incarnations to see how the character has changed over the years.
In the film, Partridge (Coogan) is working at a radio station when it's bought out by a new corporate entity. They come in and immediately sack some of the employees, one of them being long time DJ Pat Farrell (Colm Meany). Farrell then goes off the deep end and decides to take the radio station and it's employees hostage, propelling Partridge into the situation as mediator – possibly the worlds worst mediator, actually. Because with all the attention the siege is getting, he's getting back in the limelight… and now he's got no desire to stop Farrell from turning himself in. In fact, he's now the face of the 'siege', or as he calls it, "siege face."
Most of the jokes are on Partridge and his planetary-sized ego and they will definitely get you smiling. And there are some genuine laugh out loud moments.
The film does make a good introduction to the character but as I was watching it, I couldn't help but wonder if I would have liked it even more had I watched some of the previous series. For instance, I had no idea who the housekeeper character was. Why was she so important (more or less) to Alan? If it was in the movie, I didn't catch it.
But, that doesn't mean I won't recommend the film because I absolutely enjoyed the heck out of it. didn't enjoy it because I did. Coogan's on a role right now and I'm looking forward to seeing what else he has coming down the pike.
http://www.dailyactor.com/wp-content/uploads/2015/05/Caitriona-Balfe-Outlander.jpg
Outlander's Caitriona Balfe On The Emotional Toll of Filming Violent Scenes
"Having to put yourself in that place is tough. To sit in that emotional space, especially when you're doing it day after day." - Caitriona Balfe
http://www.dailyactor.com/2015/05/outlander-catriona-balfe-emotional-toll-of-filming-violent-scenes/
http://www.dailyactor.com/wp-content/uploads/2015/05/Chrissie-Fit.jpg
Chrissie Fit on How She Landed Her Role in 'Pitch Perfect 2′
"I remember getting the audition and being like, "This might not happen," just because it is such a massive movie." - Chrissie Fit
http://www.dailyactor.com/2015/05/chrissie-fit-on-how-she-landed-her-role-in-pitch-perfect-2/
http://www.dailyactor.com/wp-content/uploads/2015/05/Sam-Elliott.jpg
Sam Elliot on How he "F–ked" Himself Out of a Career as a Lead Actor
The rugged Sam Elliot has most often cast in character actor roles throughout his long career in film, though the 70 year-old Elliot thinks it wasn't always meant to be that way.
http://www.dailyactor.com/2015/05/sam-elliot-on-how-he-f-ked-himself-out-of-a-career-as-a-lead-actor/
http://www.dailyactor.com/wp-content/uploads/2015/05/Anna-Kendrick-Pitch-Perfect-2.jpg
Anna Kendrick Talks Hollywood and its Gender Bias
"As an actress you're perpetually about to be unemployed." - Anna Kendrick
http://www.dailyactor.com/2015/05/anna-kendrick-talks-hollywood-and-its-gender-bias/
http://www.dailyactor.com/wp-content/uploads/2015/05/tom-hardy-mad-max-fury-road.jpg
Tom Hardy on Fame, Acting School, and His 'Mad Respect' for Michael Fassbender
"Do what you love doing, do it well—everything should fit into place." - Tom Hardy
http://www.dailyactor.com/2015/05/tom-hardy-fame-acting-school-michael-fassbender/