Review: Scarlett Johansson in Jonathan Glazer's, 'Under The Skin'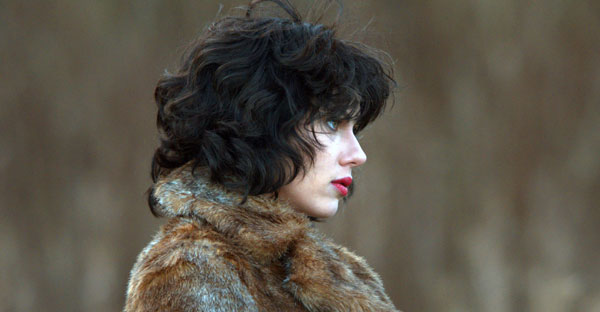 There are times when I've watched a movie, the house lights come up and I think to myself, "What the hell did I just see?"
Under the Skin was one of those movies.
Directed by Jonathan Glazer (Sexy Beast), the film is based on the novel by Michael Faber and I sincerely hope that the novel has more of a plot than the film, which has an alien (Scarlett Johansson) taking over a dead woman's body. She then drives around the streets of Scotland searching for men – only men – who have no family or loved ones, inviting them to a far-away house with the promise of some hanky-panky. The men strip and follow Johansson's alien into a bleak, almost gel-like underworld where they die.
It's all about humanity; finding it, losing it and what happens in-between. The problem is that there's not much that happens in the in-between parts and that's a huge problem.
For the first hour, Johansson's alien is seen trolling the streets of Glasgow looking for her prey. It happens over and over with slight variations for each sequence. But that's it. After the first three times, we kind of get it, you know? There's nothing else that happens beyond Johansson being pretty to look at – thank God – or this would have been a slog to watch.
Once that happens, we finally get to some meat of the story but it's too little too late.
There's zero explanation of who the alien is, why she's on Earth, why she choose Scotland and what her purpose is. There's also a guy driving around on a motorcycle who seems to be her sidekick or boss or… who knows what he is. Because there's no explanation of anything!
I need some whys! I need explanations! And here, we get none.
I do like and admire Johansson for her risk taking and decision to do something unconventional. Doing a part like this, where she hardly speaks, takes huge guts and it's only making her a better actress… and I think she's already terrific.
http://www.dailyactor.com/wp-content/uploads/2015/02/Larry-David.jpg
Larry David on Who he Wanted to Star in his Broadway Play 'Fish in the Dark': "Anybody but me"
"It's one of the reasons I didn't like acting. I don't like not being able to interject" – Larry David on acting with a script Who doesn't like Larry David? Well, to be honest, Larry David probably doesn't like Larry David. In fact, David didn't even want to cast himself in the lead of […]
http://www.dailyactor.com/2015/02/larry-david-on-who-he-wanted-to-star-broadway-play-fish-in-the-dark/
http://www.dailyactor.com/wp-content/uploads/2015/02/Helen-Mirren-The-Queen.jpg
Helen Mirren on Winning an Oscar: "It's an indescribable moment"
"It's hard to say, because you don't know what would have happened if you hadn't won" - Helen Mirren When Asked If Winning an Oscar Changed Her Career
http://www.dailyactor.com/2015/02/helen-mirren-on-winning-an-oscar/
http://www.dailyactor.com/wp-content/uploads/2015/02/anna-chlumsky-james-earl-jones.jpg
Anna Chlumsky on Her Broadway Debut: "For me, it was an opportunity to go in the direction that I hadn't played in a while"
"I think my personality lends itself to ensembles" - Anna Chlumsky
http://www.dailyactor.com/2015/02/anna-chlumsky-broadway-debut-ensemble/
http://www.dailyactor.com/wp-content/uploads/2015/02/joanne-froggatt-downton-abbey.jpg
'Downton Abbey' Star Joanne Froggatt on Creating Her Own Backstory and How She's "Not a Big-Budget Hollywood Type"
"They want the model type, classically beautiful, and I'm not" - Joanne Froggatt on Working in Hollywood
http://www.dailyactor.com/2015/02/downton-abbey-star-joanne-froggatt-character-backstory-hollywood/
http://www.dailyactor.com/wp-content/uploads/2015/01/al-pacino-the-humbling.jpg
Al Pacino on Acting: "It becomes such a part of your nature you rarely ever think about quitting"
After working infrequently in film over the last decade, Al Pacino appears in several films released in 2015, including The Humbling, an indie drama directed by Barry Levinson.
http://www.dailyactor.com/2015/02/al-pacino-on-acting-it-becomes-such-a-part-of-your-nature/