Review: Scarlett Johansson in Jonathan Glazer's, 'Under The Skin'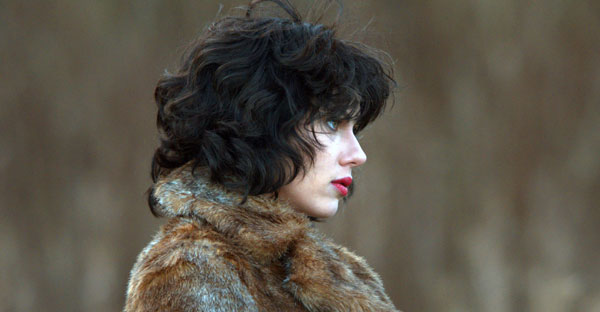 There are times when I've watched a movie, the house lights come up and I think to myself, "What the hell did I just see?"
Under the Skin was one of those movies.
Directed by Jonathan Glazer (Sexy Beast), the film is based on the novel by Michael Faber and I sincerely hope that the novel has more of a plot than the film, which has an alien (Scarlett Johansson) taking over a dead woman's body. She then drives around the streets of Scotland searching for men – only men – who have no family or loved ones, inviting them to a far-away house with the promise of some hanky-panky. The men strip and follow Johansson's alien into a bleak, almost gel-like underworld where they die.
It's all about humanity; finding it, losing it and what happens in-between. The problem is that there's not much that happens in the in-between parts and that's a huge problem.
For the first hour, Johansson's alien is seen trolling the streets of Glasgow looking for her prey. It happens over and over with slight variations for each sequence. But that's it. After the first three times, we kind of get it, you know? There's nothing else that happens beyond Johansson being pretty to look at – thank God – or this would have been a slog to watch.
Once that happens, we finally get to some meat of the story but it's too little too late.
There's zero explanation of who the alien is, why she's on Earth, why she choose Scotland and what her purpose is. There's also a guy driving around on a motorcycle who seems to be her sidekick or boss or… who knows what he is. Because there's no explanation of anything!
I need some whys! I need explanations! And here, we get none.
I do like and admire Johansson for her risk taking and decision to do something unconventional. Doing a part like this, where she hardly speaks, takes huge guts and it's only making her a better actress… and I think she's already terrific.
Latest Videos
http://www.dailyactor.com/wp-content/uploads/2014/07/bill-hader.jpg
Bill Hader: "I kind of fell into acting" (video)
Bill Hader, starring in the soon to be released The Skeleton Twins, talks about the film and how he fell into acting and then got "crazy lucky" in this quick video from USA Today. Share on Tumblr
http://www.dailyactor.com/2014/07/bill-hader-fell-into-acting-video/
http://www.dailyactor.com/wp-content/uploads/2014/07/director-john-carney-narrates-a.jpg
Director John Carney Narrates a Scene from 'Begin Again' Starring Kiera Knightley and Mark Ruffalo
Director John Carney (Once) narrates a scene from his new film, Begin Again. Starring Keira Knightley and Mark Ruffalo, the scene shows the first time the two characters meet. I haven't seen it yet but I've heard it's great.
http://www.dailyactor.com/2014/07/begin-again-scene-director-john-carney-keira-knightley-mark-ruffalo/
http://www.dailyactor.com/wp-content/uploads/2014/07/holler-if-you-hear-me-gma.jpg
Watch the Cast of Broadway's 'Holler If You Hear Me' Perform 'California Love' on GMA
The cast of Broadway's newest musical, Holler If You Hear Me with music from Tupac Shakur, performed on Good Morning America this morning. Singing 'California Love', the cast (including the teriffic Christopher Jackson – read our interview here), show why they're the most energetic and inspiring group of actors on Broadway. Holler If Ya Hear [...]
http://www.dailyactor.com/2014/07/watch-cast-broadways-holler-hear-perform-california-love-gma/
http://www.dailyactor.com/wp-content/uploads/2014/07/behind-the-scenes-of-dawn-of-the.jpg
Behind the Scenes of 'Dawn of the Planet of the Apes' with Performance Capture Actor Terry Notary
Actor Terry Notary is 1 of 5 actors playing the apes in the new Dawn of the Planet of the Apes. "When you see armies of apes," he says, that's "five of us." Check out the video where you can watch his performance capture work.
http://www.dailyactor.com/2014/07/dawn-planet-apes-performance-capture-actor-terry-notary/
http://www.dailyactor.com/wp-content/uploads/2014/07/melissa-mccarthy-daily-show.jpg
Melissa McCarthy and John Stewart Talk About Terrible Commercial Auditions on 'The Daily Show'
Melissa McCarthy stopped by The Daily Show last week to plug about her new movie, Tammy. She talked about how she loved working with her husband, Ben Falcone (director of Tammy) and then segued into talking about some horrible working situations. The always hilarious McCarthy then started to tell host John Stewart about a particular [...]
http://www.dailyactor.com/2014/07/melissa-mccarthy-john-stewart-commercial-auditions-the-daily-show/