Producers Countersue Actress for Refusing to Perform Cinemax Sex Scenes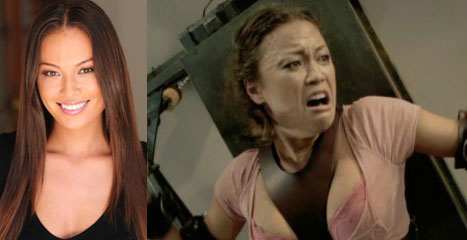 In December 2012, an actress identified only as "Anne G" filed a lawsuit against Time Warner, HBO, Cinemax and the production company True Crime LLC claiming that she was "bullied" into appearing nude and performing simulated sex on an episode of the Cinemax series Femme Fatale.
In a surprising twist, True Crime has filed a cross-complaint alleging that the actress — now identified as Anne Lee Greene — breached her so-called "Nudity Rider" that she signed. In addition to the rider, Greene had been given the script which contained the scenes in question. Moreover, True Crime claims it actually rewrote a scene that involved her character receiving oral sex at Greene's request, adding that it did not "attempt to convince, persuade or coerce Greene to perform any scenes against her will or to which she expressed objection or discomfort."
According to True Crime, before auditioning for the show Greene was supplied with a "sizzle reel" that, according to The Hollywood Reporter, "unmistakably revealed that Femme Fatales was an erotic, adult-targeted anthology whose principal castmembers appeared partially nude and engaged in acts of simulated sex." In addition, True Crime claims that Greene and her agent were informed that the role would require nudity and that Greene did not express reservations about it. In fact, Greene didn't land a role in the first two episodes she auditioned for but did in the third, "Jailbreak," which she starred in as the lead. True Crime also points out that before "Jailbreak" was shot 13 episodes of Femme Fatales had already aired, meaning that there was amble evidence out there for Greene to be aware of the show's racy content.
However, True Crime acknowledges that there were difficulties on the set which lead to the revelation of a generally bizarre issue. On the second day of shooting, Greene "refused to report to the set, expressing for the first time, contrary to the express terms of the Employment Agreement and Nudity Rider, that she was not comfortable performing the scene topless or allowing herself to be filmed topless." When a representative of the production spoke to her regarding the issue, Greene allegedly said she would be okay filming the scene if she could wear pasties over her nipples. However, True Crime claims that HBO has a policy prohibiting the use of pasties in sex scenes. Who knew?
Nonetheless, True Crime went ahead with the scenes — pasties intact — and hired a body double for close-ups. Nonetheless, the delay forced the production to tack on an extra day of shooting which, along with the body double's fee, amounted to at least $85,000, which is the amount True Crime is suing Greene for.
In a sense, True Crime is attempting to acknowledge that it bent over backwards — even against its own policies — to adhere to Greene's demands even though the production company believes it gave her amble evidence and a contract to indicate that she would be appearing nude on camera.
The trial is set to begin in two months, and according to IMDb Greene has not appeared in anything as an actress since the episode was shot. Though we don't know all the details, actors should always be sure to know what's in the contracts and agreements they are signing. If True Crime can prove that Greene received all of this information up front in her contract and other materials, it's hard to believe that she has much of a case here. After all, if you're asked to sign something called a "Nudity Rider" for a part it's probably safe to assume you're going to be filming something that requires a lot of exposure.
Latest Videos
http://www.dailyactor.com/wp-content/uploads/2014/10/alex-sharp-curious-incident-of-the-dog.jpg
Alex Sharp Talks About His Broadway Debut in 'The Curious Incident of the Dog in the Night-Time' (video)
Alex Sharp went from working in a call-center and renovating houses to going to Julliard. And now, he's starring in one of the most talked about shows of the season, The Curious Incident of the Dog in the Night-Time. Check out this great, inspiring video!
http://www.dailyactor.com/2014/10/alex-sharp-broadway-debut-the-curious-incident-of-the-dog-in-the-night-time-video/
http://www.dailyactor.com/wp-content/uploads/2014/10/Its-only-a-play.jpg
Watch a Scene From Terrance McNally's, 'It's Only a Play', Featuring Nathan Lane and Micah Stock
Here's a quick scene from Terrance McNally's It's Only a Play, currently on Broadway at the Schoenfeld Theater. In this scene, Nathan Lane and Micah Stock meet for the first time. The show, about the opening night of a new play, also stars Matthew Broderick, Stockard Channing, F. Murray Abraham, Rupert Grint and Megan Mullally.
http://www.dailyactor.com/2014/10/watch-a-scene-terrance-mcnally-its-only-a-play-nathan-lane-micah-stock/
http://www.dailyactor.com/wp-content/uploads/2014/10/birdman-director-alejandro-g-ina.jpg
'Birdman' Director Alejandro G. Iñárritu Narrates a Scene from the Film Featuring Michael Keaton and Edward Norton
Director Alejandro G. Iñárritu narrates a scene from Birdman or The Unexpected Virtue of Ignorance that features stars Michael Keaton and Edward Norton. The film is wonderful and if it's playing in your town, definitely check it out!
http://www.dailyactor.com/2014/10/birdman-director-alejandro-g-inarritu-michael-keaton-edward-norton/
http://www.dailyactor.com/wp-content/uploads/2014/10/the-cast-of-mad-men-on-the-final.jpg
The Cast of 'Mad Men' on the Final Season and More
Though the AMC television series Mad Men might not carry the same cultural weight that it did a few years ago (splitting your final season over two years might do that to you), the second half of the show's final season is expected to be full of powerful performances from its ensemble cast. With the […]
http://www.dailyactor.com/2014/10/cast-of-mad-men-final-season/
http://www.dailyactor.com/wp-content/uploads/2014/10/behind-the-scenes-of-a-sex-scene.jpg
Behind the Scenes of a Sex Scene with Patrick Wilson, Brooklyn Decker and Director Joe Carnahan
Director Joe Carnahan is giving viewers an inside look at what it is like to film a big screen Hollywood sex scene, as confirmed by Gawker. Carnahan released a brief video clip taken from the set of his latest film Stretch starring supermodel and actress Brooklyn Decker and Patrick Wilson. The video showcases the two […]
http://www.dailyactor.com/2014/10/behind-the-scenes-of-a-sex-scene-patrick-wilson-brooklyn-decker-director-joe-carnahan/