Producers Countersue Actress for Refusing to Perform Cinemax Sex Scenes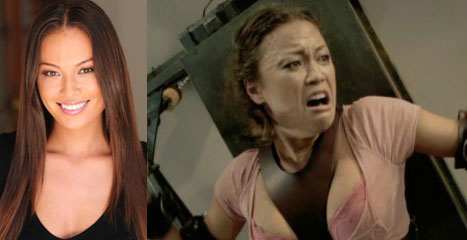 In December 2012, an actress identified only as "Anne G" filed a lawsuit against Time Warner, HBO, Cinemax and the production company True Crime LLC claiming that she was "bullied" into appearing nude and performing simulated sex on an episode of the Cinemax series Femme Fatale.
In a surprising twist, True Crime has filed a cross-complaint alleging that the actress — now identified as Anne Lee Greene — breached her so-called "Nudity Rider" that she signed. In addition to the rider, Greene had been given the script which contained the scenes in question. Moreover, True Crime claims it actually rewrote a scene that involved her character receiving oral sex at Greene's request, adding that it did not "attempt to convince, persuade or coerce Greene to perform any scenes against her will or to which she expressed objection or discomfort."
According to True Crime, before auditioning for the show Greene was supplied with a "sizzle reel" that, according to The Hollywood Reporter, "unmistakably revealed that Femme Fatales was an erotic, adult-targeted anthology whose principal castmembers appeared partially nude and engaged in acts of simulated sex." In addition, True Crime claims that Greene and her agent were informed that the role would require nudity and that Greene did not express reservations about it. In fact, Greene didn't land a role in the first two episodes she auditioned for but did in the third, "Jailbreak," which she starred in as the lead. True Crime also points out that before "Jailbreak" was shot 13 episodes of Femme Fatales had already aired, meaning that there was amble evidence out there for Greene to be aware of the show's racy content.
However, True Crime acknowledges that there were difficulties on the set which lead to the revelation of a generally bizarre issue. On the second day of shooting, Greene "refused to report to the set, expressing for the first time, contrary to the express terms of the Employment Agreement and Nudity Rider, that she was not comfortable performing the scene topless or allowing herself to be filmed topless." When a representative of the production spoke to her regarding the issue, Greene allegedly said she would be okay filming the scene if she could wear pasties over her nipples. However, True Crime claims that HBO has a policy prohibiting the use of pasties in sex scenes. Who knew?
Nonetheless, True Crime went ahead with the scenes — pasties intact — and hired a body double for close-ups. Nonetheless, the delay forced the production to tack on an extra day of shooting which, along with the body double's fee, amounted to at least $85,000, which is the amount True Crime is suing Greene for.
In a sense, True Crime is attempting to acknowledge that it bent over backwards — even against its own policies — to adhere to Greene's demands even though the production company believes it gave her amble evidence and a contract to indicate that she would be appearing nude on camera.
The trial is set to begin in two months, and according to IMDb Greene has not appeared in anything as an actress since the episode was shot. Though we don't know all the details, actors should always be sure to know what's in the contracts and agreements they are signing. If True Crime can prove that Greene received all of this information up front in her contract and other materials, it's hard to believe that she has much of a case here. After all, if you're asked to sign something called a "Nudity Rider" for a part it's probably safe to assume you're going to be filming something that requires a lot of exposure.
Latest Videos
http://www.dailyactor.com/wp-content/uploads/2014/09/audtion-tapes-robin-wright-and-h.jpg
Audition Tapes: Robin Wright and Haley Joel Osment Audition with Tom Hanks for 'Forrest Gump'
Check out Robin Wright auditioning for the role of Jenny from Forest Gump opposite Tom Hanks. Interestingly enough, Hanks doesn't quite have Gump's southern drawl down just yet while the other actors audition with him. In fact, Hanks would base Gump's voice on the voice of Michael Conner Humphreys, who played the young Forrest and […]
http://www.dailyactor.com/2014/09/audtion-tapes-robin-wright-haley-joel-osment-tom-hanks-forrest-gump/
http://www.dailyactor.com/wp-content/uploads/2014/08/bryan-cranston-emmy-award-speech.jpg
Watch: Bryan Cranston's Emmy Award Speech: "I love to act. It is a passion of mine and I will do it until my last breath."
The Emmy Awards weren't the most exciting awards show this year but with Bryan Cranston winning for Outstanding Actor in a Drama for Breaking Bad, we at least got to hear one heck of a fantastic acceptance speech. "I was a kid who always looked for the shortcut," he said. "I did happen to stumble […]
http://www.dailyactor.com/2014/08/watch-bryan-cranston-and-aaron-pauls-emmy-award-speeches/
http://www.dailyactor.com/wp-content/uploads/2014/08/audition-tapes-gerard-butler-aud.jpg
Audition Tapes: Gerard Butler Auditions for 'Dracula 2000′
Check out Gerard Butler auditioning for the role of Dracula in the movie, Dracula 2000. The film, about a group of thieves who break into a chamber expecting to find paintings, but instead find Dracula himself, also starred Christopher Plummer, Jonny Lee Miller and Nathan Fillion. Bulter has some sweet rock star hair, huh?
http://www.dailyactor.com/2014/08/audition-tapes-gerard-butler-dracula-2000/
http://www.dailyactor.com/wp-content/uploads/2014/08/interview-matt-dillon-and-carla.jpg
Interview: Matt Dillon and Carla Gugino Talk 'Wayward Pines'
FOX has a new limited-series that's got a terrific cast and interesting premise. It's called Wayward Pines and stars Matt Dillon, Carla Gugino, Melissa Leo, Toby Jones, Terrance Howard, Juliette Lewis, Tim Griffin and Shannyn Sossamon. The show, whose pilot was directed by M. Night Shyamalan, is about a Secret Service agent (Dillon) goes to […]
http://www.dailyactor.com/2014/08/interview-matt-dillon-carla-gugino-wayward-pines-comic-con/
http://www.dailyactor.com/wp-content/uploads/2014/08/interview-wayward-pines-stars-ti.jpg
Interview: 'Wayward Pines' Stars Tim Griffin and Shannyn Sossamon on the Show, Their Characters and More!
Griffin and Sossamonwere at Comic-Con where they sat in on some roundtable interviews to talk about the show.
http://www.dailyactor.com/2014/08/interview-wayward-pines-stars-tim-griffin-shannyn-sossamon-comic-con/