'Orphan Black' star Tatiana Maslany's Reaction to Booking The Role: "Oh sh*t! Like, how does this actually happen?"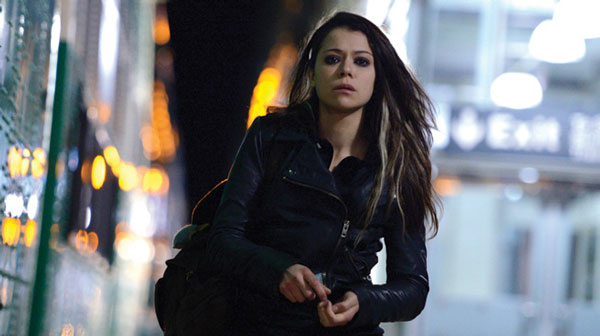 BBC America finally gave people a reason to stay home to watch TV on Saturday nights. The return of Orphan Black for its second season had viewers excited by clones and its favorite character, Sarah Manning, played by Tatiana Maslany.
Rolling Stone got the inside scoop on the 28-year-old actress' take on the series and how she manages to portray so many different versions of herself.
She shared, "Oh my god, I'm not even remotely feeling like I'll figure it out. Every character sort of has their own world, so it feels like we're shooting a different movie every day. Even if I get comfortable in the process or I feel like I have an ownership over it, it doesn't stop evolving and I don't think I'd ever want it to. I want it to keep growing. As an actor, that's what I have to keep doing — making sure it doesn't get easy."
Even Maslany was overwhelmed when she got the role. She admitted, "Once I got the part, I went, 'Oh shit!' Like, how does this actually happen?"
The Canadian-born actress does find some clones easier to portray than others who present more challenges.
She said, "There are certain clones that are easier on my vocabulary or my movement or even dialect, but [soccer mom] Alison, I was so scared to play her. I couldn't relate to her. One of the creators said, 'She's the most feminine of the clones,' and I was like, 'What?' For some reason, I had this sort of lock in my head on what it meant to be feminine. But I love all the characters. I feel really lucky that I get this whole gamut of women to play."
One area of study that has helped her with the multiple characters is improv. She explained how important it has been to her work.
"Yeah, because you're creating characters in the moment and you're trying to make them as fully-formed as possible, which is something I'm focusing on all the time now just in a different context. There's also something about character creation that I learned from improv — your imagination is really in high-gear and Orphan Black involves a lot of imagination," she said.
Orphan Black airs Saturday nights on BBC America.
http://www.dailyactor.com/wp-content/uploads/2015/03/alec-baldwin.jpg
Alec Baldwin On Keeping SNL Fresh, His Daily Routine and His Ideal Role
Alec Baldwin is an ordinary guy. Well, that's what he said in a recent Reddit AMA, anyway. The actor took the chance to open up about what his average day was like, holding the public's interest and why he chooses not to do many films any more. "My average day is pretty ordinary," he says. […]
http://www.dailyactor.com/2015/04/alec-baldwin-snl-daily-routine-his-ideal-role/
http://www.dailyactor.com/wp-content/uploads/2015/03/steve-buscemi-boardwalk-empire.jpg
Steve Buscemi's "Ask Me Anything" Chat on Reddit: "I don't think you can point to any one character and say that that's 'me'"
"With any role I play, I only have myself" - Steve Buscemi
http://www.dailyactor.com/2015/03/steve-buscemi-ask-me-anything-chat-on-reddit/
http://www.dailyactor.com/wp-content/uploads/2015/03/sally-field-hello-my-name-is-doris.jpg
Sally Field On Improvisation, How She Chooses Her Roles and 'Hello, My Name is Doris'
"There's a dearth of roles for women. I turn down a lot of stuff because there's just nothing in it for me to do." – Sally Field Actress Sally Field put in an appearance at SXSW last week to promote her new film, Hello My Name is Doris. Michael Showalter has directed the movie […]
http://www.dailyactor.com/2015/03/sally-field-improvisation-roles-hello-my-name-is-doris/
http://www.dailyactor.com/wp-content/uploads/2015/03/Will-Ferrell-Get-Hard.jpg
Will Ferrell on His Comedy Roots, 'Get Hard' and His Favorite Roles to Play
Ferrell was on hand to take part in a Q&A and spoke more about how working with Hart came about. When asked if he chooses his projects based on who he wants to work with, or the script itself, Ferrell explained that each project was different.
http://www.dailyactor.com/2015/03/will-ferrell-on-his-comedy-roots-get-hard-and-his-favorite-roles-to-play/
http://www.dailyactor.com/wp-content/uploads/2015/03/daniel-dae-kim.jpg
Hawaii Five-0's Daniel Dae Kim Talks Directorial Debut: "The first day I had to yell action, it was kind of odd"
Hawaii Five-0's Daniel Dae Kim, who fans know best as Chin Ho Kelly, recently made his directorial debut on the CBS series. Kim shared his experience with The Hollywood Reporter, saying that his experience was "weird at first," as he had to direct his co-stars. "The first day I had to yell action, it was […]
http://www.dailyactor.com/2015/03/hawaii-five-0-daniel-dae-kim-directorial-debut/