'Orphan Black' star Tatiana Maslany's Reaction to Booking The Role: "Oh sh*t! Like, how does this actually happen?"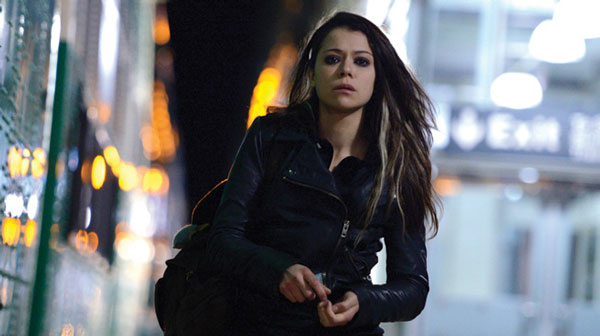 BBC America finally gave people a reason to stay home to watch TV on Saturday nights. The return of Orphan Black for its second season had viewers excited by clones and its favorite character, Sarah Manning, played by Tatiana Maslany.
Rolling Stone got the inside scoop on the 28-year-old actress' take on the series and how she manages to portray so many different versions of herself.
She shared, "Oh my god, I'm not even remotely feeling like I'll figure it out. Every character sort of has their own world, so it feels like we're shooting a different movie every day. Even if I get comfortable in the process or I feel like I have an ownership over it, it doesn't stop evolving and I don't think I'd ever want it to. I want it to keep growing. As an actor, that's what I have to keep doing — making sure it doesn't get easy."
Even Maslany was overwhelmed when she got the role. She admitted, "Once I got the part, I went, 'Oh shit!' Like, how does this actually happen?"
The Canadian-born actress does find some clones easier to portray than others who present more challenges.
She said, "There are certain clones that are easier on my vocabulary or my movement or even dialect, but [soccer mom] Alison, I was so scared to play her. I couldn't relate to her. One of the creators said, 'She's the most feminine of the clones,' and I was like, 'What?' For some reason, I had this sort of lock in my head on what it meant to be feminine. But I love all the characters. I feel really lucky that I get this whole gamut of women to play."
One area of study that has helped her with the multiple characters is improv. She explained how important it has been to her work.
"Yeah, because you're creating characters in the moment and you're trying to make them as fully-formed as possible, which is something I'm focusing on all the time now just in a different context. There's also something about character creation that I learned from improv — your imagination is really in high-gear and Orphan Black involves a lot of imagination," she said.
Orphan Black airs Saturday nights on BBC America.
Latest Videos
http://www.dailyactor.com/wp-content/uploads/2014/08/seth-rudetsky-reveals-the-5-wors.jpg
Seth Rudetsky Reveals the 5 Worst Musical Theater Audition Mistakes (video)
Seth Rudetsky, actor, musician and a host on SiriusXM's Broadway channel, has been teaching auditioning master classes this summer and he's seen his share of bad auditions lately. In this video, he reveals the 5 worst audition mistakes you can make in a musical theater audition and how to choose the perfect 16-bar audition song. [...]
http://www.dailyactor.com/2014/08/seth-rudetsky-5-worst-audition-mistakes/
http://www.dailyactor.com/wp-content/uploads/2014/07/sir-ben-kingsley-talks-about-the.jpg
Sir Ben Kingsley Talks about the Unique Way He Voiced His Character in the Animated Film, 'The Boxtrolls' (video)
I could listen to Sir Ben Kingsley talk about acting and.. well, I could listen to him talk about anything. He's starring in the new Laika stop-motion animated film, The Boxtrolls, and he and some of the cast (along with the director) joined in on a Comic-Con panel about the film. The Boxtrolls is about [...]
http://www.dailyactor.com/2014/07/sir-ben-kingsley-the-boxtrolls-comic-con/
http://www.dailyactor.com/wp-content/uploads/2014/07/bill-hader.jpg
Bill Hader: "I kind of fell into acting" (video)
Bill Hader, starring in the soon to be released The Skeleton Twins, talks about the film and how he fell into acting and then got "crazy lucky" in this quick video from USA Today.
http://www.dailyactor.com/2014/07/bill-hader-fell-into-acting-video/
http://www.dailyactor.com/wp-content/uploads/2014/07/director-john-carney-narrates-a.jpg
Director John Carney Narrates a Scene from 'Begin Again' Starring Kiera Knightley and Mark Ruffalo
Director John Carney (Once) narrates a scene from his new film, Begin Again. Starring Keira Knightley and Mark Ruffalo, the scene shows the first time the two characters meet. I haven't seen it yet but I've heard it's great.
http://www.dailyactor.com/2014/07/begin-again-scene-director-john-carney-keira-knightley-mark-ruffalo/
http://www.dailyactor.com/wp-content/uploads/2014/07/holler-if-you-hear-me-gma.jpg
Watch the Cast of Broadway's 'Holler If You Hear Me' Perform 'California Love' on GMA
The cast of Broadway's newest musical, Holler If You Hear Me with music from Tupac Shakur, performed on Good Morning America this morning. Singing 'California Love', the cast (including the teriffic Christopher Jackson – read our interview here), show why they're the most energetic and inspiring group of actors on Broadway. Holler If Ya Hear [...]
http://www.dailyactor.com/2014/07/watch-cast-broadways-holler-hear-perform-california-love-gma/